In pictures: Spanish town soaked with wine in the annual 'Batalla de Vino' - or 'wine battle'
Thousands of locals and tourists took part in the annual festival of bacchanalian wine-throwing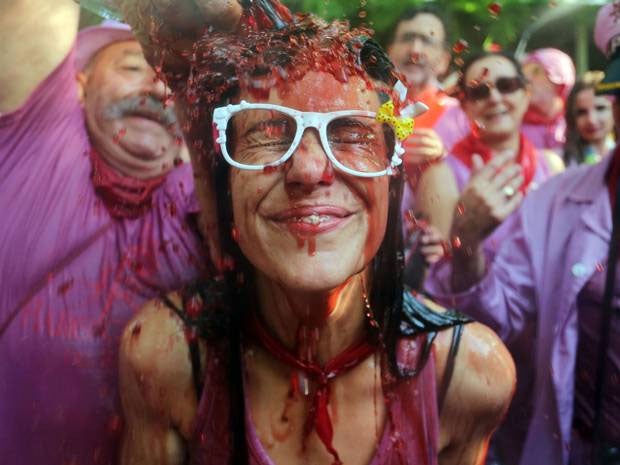 The Spanish wine-making town of Haro, La Rioja, has played host to its annual 'wine fight', where thousands of locals and tourists celebrate St Peter's feast day by throwing thousands of litres of wine over each other.
The wine fight, or La Batalla de Vino as it is known in La Rioja, takes place on the banks of the nearby Bilbio mountain.
After taking part in a mass in honour of the fifth century hermit, St Felices de Bilbio, the wine fight ensues, with participants using water pistols, soaked sponges and even buckets to pour gallons of plonk over each other.
The odd tradition apparently followed centuries of increasingly wild feasts on the festival site in honour of the saint's day. Over time, the rowdiness increased until the feast was totally replaced by the wine fight that would follow.
In pictures: Rioja Wine Battle Festival
Show all 8
Others say that the tradition took hold after a dispute with a neighbouring town resulted in a nasty wine fight, and the habit stuck. Whatever the true history is, the appeal of soaking your friends with wine has clearly endured.
Those who are afraid of stains need not attend - wearing white is de rigeur, as it shows up the wine all the better.
But if you're going to make it that far, you first need to make it through the night. The wine battle takes place early in the morning, and is always preceded by a night of street parties in Haro itself.
The festival then continues throughout the day, and normality eventually resumes for another year.
With the region of La Rioja boasting 14,000 vineyards and 150 wineries, it's no surprise that wine hardly seems in short supply.
Join our commenting forum
Join thought-provoking conversations, follow other Independent readers and see their replies