Injuries on Kercher's body 'consistent with attack by more than one person'
Wounds were from two different knives, Perugia courtroom is told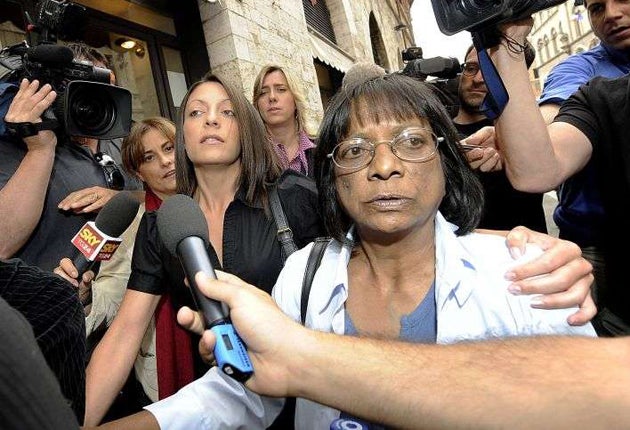 Surrounded by a throng of journalists and photographers awaiting their arrival, John Kercher gently led his wife, Arline, and daughter, Stephanie, down the cobbled street and into the ancient courthouse in the Umbrian city where their daughter Meredith was murdered.
"Anxious," replied Stephanie Kercher, when asked yesterday how the family was feeling to be back in Perugia.
The Kerchers were in court to hear expert witnesses testifying on their behalf about the murder of "Mez", a 21-year-old Leeds University student from Coulsdon, Surrey, who was found dead in her bedroom on 2 November 2007, in the cottage she shared with Amanda Knox and two others while studying abroad.
Ms Knox, 21, from Seattle, and her Italian ex-boyfriend Raffaele Sollecito, 25, are accused of killing her in a struggle after she refused to participate in a sex game. The two have been in prison for the past 18 months and have always maintained their innocence.
Defence arguments are scheduled to begin next week, with Ms Knox taking the stand. Rudy Guede, a 22-year-old drifter from Ivory Coast, was convicted for his role in the murder last October in a fast-track trial and sentenced to 30 years in prison. His appeal is scheduled for 18 November.
Upon arrival, the Kercher family quietly took seats in the courtroom behind their Florentine lawyers, Francesco Maresca and Serena Perna, who opened their case with two expert witnesses: a coroner, and a leading forensic geneticist from a Florence hospital.
Mr Maresca told the court that the expert witnesses "sustained the prior results and valutations of the coroner who performed the autopsy and the forensic evidence specialists who already testified". He added: "And for the first time today, we also heard that the bruises on the victim's hips were consistent with a sexually violent approach."
Professor Gianaristide Norelli testified that the multiple lesions on Ms Kercher's body were consistent with being held and attacked by more than one person. He said she died of suffocation and interpreted her stab wounds as having been inflicted as threats during a struggle. The wounds, mostly on the side of her neck, were possibly inflicted by two different knives, he said, but noted that one of the stab wounds was compatible with the alleged murder weapon.
Professor Francesca Torricelli told the court that she believed the samples of Mr Sollecito's DNA found on Ms Kercher's bra clasp was a significant enough amount that it was unlikely to have been left by contamination. She also sustained a previous forensic biologist's findings that Ms Knox's DNA was found on the handle and the victim's on the blade.
The Kercher family members are expected to testify today about the last phone conversations and contact they had with their daughter.
Join our commenting forum
Join thought-provoking conversations, follow other Independent readers and see their replies