Inside rebel-held Ukraine, where a small pocket of nationalists hope of a life without Russian interference
'When I hear those opening words 'Ukraine has not yet perished', my spine stiffens to attention and I start to sing. Inevitably, I also start to cry'
Mikhail Nikanorov
Thursday 27 August 2015 22:26 Comments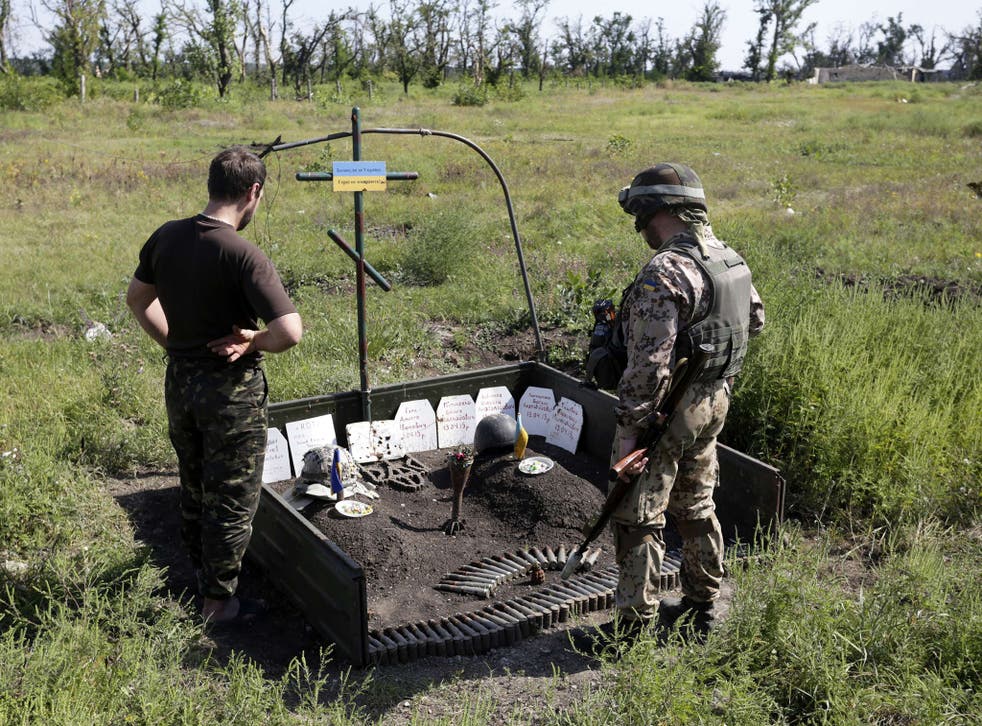 Five miles inside rebel-held Ukraine, 40 worshippers are attending mass. At this distance from the front, the rumble of war is barely audible but the scars of recent conflict are all too visible. Stray timber planks hang, partly dislodged, from the chapel and the ground outside it as well as the nearby blocks of flats are pitted with the holes made by mortar shrapnel.
Most striking, however, is the fact that this particular chapel's walls are still painted in Ukrainian yellow and blue, and that the sounds of Ukrainian language can be heard from the Greek Catholic service being held inside.
The open expression of Ukrainian nationalism – and, by implication, for the government in Kiev – can be dangerous in the pro-Russian separatist "people's republics". The Greek Catholic church, officially tolerated alongside the pro-Russian Moscow Orthodox church, is considered pro-Ukrainian, and thus a target for repression. For the most actively pro-Ukrainian of the parishioners, it is but one more risk in a life increasingly ruled by fear, repression and violence.
As the service ends, the churchgoers stand around and chatter about a "lost" Ukraine, the excesses of the separatists and the lack of work and food. They talk about family and their children, most of whom are now living in safety in the "other Ukraine", the far side of the front lines. Some clearly need psychological support, and find it hard to speak in full sentences. Others, once they begin to talk, find it hard to stop, animated by the chance to connect with the outside world.
"A friend has set her mobile phone to play the Ukrainian national anthem when I call her," said Lilia, a middle-aged woman who works as a dentist in a neighbouring town. "When I hear those opening words, 'Ukraine has not yet perished', my spine stiffens to attention, and I start to sing. Inevitably I also start to cry."
She said she is careful to ensure no-one can hear her singing. She used to be open about her views, but changed her mind when fellow activists started disappearing last year. Her name has been changed, like all those quoted in this report, to protect her from possible reprisals.
Her companion, Tanya, who works in a local school, has also learned to keep a low profile. The people around the school are the same "friendly, normal people" as before, she says. But once conversations turn to politics, her colleagues become more aggressive. "Some have even suggested we introduce compulsory party membership in school." Most disturbing for her are the edicts from above to introduce books by Russian nationalist authors to the children's curriculum. "We are an educational institution and we are allowing all kinds of fascists into our midst," she complained.
For 75-year-old Mihail, attempts to control the curriculum are nothing new. Back in the late-1960s, he recalled, Ukrainian-language schools were being closed by the then Soviet authorities as part of a "secret plan" to make the east more loyal to Moscow. Mihail, who campaigned at that time for Ukrainian-language teaching, was regularly brought in by the KGB for questioning. "They called me an agent provocateur," he said. But in the end his activism reaped dividends, and several new Ukrainian-language schools were opened.
Now the push for all schools to teach in Russian is far more intense, carried out "at the end of a Kalashnikov", he said. Last October a Donetsk head teacher was arrested after resisting attempts to end Ukrainian-language teaching at her school.
Mihail is known to pro-Russian activists in the area, and has received death threats. Early in the conflict, angry-people would come looking for him at his flat. He would either be hiding elsewhere – "I have keys to several apartments" – or would turn off the lights and hope for the best. Everything became even worse from July last year, when a feared separatist commander Igor "Strelkov" Girkin somehow made his way from the encircled city of Slavyansk to safety in the rebel capital, Donetsk.
"That was the most frightening moment for me," said Mihail. Soon after, the war stepped up several gears and a new wave of repression and imprisonment of Ukrainian activists followed. One of Mihail's friends, Iryna Dovhan, was arrested, tortured, threatened with rape, and later tied to a lamp post to be kicked at by angry pro-Russians.
Many activists left the region last summer, when it was easier to slip away. But the churchgoing activists insist a "significant" number remain in the hope that Ukraine might, some day, reclaim its lost territory. "We have our people and we are keeping quiet," said Lilia. "Some of us are waiting on the other side, others are waiting here."
Mihail said nobody he knew personally was happy with the reality of the "Russian world" as it stands in eastern Ukraine, although they admitted that some local residents were now firmly against Kiev.
Even Ukrainian activists are unhappy at the Kiev government's economic blockade, which limits social payments such as pensions and restricts the transport of people and goods across the front line.
"People see the corruption and business that grows around these restrictions, and they don't like it," said Mihail. He himself has devised a way to get his hands on his own pension, but not everyone is as savvy – and younger unemployed people are suffering particularly acutely, unable to receive handouts of any kind.
Mihail makes a sharp distinction between the Ukrainian nation, and its current government, disappointment in which is "growing exponentially". "You get the impression that the politicians in Kiev are living in a parallel reality," he said. Ukrainian president Petro Poroshenko was, he said, elected upon a promise to end the war, and his failure to do so had turned "millions" against him.
At that moment a passing separatist police patrol car brought the conversation to an abrupt end, sending the jittery churchgoers on their way. The elderly activist sighed and looked sadly into the distance as he insisted of the east of the country: "None of what has happened means Donbass has rejected Ukraine."
Register for free to continue reading
Registration is a free and easy way to support our truly independent journalism
By registering, you will also enjoy limited access to Premium articles, exclusive newsletters, commenting, and virtual events with our leading journalists
Already have an account? sign in
Join our new commenting forum
Join thought-provoking conversations, follow other Independent readers and see their replies