Iran President Hassan Rouhani signs €40bn in trade deals on visit to France – but goes hungry
Unusually for an official visit by another head of state, Mr Rouhani – the first Iranian leader to visit Paris since 1999 – was not invited to lunch or dinner at the Elysée Palace
John Lichfield
Paris
Thursday 28 January 2016 21:03 Comments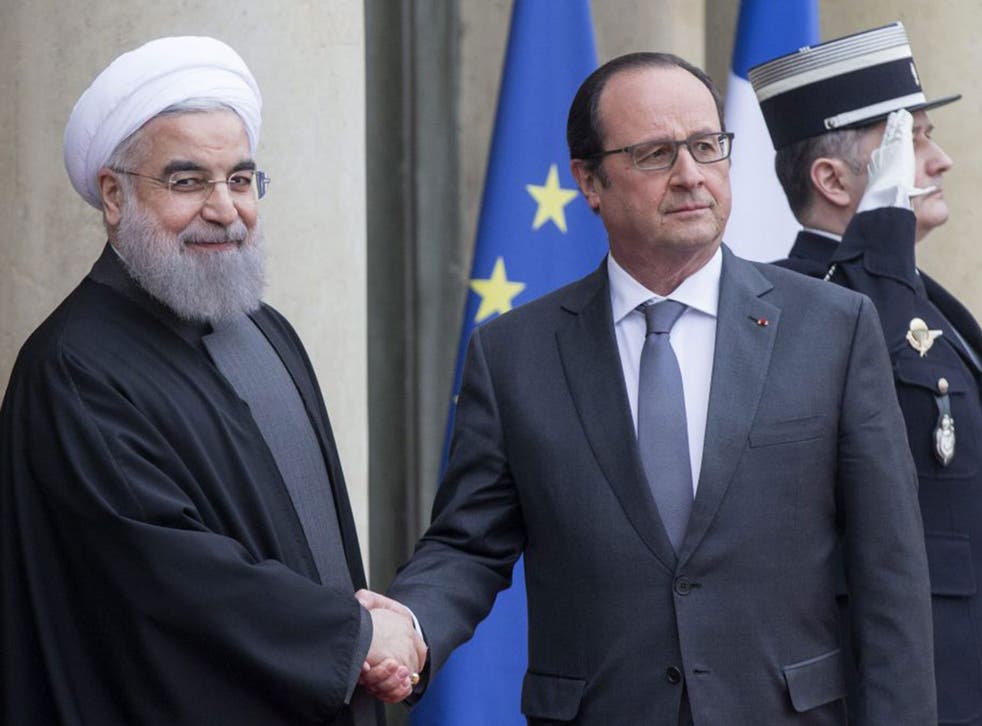 The first visit to Paris by an Iranian leader this century was greeted by a near-naked woman protester dangling from a rope, an avalanche of trade deals and no official lunch.
President Hassan Rouhani and his delegation signed a score of trade agreements worth around €40bn including the purchase of 118 Airbuses which are partly built in Britain.
The French car maker Peugeot agreed to build vehicles for the Iranian and Middle Eastern markets in a factory near Tehran.
Mr Rouhani made a similar multibillion-pound shopping expedition to Italy earlier this week. Much of Iran's civilian hardware – from planes to cars to railways – is old or out of action.
The international trade embargo on Iran has been lifted but some American sanctions are still in place. Mr Rouhani urged France and other European countries to take advantage of this "favourable terrain".
The visit did not pass off without controversy. A near-naked woman from the Femen movement dangled from a rope under a Seine footbridge in a simulated hanging. A banner on the bridge read: "Welcome Rouhani, executioner of freedom."
Iran is second only to China in its use of the death penalty. Femen said that it had organised the mock hanging "to make Mr Rouhani" feel at home.
Unusually for an official visit by another head of state, Mr Rouhani – the first Iranian leader to visit Paris since 1999 – was not invited to lunch or dinner at the Elysée Palace. Tehran said that Mr Rouhani could not attend a meal if wine was served. France insisted "no wine, no meal".
Iran's agreement in principle to buy 118 Airbuses, including 12 wide-bodied A380s, is estimated to be worth €25bn alone. Other Franco-Iranian deals signed were said to be worth €15bn.
The French oil company Total is to buy up to 200,000 barrels of Iranian oil a day. The French and Iranian state railways are to "twin" stations and France will help to modernise rail services in Iran.
The Peugeot deal is a resurrection of an old relationship with the Iranian car maker Khodro, broken off in 2012 after the French firm went into partnership with General Motors in the United States.
In two hours of talks, François Hollande and Mr Rouhani discussed the multiple crises in the Middle East. Afterwards, Mr Hollande said that he had raised Iran's human rights record but France wanted to start a "new chapter" in its relations with Tehran.
This would included trade but also solving "conflicts and crises" in the region. "Terrorism is our joint enemy," Mr Hollande said.
Register for free to continue reading
Registration is a free and easy way to support our truly independent journalism
By registering, you will also enjoy limited access to Premium articles, exclusive newsletters, commenting, and virtual events with our leading journalists
Already have an account? sign in
Join our new commenting forum
Join thought-provoking conversations, follow other Independent readers and see their replies