Ahmadreza Djalali: Sweden grants citizenship to academic facing death penalty in Iran
Amnesty International reported scholar had been subjected to 'grossly unfair trial'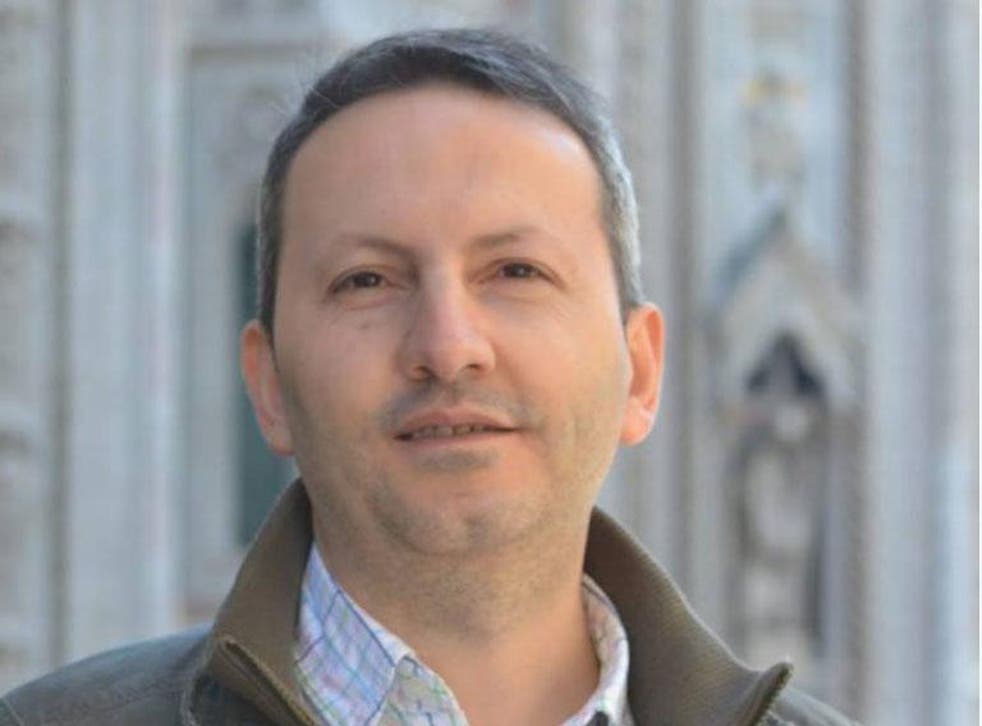 An Iranian scholar facing the death penalty in Iran has been granted Swedish citizenship.
Ahmadreza Djalali, a resident in Sweden who had been working as a researcher at the Karolinska Institute of medicine in Stockholm, was arrested during a trip to Iran in April 2016.
In October 2017, he was found guilty of spying activity which led to the Israeli intelligence agency assassinations of four scientists working on Iran's nuclear programme and sentenced to death.
Dr Djalali, a medical doctor and university lecturer who had studied and taught in Sweden, Italy and Belgium, denies the allegations and says they were fabricated by Iranian Ministry of Intelligence interrogators.
Speaking to Sweden's Sveriges Radio, a spokesperson for the Swedish Ministry of Foreign Affairs said Dr Djalali had now been granted citizenship, which is hoped to give Sweden a better position to stand on in its talks with Iran.
"We will continue to stay the course and our demands will not change. We demand that his death penalty not be enforced," the spokesperson said.
Appeals to overturn the academic's sentence have been rejected, according to his lawyer.
Last year, Amnesty International reported Dr Djalali had been given a death sentence after a "grossly unfair trial" and said the father of two had not been given access to a lawyer for seven months, three of which were spent in solitary confinement.
Dr Djalali said he had been twice forced to make "confessions" in front of a video camera by reading out statements pre-written by his interrogator.
He maintains he was subjected to psychological torture and threatened with execution.
His wife, Vida Mehrannia, told Amnesty his physical and mental health had been affected badly since he was arrested and sentenced.
"We are calling for his release because he has not committed any crime," she said.
Dr Djalali's colleagues have previously said they believe his arrest was related to his international contacts in academic circles, some of whom are Israeli, but said his work was solely scientific.
The vice chancellor of the Karolinska Institute, where Dr Djalali received his PhD in disaster medicine in 2012, expressed concern over the case.
World news in pictures

Show all 50
"For many years, he has worked with researchers from all over the world to improve the capacity of hospitals in countries suffering from extreme poverty or affected by disasters and armed conflicts," Ole Petter Ottersen said in a statement published on the university's website.
"We ask that Dr Djalali be subjected to due process and fair trial."
Reuters contributed to this report.
Register for free to continue reading
Registration is a free and easy way to support our truly independent journalism
By registering, you will also enjoy limited access to Premium articles, exclusive newsletters, commenting, and virtual events with our leading journalists
Already have an account? sign in
Register for free to continue reading
Registration is a free and easy way to support our truly independent journalism
By registering, you will also enjoy limited access to Premium articles, exclusive newsletters, commenting, and virtual events with our leading journalists
Already have an account? sign in
Join our new commenting forum
Join thought-provoking conversations, follow other Independent readers and see their replies