Ireland election: Fine Gael and Fianna Fail face being forced into coalition after a century of bitter rivalry
Polls suggest that two parties formed out of the country's bloody civil war may have to work together to bring stable government
David McKittrick
Dublin
Wednesday 24 February 2016 20:24 Comments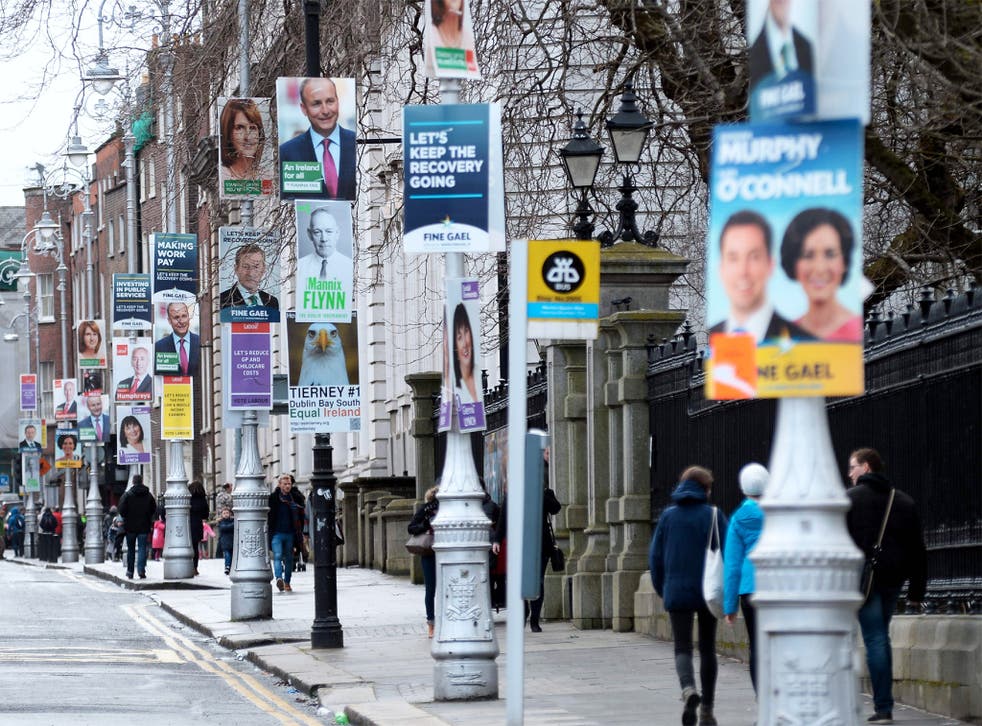 Though Enda Kenny and Micheál Martin display little personal animosity towards each other the two men lead parties at the opposite poles of Irish politics, divided by a century-old chasm filled with bitter memories.
They have both been courteous throughout the campaign leading up to Friday's Irish election, but the hostility between Mr Kenny's Fine Gael and Mr Martin's Fianna Fail is deep – a division which began as a blood feud.
Yet voters may now be on the brink of propelling the two parties together, for the election seems certain to produce a hung parliament that will leave them with little alternative to combining to form a grand coalition.
This would shatter one of the iron laws of Irish politics: that two parties whose ancestors fought a bloody civil war nearly 100 years ago, marked by ruthless violence on both sides, could never work together. Deep in the genes of both parties fester bitter recollections of brother killing brother.
Among many controversial incidents, Fine Gael blames the precursors of Fianna Fail for the assassination of its hero, Michael Collins, while Fianna Fail blames Fine Gael for executing scores of its civil war prisoners.
Memories are long in Ireland but if the opinion polls are even close to accurate the old mould may be about to be broken – as a result of electoral arithmetic.
The outgoing government, consisting of Fine Gael and the smaller Labour party, is dismayed. It had expected to be rewarded for managing a much-praised recovery following the disastrous financial crash of 2008.
Fianna Fail had been expected to remain in the doldrums, since no one has forgotten that the government it headed was in power when the crash almost bankrupted the country. But such calculations have been overturned by the persistence of the extraordinary political splintering which, in the wake of 2008, saw many disgruntled voters turning their back on traditional parties in favour of the unconventional. The beneficiaries were Sinn Fein and a slew of independents and small factions.
If the polls are correct Sinn Fein will take 15 per cent of the vote, while independents and others will take no less than 28 per cent. This is largely because the recovery has been uneven: the middle classes tend to think Fine Gael has put in a sound performance, but the less well-off feel they have borne the brunt of tough austerity.
Richard Boyd Barrett of the leftist People Before Profit explained: "People are furious because the established parties are imposing continual austerity on the majority while a tiny minority continue to prosper. People are turning away from politics based on civil war parties – who basically are the same anyway. This is also part of a wider shift to the left across Europe."
During the campaign Fine Gael did itself no favours with its slogan "Keep the recovery going", with its underlying assertion that it is almost "mission accomplished". This has proved deeply unimpressive to the many who continue to struggle with poverty, emigration and deeply unpopular new charges.
Ireland elections: Crucial vote for the economy
This reality was highlighted by Patrick Coveney, an international businessman reputed to be the world's largest sandwich maker, his companies producing 400 million sandwiches a year. Mr Coveney – whose brother is a cabinet minister – said candidly that while the revival has been unprecedented "loads of people have been left behind."
This only fully dawned on Fine Gael late in the day, as it remained becalmed in the opinion polls while Fianna Fail gained support. The government belatedly admitted that the recovery has yet to be felt "behind every door".
The party's leader and current Taoiseach Mr Kenny, 64, allowed his frustration at Fine Gael's failure to achieve lift-off in the campaign to get the better of him. In a televised outburst in his constituency, he castigated voters for their lack of appreciation of his economic achievements.
Some of his own constituents were "all-Ireland champions at whingeing," he declared, lashing out that "some of them wouldn't know sunshine if they saw it". He first attempted to defend his remarks, but later apologised.
Labour, his coalition partner in the last administration, appears to be in much deeper trouble since it is slipping steadily lower in the polls. It seems destined to suffer the same fate of junior coalition parties elsewhere, most strikingly the Liberal Democrats in Britain.
The morale in Labour ranks was illustrated when one of its junior ministers, Ann Phelan, stormed out of a live radio debate announcing she was "just going to give up". She snapped in exasperation at her opponents: "I've been completely ignored and I'll tell you now, I'm fed up with the whole bloody lot of you."
Sinn Fein's ratings have risen steadily over the years but it has faltered a little in recent weeks as party leader Gerry Adams has been judged weak in his grasp of economics. It is set to make significant gains but its ambition to form part of the next government has faded.
The unexpected star of the campaign has been the Fianna Fail leader, who picked his party up when it was on the floor and has exuded competence and confidence.
Although Mr Martin, 55, was a prominent Fianna Fail minister at the time of the crash he was not in a financial post and so escaped personal blame. In office he was responsible for one of his party's most conspicuous successes, when as Health Minister he introduced a smoking ban. He is now enjoying the highest satisfaction rating of any leader.
All the signs are that Fine Gael will again be the largest party but that Labour will not be strong enough to make up a government, and Sinn Fein will not be acceptable.
That leaves the idea of a Fine Gael-Fianna Fail deal which might provide stability. After all the years of implacable hostility the old tribal terrain could finally be altered, perhaps leaving Irish politics changed utterly.
Register for free to continue reading
Registration is a free and easy way to support our truly independent journalism
By registering, you will also enjoy limited access to Premium articles, exclusive newsletters, commenting, and virtual events with our leading journalists
Already have an account? sign in
Join our new commenting forum
Join thought-provoking conversations, follow other Independent readers and see their replies