Ireland set for historic coalition as old rivals join together with Greens to form government
Fianna Fail leader Micheal Martin set to become new Taoiseach in pact with Fine Gael leader Leo Varadkar
Ben Kelly
,
Peter Stubley
Friday 26 June 2020 21:44 Comments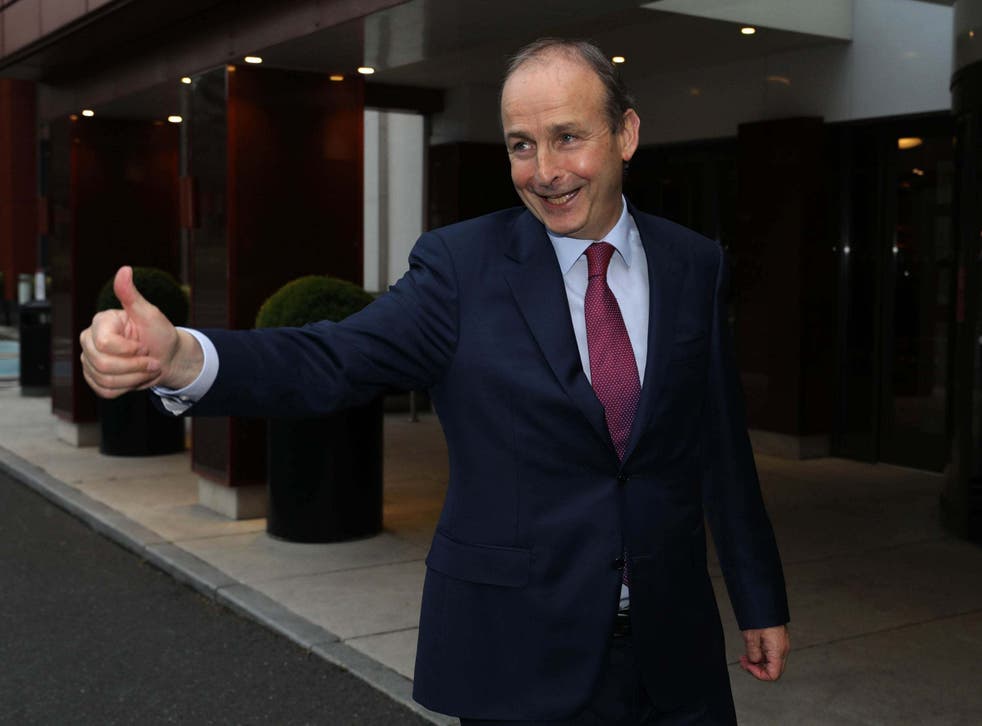 An historic coalition has been agreed in Ireland tonight between old political rivals Fianna Fail and Fine Gael – along with the Greens.
The three parties will officially form a government tomorrow, almost five months after the country's general election, with Fianna Fail leader Micheal Martin set to be sworn in as the new prime minister.
The programme for government agreed between the parties was put to a vote among their respective members and passed by all three.
They have laid out plans to oversee Ireland's recovery from the coronavirus pandemic, to tackle major election issues like housing and healthcare, as well as promising major environmental commitments.
Although February's election returned Sinn Fein as the largest party, they did not have a majority, and were unable to build their desired 'coalition of the left'.
Instead, there was an unprecedented coming together of Fianna Fail and Fine Gael.
Once bitter rivals, these two parties were forged from the opposing sides of the Irish Civil War, and have governed Ireland back and forth for almost a century.
Now, with the added numbers from the Greens, they are preparing to govern together for the first time.
As part of the pact between Mr Martin and Fine Gael leader Leo Varadkar, Mr Martin will take the role of prime minister until December 2021 with Mr Varadkar taking a role in cabinet, most like as an economy or business minister.
Mr Varadkar would then resume the prime minister role for the remainder of the government term of office. The Tanaiste (deputy head of government) will also rotate between the parties.
There will be a full sitting of the Irish parliament – the Dail – in the Convention Centre, Dublin, on Saturday morning to elect Mr Martin as the new premier.
When Mr Martin is officially voted in he will make a statement to the house before it adjourns for a few hours to allow him to travel to Aras an Uachtarain – the home of Irish president Michael D Higgins.
Fine Gael were first to back the proposed programme of government with a vote of 80 per cent to 20 per cent on Friday. Mr Varadkar said he was "looking forward to helping to get the country through the Covid emergency, getting people back to work and pursuing some of the reforms and changes we have started".
Three quarters of Fianna Fail members backed the deal, while the Green Party ratified the coalition by 76 per cent to 24 per cent.
Green Party leader Eamon Ryan said: "There's a sense of responsibility on us now because we do have a job to do. We have to go in and help work with our coalition partners in government in actually getting our country out of a really severe economic crisis.
"People at home who are losing their jobs or maybe risk of that, they want a government to get up and stand up for them and get everyone back working. There's work to be done, and we're the ones to try and help make it happen."
Mr Martin said he was delighted his party had overwhelmingly endorsed the programme "to get on with the business of helping the country to get through this crisis".
He added: "To engineer economic recovery in the aftermath of Covid-19, to deal with the ongoing health dimension and risks associated with Covid-19, but critically to get people back to work, to get the different sectors back to work, to create a better type of society, a greater quality of life for people."
Sinn Fein reacted to the coalition by vowing to provide a "strong and determined" opposition and argued that Ireland had voted to move away from the two main parties in the election.
Pearse Doherty TD said: "Faced with the prospect of a government of change, the two old parties have come together to circle the wagons to exclude Sinn Fein and they are using the Green Party as a fig leaf to do this.
"At a time when Ireland needs ambition and big ideas, we have a programme for government that fails to deliver on affordable housing, on building up capacity in our health services, on getting people back to work and having enough to survive, on childcare, on the right to retire at 65 and on planning for Irish unity."
Additional reporting by Press Association
Register for free to continue reading
Registration is a free and easy way to support our truly independent journalism
By registering, you will also enjoy limited access to Premium articles, exclusive newsletters, commenting, and virtual events with our leading journalists
Already have an account? sign in
Join our new commenting forum
Join thought-provoking conversations, follow other Independent readers and see their replies