Isis attack on Israeli football team foiled by police at World Cup qualifier in Albania
Police find bombs, guns and equipment to be used in simultaneous attacks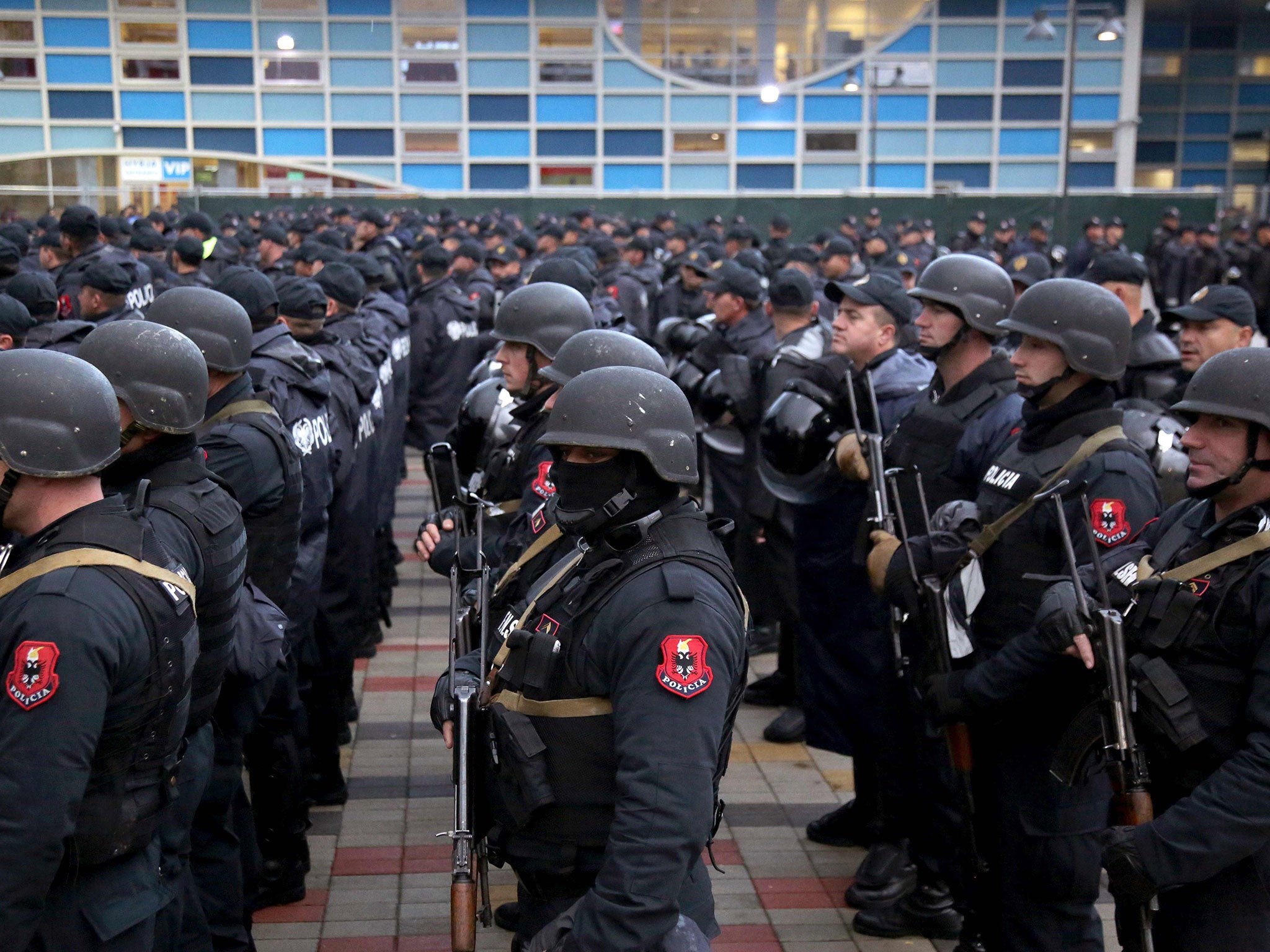 An attempted Isis attack on Israel's national football team has been foiled by police who uncovered bombs, explosives, guns and electronic equipment prepared for the atrocity.
Authorities say it was one of a number of simultaneous attacks plotted by extremists in Kosovo and neighbouring Albania, where the team played a World Cup qualifier last weekend.
Israel won the match 3-0 as the stadium in Elbasan was guarded by more than 2,000 officers.
Police arrested 19 people in Kosovo on 4 November, with six others detained in Albania and Macedonia as part of the crackdown.
The suspects allegedly received their orders from Lavdrim Muhaxheri, the self-proclaimed "commander of Albanians in Syria and Iraq".
A police statement said plans were in place to attack Saturday's football match and another target in Kosovo at the same time.
The venue for the fixture was changed for security reasons from the northern city of Shkoder, near the border with Montenegro, to Elbasan, which is much nearer to the capital Tirana.
Searches in Kosovo uncovered "religious material and literature from well-known authors recognised for their extremist ideology".
Terrorism in 2016: Terror attacks in Europe claimed by Isis
Show all 9
The attacks were planned by a cell coordinated by two Albanians believed to be based with Isis in Syria, who had "clear targets on who and when should be attacked".
Hundreds of militants from the Balkans are believed to be fighting for Isis in Iraq and Syria, although analysts say the flow has dropped in the past year as travel to the group's territories becomes more difficult.
A report released by the EU Institute for Security Studies (ISS) in June found that Balkan nations were "top exporters of volunteers fighting for radical Islamic organisations such as Daesh [Isis] and Jabhat al-Nusra".
The ISS ranked Kosovo and Bosnia and Herzegovina as the top two European countries for foreign fighters per capita, while Albania is ranked in fourth place just behind Belgium.
As it suffers significant territorial losses, Isis propaganda has increasingly encouraged followers to launch attacks on home soil, with Israel being specifically singled out as a target in propaganda.
Additional reporting by AP
Join our commenting forum
Join thought-provoking conversations, follow other Independent readers and see their replies