The Kosovan former fighter bringing Isis wives and children back from Syria
In marked contrast to other European countries, Kosovo has a stated policy of taking back fighters and their families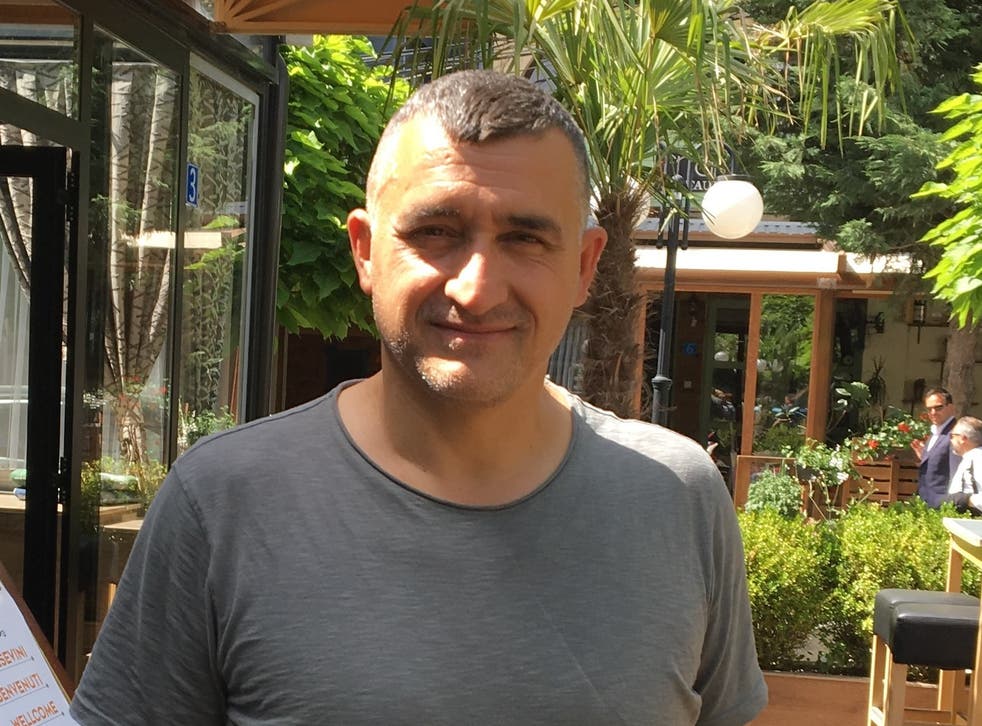 Bedri Elezi fought alongside foreign jihadists during the struggle for Kosovar independence. They were fewer in numbers than the large contingent in the Bosnia conflict, but they were experienced, well-armed, and were vowing solidarity with fellow Muslims in the last chapter in the violent break-up of Yugoslavia.
Most of the foreign fighters left after intervention by Nato and the withdrawal of Serbian forces. A new nation was born and Elezi, along with most other members of the resistance, drifted back into civilian life, as the Kosovo Liberation Army (KLA), in which they had served, was disbanded.
Elezi, however, kept in touch in the intervening two decades with some of the Islamists he had got to know and watched as they sought jihad in other lands – Afghanistan, Somalia, Libya, Iraq and Syria. Some are still there, but others, including a prominent Saudi, have been killed.
Elezi began to notice that his compatriots were also journeying to join the international Islamist brigade in increasing numbers. Kosovo, a land which gained its independence with the help of western bombing and a British-led Nato force, was to provide more than 320 recruits for Iraq and Syria, the highest per head of any European nation, with many gravitating to Isis.
The surge in radicalisation followed the arrival of imams from the Middle East and some from Turkey as Elezi and a group of colleagues observed with rising concern. They tracked the movements of the clerics and the converts through their contacts among Islamists, warning the country's security agencies, some of whom were former comrades from the KLA, about what was unfolding with mixed results.
Kosovo: Remembering the war, 20 years on

Show all 9
Since then Elezi, a 41-year-old businessman, has been travelling to the Syrian borders to help bring the children and wives of jihadists home. In marked contrast to other European countries, Kosovo has a stated policy of taking back fighters and their families – and has an extensive rehabilitation programme in place.
While there is continuing and acrimonious controversy about the policy of Britain on the issue of returnees – highlighted by the government's decision to ban teenager Shamima Begum from going home and stripping her of her citizenship – Kosovo recently flew back 106 children and women from Syria, the latest in a number of batches.
One of Elezi's latest missions was to track down a young boy, Alvin Berisha, who had been taken to Isis' (supposed) capital, Raqqa, five years ago, at the age of six. He had been brought there by his mother Valbona, from Italy, where the family, of Kosovar Albanian family background, had settled.
Valbona, who had adopted the name Yushra in Syria, was trying to flee the last shrinking territories of Isis with Alvin, whose name had been changed to Yusuf, and a son from a marriage with a jihadi Albanian, when the car they were in was hit in a western air strike. Alvin was seriously injured in the attack, his mother and stepbrother killed.
Elezi was asked by Alvin's father Afrimm Berisha, Valbona's former husband, to find his son. Afrimm had tried to get Alvin out of Syria before, following messages from the boy saying how frightened he was and how he wanted to get away. But all attempts had been blocked by his mother who tried to force her son to join the child fighters of Isis, "Cubs of the Caliphate", instead.
After weeks of searches, Alvin, now aged 11, was found by Elezi at the vast refugee camp at al-Hol, in northeast Syria. He remains in the camp while the process to get him home continues, through liaison with governments and aid organisations.
Elezi and his colleagues say they are prepared to help people, from wherever in the west, get back relatives from Syria and Iraq if they can.
"Each country obviously has its own laws and we don't want to break any laws, but if we can use our contacts to get people out safely then we try to help," he wanted to stress, sitting at a cafe in Kosovo's capital, Pristina.
"The government here in Kosovo has been bringing back families and we think that is the correct approach," he added.
"If you leave the young in these camps for years then you are creating people who get desperate and angry, and they can be exploited by extremists to create another generation of fighters. But as I said, each country makes up its own mind."
"At the same time we need to keep a watch on fighters who are not coming back through the government system but secretly. This is a problem not just for Kosovo but for this region and the rest of Europe.
"We know it is of concern to the UK because we have had officials from London, we think from MI6, who have been here to investigate people with links [to the UK]. This region is well known for smuggling and that is one of the worries for people in northern Europe. We cannot hide the fact that people went from Kosovo to join Isis. So we must manage the situation now."
One example of the continuing problem was illustrated by the arrest last month of a Kosovar national earlier by German police. He had been sending, it is claimed, thousands of euros to Isis members.
The man, named only as Hassan Rejan B under German laws regarding identification of suspects, has been charged with terrorist offences by prosecutors in Hamburg.
One of the more high-profile Isis commanders, Lavdrim Muhaxheri, the self-proclaimed chief of the Balkans Battalion, was from Kosovo. He appeared in a number of videos of killings, including one in which he beheaded a "spy" in Iraq, and another in which he was seen blasting a man with a rocket propelled grenade in Syria and then kicking the body parts.
Muhaxheri, from the town of Kacanik, the first staging post for Nato's British-led Kosovo Force (KFOR) when it entered the country in 1999.
He worked for Nato in Kosovo, at the high-security US base Camp Bondsteel, as a civilian employee. He later joined a training camp of the US-led International Security and Assistance Force (ISAF) in Afghanistan. The jihadi commander was reported to have been killed in an airstrike, although some in Kosovo maintain they cannot be totally sure that was the case.
"We can only be sure when we have definite evidence they are dead or those who have been brought back here with their families," says Elezi.
"Muhaxheri may be dead, but there are others, meant to be dead, who may actually be alive."
A 21-year-old woman who lived with Valbona and Alvin in Raqqa is now back in Kosovo under the rehabilitation scheme. An Isis fighter she married in Syria is in jail in neighbouring Albania.
The woman, who does not want to be named because she fears for her safety, is living with her family in a town outside Pristina under house arrest. Sitting under a tree in the sunny garden of the home, she looked at photographs of Alvin that Elezi has brought back from the Syrian camp.
"I am so glad that he is alive, he never wanted to be there, he was very nervous, upset and wanted to go home. He has had a really bad time and he needs to be taken care of," she says.
The young woman wore a niqab hiding her body and face. None of the other female family members sitting around her were dressed in the same way. The grandmother wore a headscarf just partially covering her hair.
"She is the prettiest of my daughters, but no one can see that of course, because of the way she is dressed," the young woman's father wanted to point out.
"But now she is back, maybe she will return to the way she was. We are just very glad she is back, we have a chance to change things. It must be terrible for fathers and mothers who know their young sons and daughters survived the fighting but cannot get back, it is a double loss."
Join our new commenting forum
Join thought-provoking conversations, follow other Independent readers and see their replies