Istanbul attacks: 'Two attackers shot dead after assault on US consulate building'
Six members of the security services die as violence flares across Turkey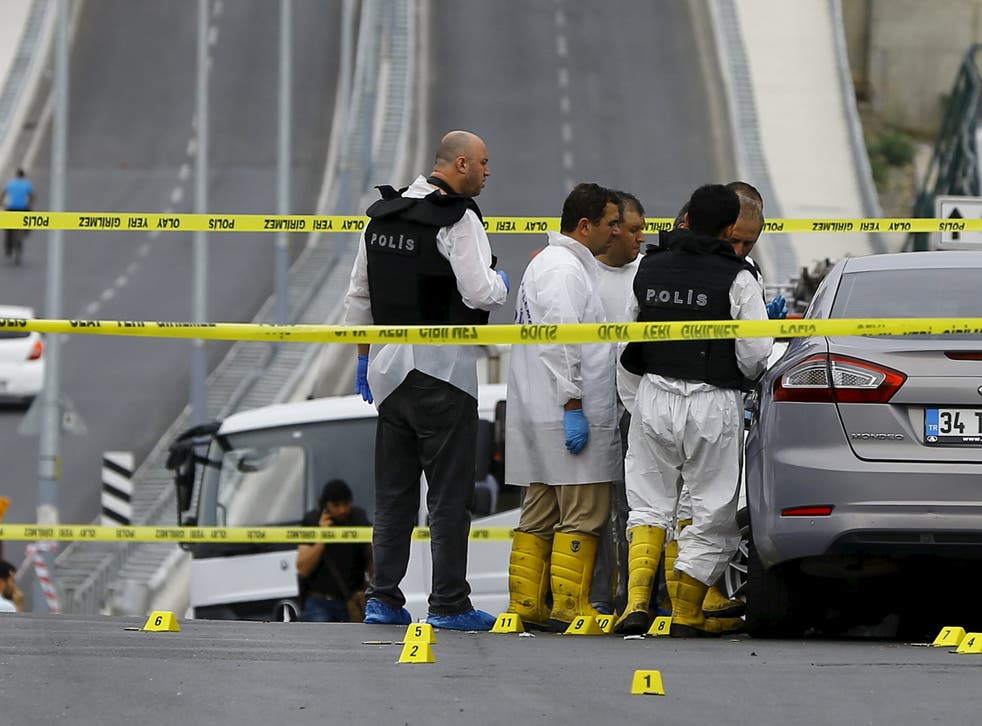 Violence erupted across Turkey on Monday, with six members of the security forces killed and militants firing on the US consulate building in Istanbul.
Two gunmen were killed in a shootout with police in Turkey's largest city, hours after a bomb blast at a police station injured 10 people overnight.
In simultaneous twin gun attacks, two women fired on the heavily-guarded US consulate and unknown militants shot at a team inspecting the scene of the blast 20 miles to the south-east in Sultanbeyli suburb.
Meanwhile, in the south-east of the country a roadside bomb killed four police, and Kurdish rebels attacked a helicopter, killing a conscript.
The Sultanbeyli shootout resulted in the death of two gunmen and a member of the inspection team.

At the US consulate building, police returned fire before eventually capturing one of the women, injured in a nearby building. The other was still on the loose on Monday evening. There were no other casualties at the consulate shootout.
The far-left Revolutionary People's Liberation Army-Front, or DHKP-C, identified the captured woman as 51-year-old Hatice Asik, and said she was a member of the group, though it did not directly claim responsibility for the attack.
The explosion at a police station injured three police officers and seven civilians and caused part of the three-storey police station to catch fire and collapse.
The attacks come at a time of a sharp spike in violence between Turkey's security forces and Kurdish separatist rebels, including the DHKP-C and the PKK, the Kurdistan Workers' Party.
Turkey is also taking a more active role against Isis, or Islamic State, militants.
Last month it conducted air strikes against Isis positions in Syria and agreed to let the US-led coalition use its bases for its fight against Isis.
The move followed a suicide bombing blamed on Isis which killed 32 people and after Isis militants fired at Turkish soldiers from across the border in Syria, killing one soldier.
On Sunday, the US military announced that a detachment of six F-16 fighter jets have arrived at Turkey's southern Incirlik Air Base to join the fight against Isis militants.
Additional reporting by Reuters and AP
Register for free to continue reading
Registration is a free and easy way to support our truly independent journalism
By registering, you will also enjoy limited access to Premium articles, exclusive newsletters, commenting, and virtual events with our leading journalists
Already have an account? sign in
Register for free to continue reading
Registration is a free and easy way to support our truly independent journalism
By registering, you will also enjoy limited access to Premium articles, exclusive newsletters, commenting, and virtual events with our leading journalists
Already have an account? sign in
Join our new commenting forum
Join thought-provoking conversations, follow other Independent readers and see their replies