Istanbul Pride: Turkish riot police fire rubber bullets at LGBT marchers
'Our security will be provided by recognising us in the constitution, by securing justice, by equality and freedom,' say organisers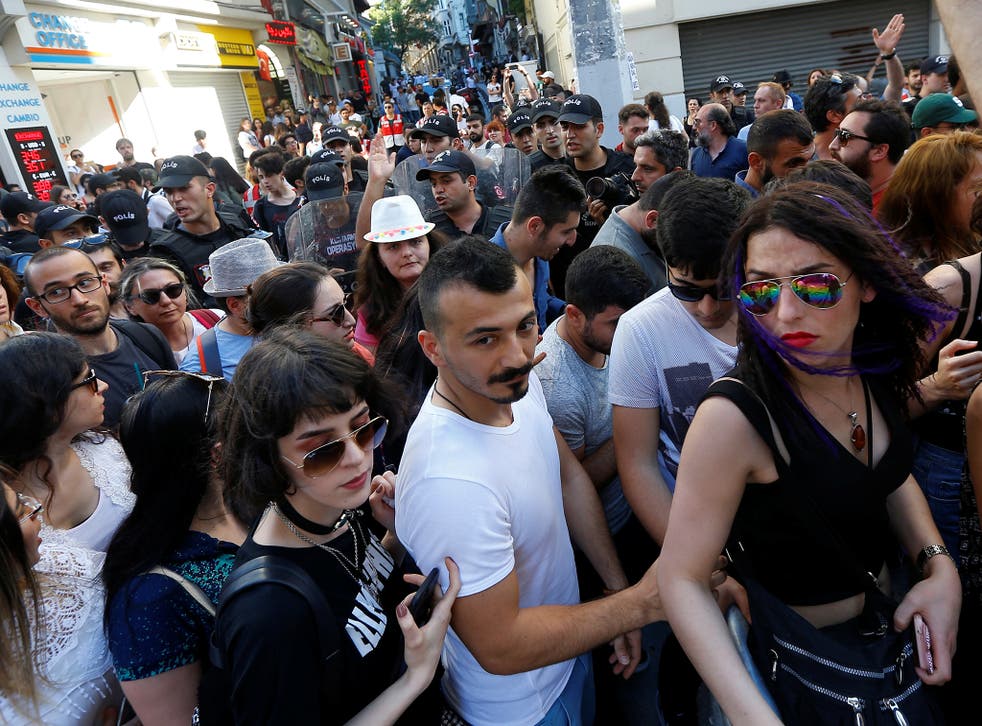 Turkish police have stifled an LGBT pride march in Istanbul after organisers pressed ahead with the event despite a third ban in three years by authorities.
Police with riot shields and helmets sealed off entrances to Istiklal Street, where organisers had planned to hold the march before authorities announced the ban on Saturday, citing security concerns after threats from an ultra-nationalist group.
Small groups of people gathered in sidestreets waving rainbow flags, symbols of lesbian, gay, bisexual and transgender pride.
Protesters gathered in the nearby neighbourhood of Cihangir, beating drums and chanting slogans such as "Don't be quiet, shout out, gay people exist!"
Police fired rubber bullets to disperse one group, witnesses said, and detained several people. Officers with dogs also chased activists.
Footage posted on the internet also appeared to show them firing tear gas at one location.
Speaking to AFP, Lara Ozlen, from the march's organising committee, said: "It is obvious that a peaceful march is part of our constitutional right.
"It's been known for years. Instead of protecting us, to say 'do not march' just because some will be disturbed is undemocratic."
Istanbul's pride march attracted tens of thousands of people in the past, making it one of the biggest in the Muslim world. But in 2015 it was broken up by police and it was banned last year and again this year after threats from the ultra-nationalist Alperen Hearths group.
The Istanbul governor's office said it decided to prevent the demonstration out of concern for the security of marchers, tourists and residents.
"The true reason for the reactions towards a march that took place in peace for 12 years is hate," organisers said.
"Our security cannot be provided by imprisoning us behind walls, asking us to hide," they added. "Our security will be provided by recognising us in the constitution, by securing justice, by equality and freedom."
World news in pictures

Show all 50
Istanbul has traditionally been seen as a relative safe haven by members of the gay community from elsewhere in the Middle East, including refugees from Syria and Iraq.
But although homosexuality is not a crime in Turkey, unlike many other Muslim countries, homophobia remains widespread. Critics say President Tayyip Erdogan and his Islamist-rooted AK Party have shown little interest in expanding rights for minorities, gays and women, and are intolerant of dissent.
Additional reporting by Reuters
Register for free to continue reading
Registration is a free and easy way to support our truly independent journalism
By registering, you will also enjoy limited access to Premium articles, exclusive newsletters, commenting, and virtual events with our leading journalists
Already have an account? sign in
Register for free to continue reading
Registration is a free and easy way to support our truly independent journalism
By registering, you will also enjoy limited access to Premium articles, exclusive newsletters, commenting, and virtual events with our leading journalists
Already have an account? sign in
Join our new commenting forum
Join thought-provoking conversations, follow other Independent readers and see their replies