Turkey questions international reaction to Istanbul airport attack
Some world leaders have condemned the suspected Isis bombings – but Turkish president suggests response has been muted
Adam Withnall
Wednesday 29 June 2016 09:40 Comments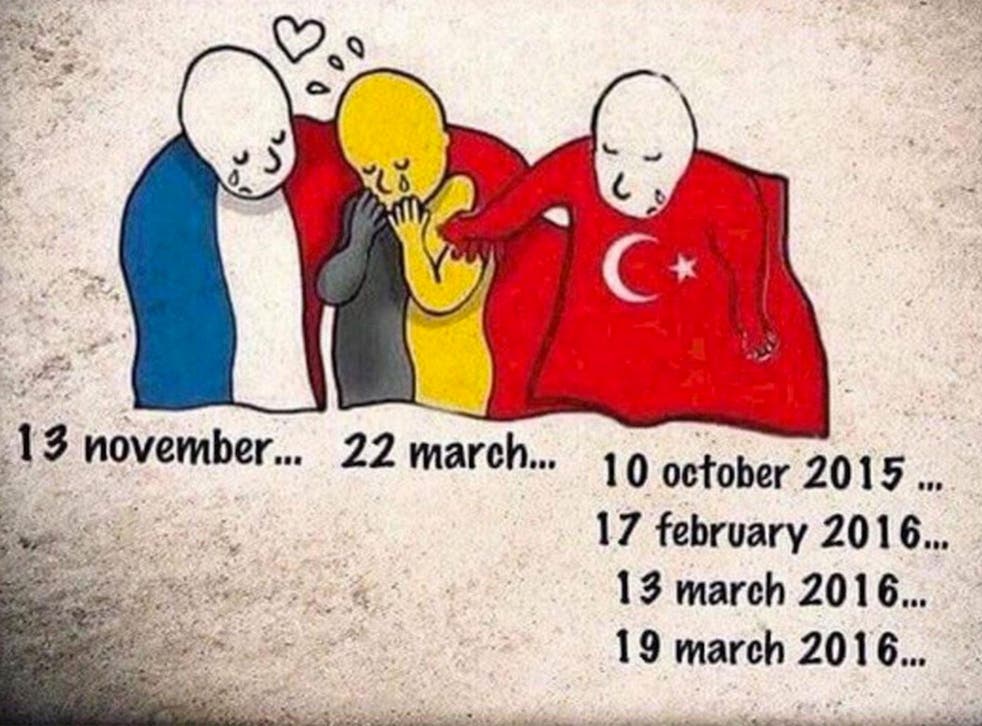 The Turkish president has urged the world to take a stronger stance in response to terrorism after a triple suicide bombing killed dozens of people at the Ataturk international airport in Istanbul.
Recep Tayyip Erdogan urged the rest of the world to see the target could have been "London, Berlin, Chicago", amid suggestions the international response had been muted.
World leaders have written to condemn the attacks on Twitter, and the UN Secretary-General Ban Ki-moon said the perpetrators of the "terrorist attack" must be brought to justice.
Video shows moment Istanbul airport bomber brought down by police
But others suggested the reaction would have been far greater if the incident had taken place in a similarly bustling transport hub in western Europe.
In a written statement in the aftermath of the attack, which killed at least 41 people and injured 239 more, President Erdogan said the world needed to unite to "fight the terrorists together".
He said: "The bombs that went off in Istanbul today could have gone off in any city in the world, in any airport," he said. "I want everyone to understand that, to the terrorists, there is no difference between Istanbul and London, Ankara and Berlin, Izmir and Chicago.
"Unless we come together as all countries and as all people, and fight against the terrorists together, all possibilities that we can't even dare think of right now will come true."
David Cameron wrote that he was "appalled by [the] attack in #Istanbul tonight". "Thoughts and prayers with all those affected," he said.
The UK Foreign Secretary, Philip Hammond, said his ministry "stands ready to help", adding he was "shocked by the attack in Istanbul".
Nicola Sturgeon, the Scottish First Minister, said: "This is a cowardly and horrific attack on Istanbul - my thoughts are with all those affected."
Attack at Ataturk International airport in Istanbul

Show all 20
In the US, both presidential candidates issued statements on the attack. Hillary Clinton said it "only strengthens our resolve to defeat the forces of terrorism and radical jihadism around the world", while Donald Trump said it shows the US "do everything in our power to improve our security to keep America safe".
Register for free to continue reading
Registration is a free and easy way to support our truly independent journalism
By registering, you will also enjoy limited access to Premium articles, exclusive newsletters, commenting, and virtual events with our leading journalists
Already have an account? sign in
Join our new commenting forum
Join thought-provoking conversations, follow other Independent readers and see their replies