Italian election: Surge in popularity for eurosceptic protest party headed by stand-up comedian Beppe Grillo raises fears in EU
Michael Day
Friday 22 February 2013 14:48 Comments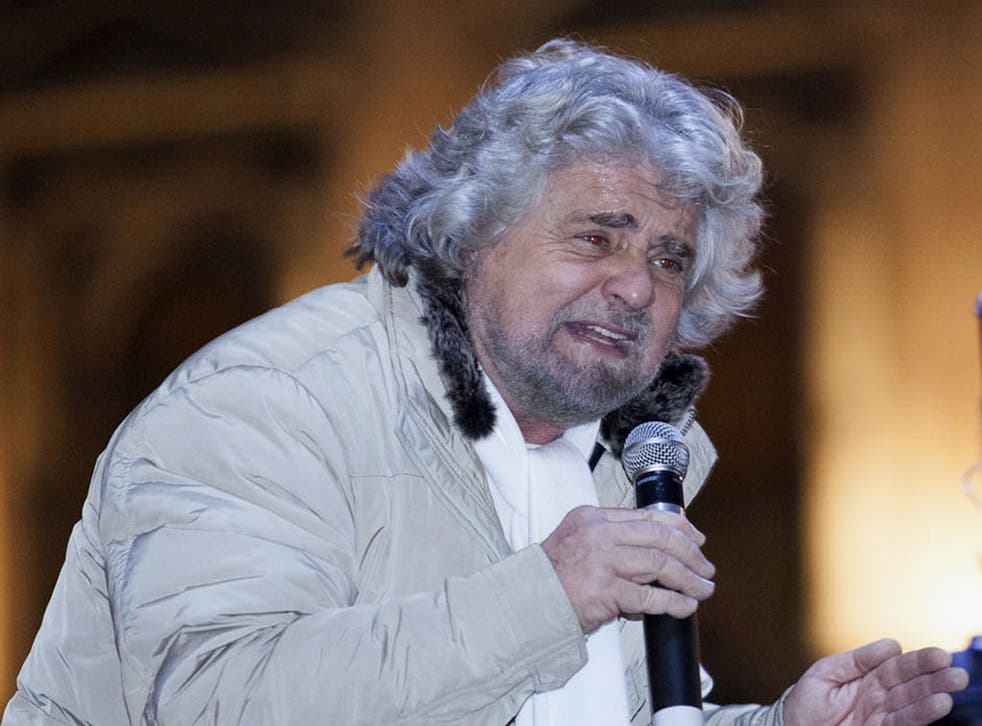 The political establishment in both Italy and the EU was quaking today after claims that a eurosceptic protest party headed by a stand-up comedian, would finish with the second largest share of the vote when Italians go to the polls this weekend.
Secret research conducted by the centre-left Democratic Party suggests the Five Star protest movement of comic Beppe Grillo, which wants a referendum on Euro membership, has continued to surge in popularity since official polls were halted in the run up to the general election.
Corriere della Sera said that these gains mean the demagogue comedian and his party of political ingénues would win a larger share of the vote than Silvio Berlusconi's conservative PDL party and will have well over 100 MPs.
The mainstream, pro-Europe Democratic Party would still be favourite to form a government. But crucially, pundits say the surge in Mr Grillo's support appears to be coinciding with a fall in support for the centrist coalition of outgoing premier Mario Monti.
A diminished Monti grouping would not be able to give the Democratic Party the support it will probably need in the Senate to pass legislation and provide stable government.
Vincenzo Scarpetta of the Open Europe think tank, said: "Even the possibility of an anti-euro party becoming the second-largest one in what historically has been the most pro-EU country, shows just how difficult it will be to continue EU-mandated austerity will be in Italy and beyond."
Silvio Berlusconi's populist coalition ally, the Northern League is also committed to a referendum on whether or not to ditch the Euro.
Italy's former Foreign Minister Franco Frattini said: "I don't rule out [Grillo's Five-Star Movement] finishing second…This would be a tragedy comparable to Geert Wilders' eruption into Dutch politics. One would then need to take into account the failure of the European idea in Italy."
The polls open on Sunday morning and close Monday afternoon.
Register for free to continue reading
Registration is a free and easy way to support our truly independent journalism
By registering, you will also enjoy limited access to Premium articles, exclusive newsletters, commenting, and virtual events with our leading journalists
Already have an account? sign in
Join our new commenting forum
Join thought-provoking conversations, follow other Independent readers and see their replies