Italian Prime Minister Matteo Renzi responds directly to Independent's call to help refugees with warning against unilateral foreign policy
Mr Renzi said Italy had felt abandoned in its efforts to deal with the crisis
Michael Day
,
Leo Cendrowicz
Friday 11 September 2015 08:34 Comments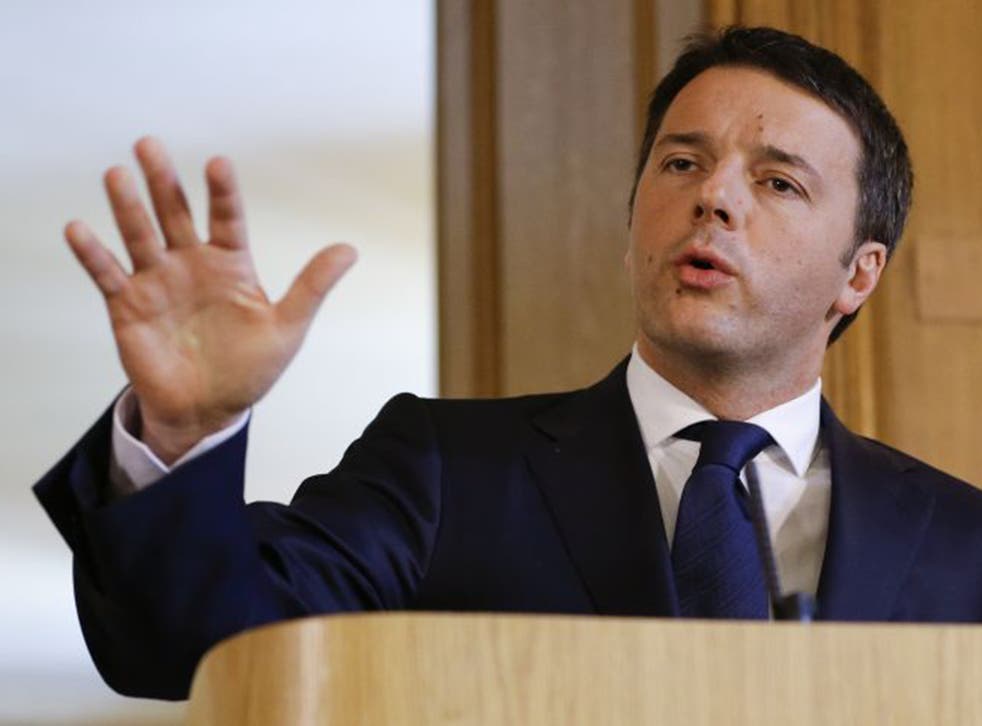 The Italian Prime Minister Matteo Renzi has responded directly to the call by The Independent for EU nations to step up to the challenge of dealing with the most serious refugee crisis on the continent since the end of the Second World War.
European publications including this newspaper have called on the leaders of all European nations to "take decisive action to deal with this humanitarian tragedy and prevent further loss of life", ahead of a key meeting on 14 September in which states will discuss the crisis.
Mr Renzi said Italy had felt abandoned in its efforts to deal with the crisis. He said, however, that had now changed, and he hailed the greater involvement of some EU partners. "We are proud of the way in which in Austria, Germany, and elsewhere our compatriots in Europe, our European brothers, have welcomed refugees," Mr Renzi said. Germany has said it will take up to half a million refugees a year for the foreseeable future. But Italy's premier warned that all EU countries must do their part.
In graphics: Refugees in the EU

Show all 3
"This will only be possible if each country welcomes a number of guests in quotas – and repatriation of those who have no right to asylum is organised by the European Union, and not by individual states," he said, writing to newspapers including Italy's La Repubblica, El Pais in Spain and France's Libération. He added: "Europe must do away with the Dublin agreement [which states asylum-seekers must remain in the EU country of their arrival while their claims are processed]."
Mr Renzi did not, however, address calls for Europe to establish simple, safe and practical ways for refugees to seek asylum in Europe without risking their lives. Nor did he pledge increased financial and humanitarian aid to Middle Eastern nations affected by the Syrian conflict.
Significantly, though Mr Renzi warned against rash Western foreign policy. "We need more vision in foreign policy… The international community and Europe have underestimated the cost of their initiatives in Libya and Syria, and overestimated their ability to build a future in those territories," he said. "It's not enough to simply kick out a dictator or bombard an enemy if you cannot win the educative, cultural and economic challenges in these countries."
European Union plans to relocate 160,000 new asylum-seekers would only be a "drop in the ocean", the German Vice-Chancellor Sigmar Gabriel said, as he outlined the migrant flow into the country.
Some 450,000 people have arrived in Germany so far this year, with 37,000 in the first eight days of September alone, Mr Gabriel told the German parliament. He was speaking a day after the European Commission President Jean-Claude Juncker unveiled plans to relocate refugees from Greece, Italy and Hungary to other EU members through binding quotas.
Mr Gabriel said many EU countries were in denial about the scale of the migration. "This shows that the distribution of 160,000 refugees across Europe is a first step, if one wants to be polite," he said. "Or you could call it a drop in the ocean."
Mr Gabriel was echoed by the European Council on Refugees and Exiles (ECRE), which said that the refugee flows into Europe are, "more than manageable".
"The continuing dramatic press reports on arrivals in Greece, Italy and at the Eastern borders of the EU create the false image of Europe being overwhelmed," the ECRE said in its annual report of asylum data.
The report acknowledged that the refugee flow "has reached historical proportions", stretching asylum and reception systems.
"Nevertheless, EU member states have the resources to respond to the increasing numbers," it argued.
Register for free to continue reading
Registration is a free and easy way to support our truly independent journalism
By registering, you will also enjoy limited access to Premium articles, exclusive newsletters, commenting, and virtual events with our leading journalists
Already have an account? sign in
Join our new commenting forum
Join thought-provoking conversations, follow other Independent readers and see their replies