Italian restaurant gives discount to families with well-behaved children
Owner was inspired by similar scheme he encountered on holiday in Miami
Lizzie Dearden
Thursday 16 February 2017 15:26 Comments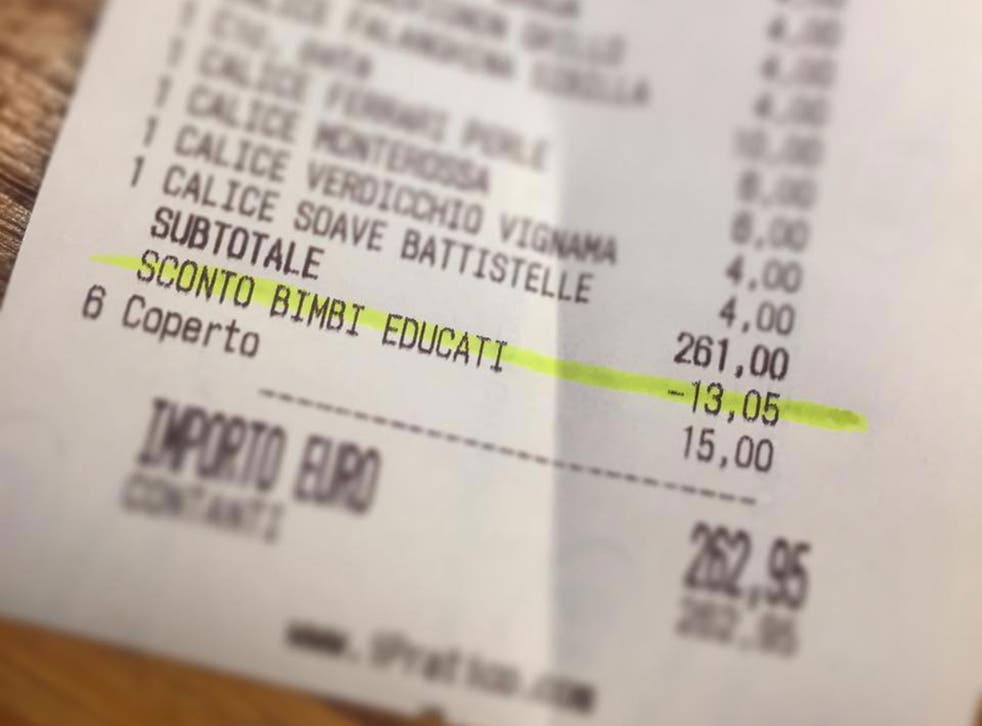 An Italian restaurant is giving diners discounts if their children are "well-behaved" in an attempt to clamp down on noise, tantrums and mess.
The owner of the Antonio Ferrari wine bar in Padua decided to reward a family for their exemplary conduct by making a 5 per cent - €13 (£11) – deduction from their bill on Sunday.
Mr Ferrari, the eponymous restaurant's owner, described how the table of six adults and five children ended a meal with the youngest ones doing multiplication tables and colouring in while the grown-ups finished their wine.
He posted a photo of the receipt marked with a highlighted reduction for "sconto bimbi educati", roughly translating as "behaved children's discount", on Facebook with the caption: "It's just so unusual!"
"It was totally wonderful to see how they interacted with each other at that table, with so much decorum," he told the Corriere della Sera newspaper, recalling how children had previously had water fights in the bathrooms and run around tables.
"If people create the same conditions, I will make [the discount] again with pleasure."
Mr Ferrari, who does not have children, said he was not attempting to pass judgement on people's parenting adding: "I imagine how difficult it is today."
The world's 30 best restaurants 2016

Show all 30
The restaurateur had been inspired by a similar scheme he witnessed at a restaurant in Miami while he was on holiday in the US.
A similar approach was adopted by a café in France in 2015, when it started charging less for customers who said "please" to its staff.
The manager of the Petite Syrah café in Nice told The Local: "I know people say that French service can be rude, but it's also true that customers can be rude when they're busy."
The new scheme in Padua has created a stir in Italy and made headlines around the world, prompting heated discussion on social media.
Many applauded the decision, hoping it would encourage parents to bring rowdy children "under control", while others thought the move was unfair as good behaviour was not universally defined.
Register for free to continue reading
Registration is a free and easy way to support our truly independent journalism
By registering, you will also enjoy limited access to Premium articles, exclusive newsletters, commenting, and virtual events with our leading journalists
Already have an account? sign in
Join our new commenting forum
Join thought-provoking conversations, follow other Independent readers and see their replies