Italy threatens to close ports to humanitarian refugee rescue ships as it reaches 'saturation point'
Move comes amid Italian anger at lack of help from Europe as it hosts almost 200,000 asylum seekers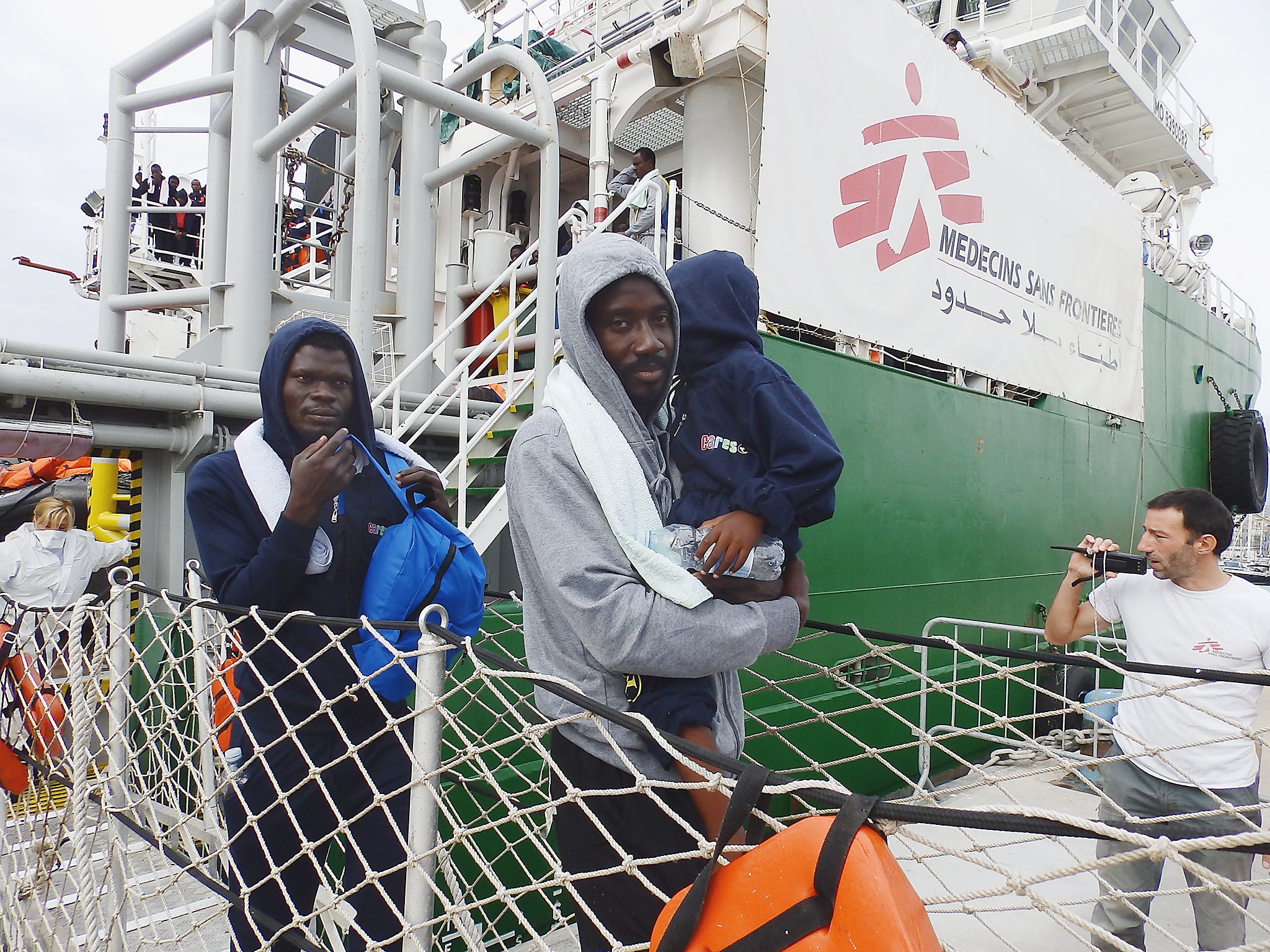 Italy has threatened to close its ports to humanitarian refugee rescue ships to as it reaches "saturation point" in the ongoing crisis.
More than 10,000 migrants have been brought to the country's shores in recent days, and the crossings from Libya show no sign of slowing the peak summer season.
Maurizio Massari, Italy's ambassador to the EU, raised the issue at a meeting with the EU migration commissioner Dimitris Avramopoulos.
A spokesperson for the Italian government said the ambassador warned the "the situation we are facing is serious and Europe cannot turn its back".
"Italy is right that the situation is untenable along the Central Mediterranean route," Mr Avramopoulos said in a statement, adding that the EU was ready to increase financial assistance to help Italy manage the flows.
But after years at the frontline of refugee arrivals to Europe, Italy is considering drastic action to force the hands of nations refusing to take redistributed migrants.
"The idea of blocking humanitarian ships flying foreign flags from returning to Italian ports has been discussed," an Italian government source told Reuters.
"Italy has reached saturation point," he added, saying that almost all the 200,000 beds for asylum seekers in government reception centres were full.
Refugees rescued and brought to shore in the Mediterranean
The move could force ships to sail onwards to countries including Malta, France, Spain and Germany, where some charities operating them are based.
Disembarkation is governed by international law and the EU's migration office said any changes to guidelines must give humanitarian groups time to prepare.
Ships operated by the Italian coastguard and military would still be allowed to dock, but there were conflicting reports on a possible ban on vessels belonging to EU border force Frontex and nations participating in the EU's Operation Sophia anti-smuggling mission.
At a meeting in Tallin next week, EU migration ministers will discuss Rome's request to have other nations let some rescue boats disembark in their ports.
Most ships currently dock in Sicily, which shut its ports for security reasons last month for the G7 summit.
That closure stranded at least one ship carrying 1,450 asylum seekers stranded for days off the coast while waiting to get into Naples.
Aid workers warned that ships are not equipped to feed and care for migrants during extended sea journeys, while many of those on board need urgent medical care.
Refugees and migrants arriving in Catania, Sicily
Show all 7
All ships in the search and rescue zone in international waters of the Libyan coast are deployed by coordinators in Rome, who will be forced to use unprepared commercial ships if specialist vessels are made unavailable by longer journeys to and from ports beyond Italy.
The International Convention for the Safety of Life at Sea dictates that any ship must assist a boat in distress regardless of the circumstances, and says the country responsible for operations in that area must "arrange for such disembarkation to be effected as soon as reasonably practicable".
Charities operating rescue ships have come under increasing fire by politicians for allegedly "colluding" with smugglers in Libya, although academic research has found no evidence to support the accusations.
On Wednesday alone, ships from Migrant Offshore Aid Station (Moas) and Médecins Sans Frontières (MSF) and Frontex, arrived in Italian ports with more than 10,000 migrants rescued in recent days.
Among them was a baby boy who had been born at sea but died from respiratory problems after being rescued with his mother by the Italian navy.
Angelo Gugliotta, the doctor for the Sicilian port of Pozzallo, said several migrants were carried off the ship on stretchers, including one man who was extremely malnourished and another with gunshot wounds.
"In recent years, smugglers often launched a massive number of boats all at the same time, but this year we are witnessing levels never registered before in short periods of time," said Frontex's executive director, Fabrice Leggeri.
The Italian coast guard said another 2,400 asylum seekers were due to arrive on Thursday aboard both Frontex and aid ships at ports in Sicily and the Italian mainland.
Rob MacGillivray, Save the Children's director of search and rescue, said the charity's vessel had seen a "massive increase" in rescues since last year.
"There's no indication that there's going to be a decrease, which makes it all the more important that there's a joined-up European response to guarantee people safe passage and their status when they arrive," he told The Independent.
"The NGOs can only deploy what they've got and they have limited capacity."
Mr MacGillivray called the Mediterranean Sea "one of the largest unmapped graves in European history", calling on politicians to change a narrative seeing migrants increasingly demonised as rescuers are accused of worsening the crisis.
Italy's neighbours have already closed their borders to try to keep migrants from moving through Europe over land, and countries including Poland and Hungary are facing legal action over their refusal to host asylum seekers taken from overwhelmed Italy and Greece.
EU leaders agreed last week that the two countries at the frontline of the refugee crisis should get more help to manage arrivals, with the European Commission announcing emergency funding, as well as assistance for African countries aiming to prevent people from leaving.
Italy has been leading a push for increased cooperation for the fragile Government of National Accord in Libya, which is now the main departure point for refugee boats heading to Europe.
The continuing civil war and widespread lawlessness following the UK-backed removal of dictator Muammar Gaddafi has allowed smugglers to set up a lucrative industry linking to sub-Saharan African nations, the Middle East and Bangladesh.
The UN has warned of migrants being detained and sold at "slave auctions", with many forced into labour or held to ransom.
There are widespread reports of torture and starvation at both official and unofficial detention centres throughout the country, with humanitarian groups warning that any move to turn migrant boats back would violate international law.
But as the will to resettle refugees wanes throughout Europe, voters are putting pressure on Italy's government to resolve the crisis.
At the weekend, the ruling Democratic Party was punished in local elections, with voters opting instead for centre-right rivals led by the anti-immigrant Northern League and former Prime Minister Silvio Berlusconi, all of whom want Italy to take a tougher stance on immigration.
More than 92,000 migrants have arrived over the Mediterranean so far this year, with 82,000 to Italy and others to Greece and Spain and at least 2,030 dying in the attempt, according to UN figures.
The vast majority of asylum seekers currently making sea journeys to Europe are from African nations, including Guinea, Nigeria, the Ivory Coast and Gambia, as well as Bangladesh, Syria and Iraq.
Additional reporting by agencies
Join our commenting forum
Join thought-provoking conversations, follow other Independent readers and see their replies