Italy coalition talks: Far-right leader Matteo Salvini refuses to accept any prime minster other than himself
Italy faces potentially complicated coalition talks after election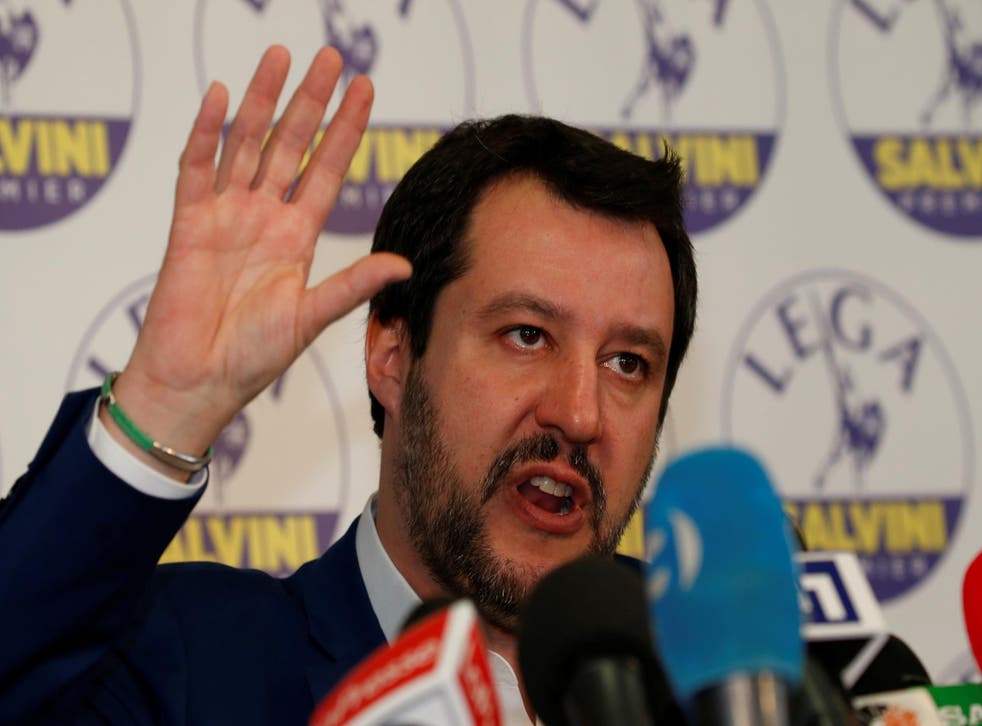 The leader of Italy's far-right Northern League party has said he will not support any candidate for prime minister other than himself, as horse-trading to form a governing coalition begins after indecisive elections at the weekend.
Matteo Salvini replied "no", when asked by reporters in Milan if he would make way for another candidate – opening the possibility that Italy could emerge from coalition negotiations with a far-right head of government. The Northern League became the strongest party in a broader right-wing alliance, which itself was the largest bloc in the weekend's elections with 37 per cent of the vote.
The right-wing alliance, which also includes Silvio Berlusconi's Forza Italia party, will probably seek some kind of deal with the Five Star Movement, the populist anti-corruption and Eurosceptic party that won 32.7 per cent of the vote.
Neither group has enough support in Parliament to form a governing majority by itself – but they could look elsewhere for support. The centre-left alliance, led by the incumbent Democratic Party, may also be tempted to do a deal to stay as the junior partner in a government after its five parties took a combined 22.3 per cent, giving it a look in.
However, failed Italian centrist politician Matteo Renzi, who led the Democratic Party to its worst showing ever (19 per cent) in the weekend's elections, urged his colleagues to rule out an alliance with the Five Star Movement rather than be tempted to hang on in power.
He took to social media to say that the Democratic Party should be the opposition to any government and not be tempted to do a deal with any of the other parties, which he said "insulted us for years".
"The elections are over, the PD has lost, we must move on," he said. "In the next few years, PD will have to stand in opposition to extremists.
"Five Stars and the Right have insulted us for years and represent the opposite of our values. They are anti-Europeans, anti-politicians, they used hate language.
"We have been told that we are corrupt, mobsters, collude, and that we have blood on our hands for immigration: I don't think they changed their minds suddenly. They can form a government if they can, we stay out.
"For me the PD must stay where the citizens put it: to the opposition. If anyone from our party thinks otherwise, say it next Monday or in parliamentary groups."
World news in pictures

Show all 50
Speaking to reporters in Brussels, a spokesperson for the European Commission said: "President Juncker is following developments closely … the European Union is a union of democracies.
"The Italian people have expressed their opinions freely on Saturday and we reiterate our confidence in the president of the Italian government's ability to bring the parties together and form a stable government. We understand that the next steps in the Italian constitutional procedures is the election of the speaker of the parliament later this month."
Register for free to continue reading
Registration is a free and easy way to support our truly independent journalism
By registering, you will also enjoy limited access to Premium articles, exclusive newsletters, commenting, and virtual events with our leading journalists
Already have an account? sign in
Register for free to continue reading
Registration is a free and easy way to support our truly independent journalism
By registering, you will also enjoy limited access to Premium articles, exclusive newsletters, commenting, and virtual events with our leading journalists
Already have an account? sign in
Join our new commenting forum
Join thought-provoking conversations, follow other Independent readers and see their replies