Italy earthquake: State funeral held for victims as death toll nears 300
President Sergio Mattarella and prime minister Matteo Renzi among those to attend service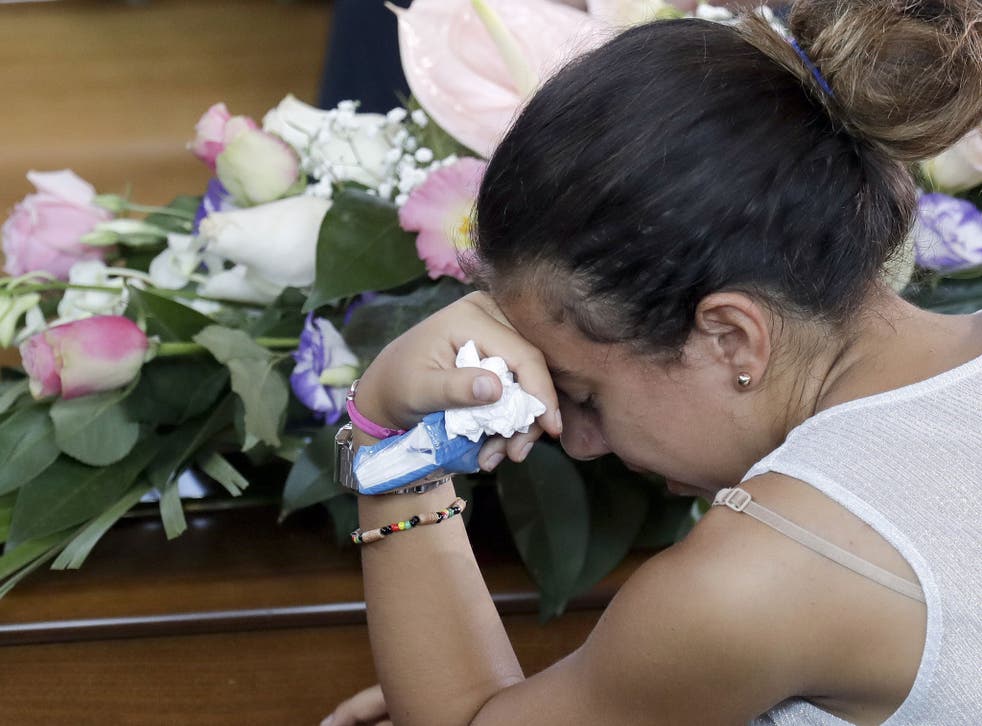 Relatives hugged each other with tears in their eyes or touched the wooden coffins containing their loved ones during a state funeral held for a number of the victims of Italy's latest earthquake.
Among the 35 victims, who funeral was being held in the sports hall on Saturday, were an 18-month-old baby, Marisol and a nine-year-old girl, Giulia
"Don't be afraid to bewail your suffering, we have seen so much suffering. But I ask you not to lose your courage," Bishop Giovanni D'Ercole said in a homily in the hall in the provincial capital of Ascoli Piceno, with President Sergio Mattarella and Prime Minister Matteo Renzi also in attendance.
"Only together can we rebuild our houses and churches. Above all, together we can give life back to our communities," Bishop D'Ercole said, speaking in front of a dusty crucifix salvaged from one of the dozens of churches devastated by the quake.
Elsewhere, rescuers kept searching through the rubble of the worst hit town, Amatrice, but acknowledged they had little hope of finding more survivors from Italy's worst earthquake in seven years.
Nine more bodies were recovered from the town on Saturday, bringing the death toll in Amatrice alone to 230 residents and tourists. Eleven were killed in Accumoli and 49 in Arquato del Tronto
Authorities said 387 people were still in hospital, with one patient dying of his injuries during the day. The death toll stood at more than 290 on Saturday night.
One of the last people to be plucked alive from the debris was a girl called Giorgia, who turned four on Saturday. She is the sister of Giulia, whose small coffin lay in the centre of the sports hall.
"Hello little one," said a handwritten note left on Giulia's coffin by one of the rescue team that retrieved her body.
"I am sorry that we arrived late. You had already stopped breathing, but I want you to know up there that we did all we could to get you out of there."
Authorities have released the names of 181 victims. The youngest was five months old, the oldest 93. Among them were also six Romanians, three Britons, a Spanish woman, a Canadian and an Albanian.
Drone footage reveals extent of Italy earthquake damage
"It is a great tragedy. There are no words to describe it," said Gina Razzetti, a resident of Ascoli Piceno who joined hundreds of local people for the funeral.
"Each one of us has our pain inside. We are thinking about the families who lost relatives, who lost their homes, who lost everything."
With several people still unaccounted for, it is expected that the death toll could rise further.
President Mattarella paid a visit on Saturday to Amatrice ahead of the Mass, Ascoli Piceno.
Mr Mattarella arrived at the edge of Amatrice by helicopter, and was guided around the town by Mayor Sergio Pirozzi.
Due to the extent of the damage, the town was only viewable from the outskirts, as it was too dangerous to enter the centre.
The president met and thanked rescue workers, who have been working since Wednesday morning to save people from the rubble, and recover the dead.
Magnitude 6.2 earthquake hits Italy - in pictures

Show all 15
As well as destroying property and claiming lives, the earthquake damaged two key access roads into Amatrice, threatening to isolate the town.
Authorities are working to find alternative routes through which emergency vehicles can gain access.
"We have to make sure Amatrice does not become isolated, or risk further help being unable to get through," Mayor Pirozzi had previously said.
On Saturday, Mr Sergio Pirozzi told President Mattarella: "What we need is a reconstruction in record time. It is a great opportunity for politicians to show extraordinary commitment".
Italy earthquake: Hopes of finding survivors fading
Survivors in some of the worst hit areas feared that their little hamlets, sparsely populated outside the holiday months, would become ghost towns unless the flattened Amatrice was swiftly rebuilt.
"That's where the grocery stores, shops and restaurants were, and these little villages depended on it," said Eduardo Nibi, 31, whose family has roots in the badly damaged hamlet of San Lorenzo e Flaviano.
Aftershocks continued to rattle the area overnight, the strongest measuring 4.2. The Italian geological institute said more than 1,350 aftershocks had hit Italy's central mountains since Wednesday's pre-dawn 6.2-magnitude quake.
Register for free to continue reading
Registration is a free and easy way to support our truly independent journalism
By registering, you will also enjoy limited access to Premium articles, exclusive newsletters, commenting, and virtual events with our leading journalists
Already have an account? sign in
Register for free to continue reading
Registration is a free and easy way to support our truly independent journalism
By registering, you will also enjoy limited access to Premium articles, exclusive newsletters, commenting, and virtual events with our leading journalists
Already have an account? sign in
Join our new commenting forum
Join thought-provoking conversations, follow other Independent readers and see their replies