'Italians First': Anti-immigrant sentiment becomes focus as parties chase undecided voters ahead of country's election
Right-wing coalition led by Silvio Berlusconi leading in polls, but is short of number required for a working majority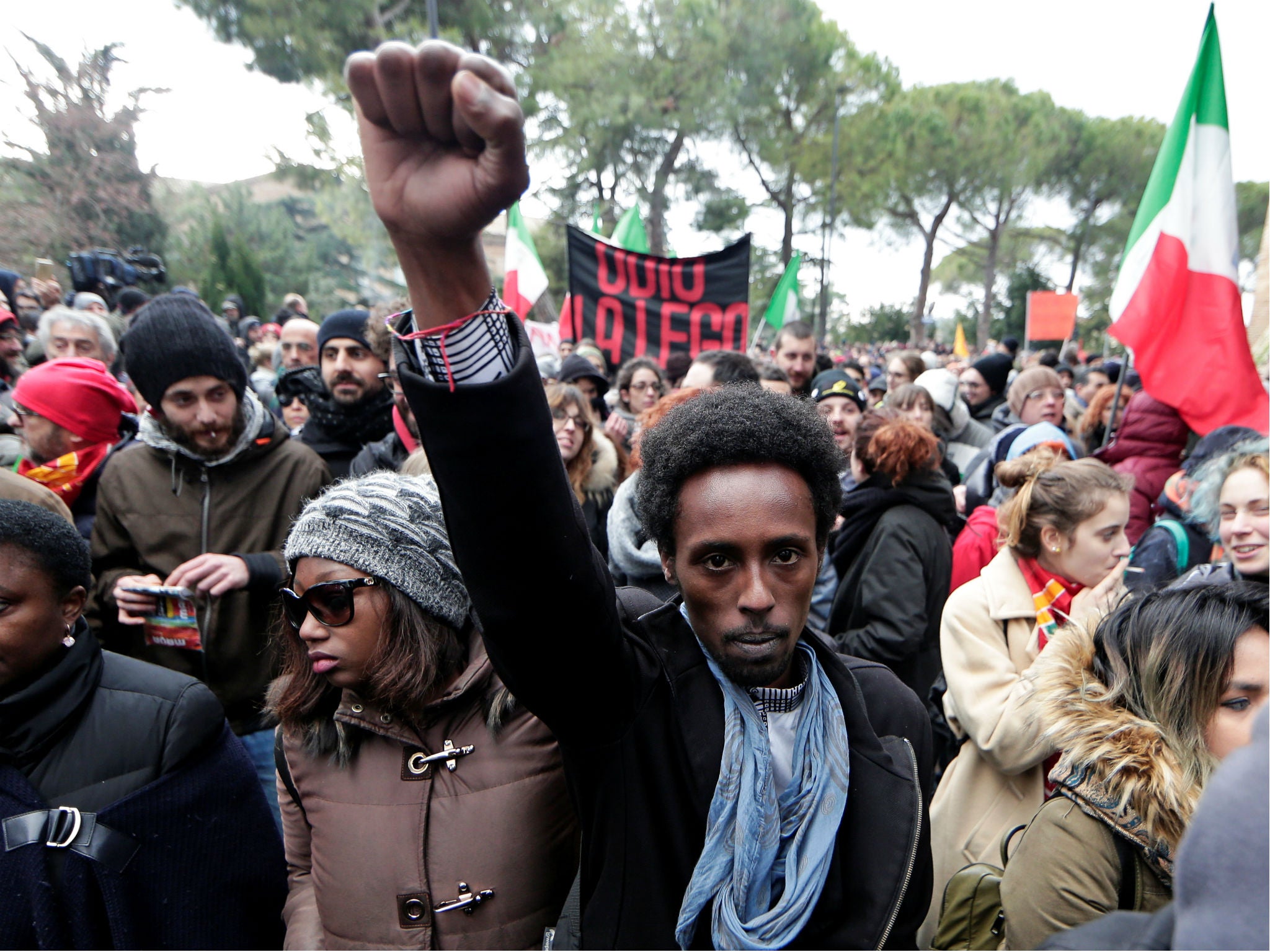 "Italians First" is the defining catchphrase of 2018 Italian election. In the race between a centre-left coalition, the anti-establishment 5-Star Movement (5SM) and a right-wing collation, the slogan can be heard repeatedly.
Final polls published two weeks before the 4 March vote have the right-wing coalition – led by former prime minister Silvio Berlusconi and hs Forza Italia party and including two anti-migrant parties, the Northern League and the smaller Brothers of Italy – out in front, but short of the around 40 per cent that will be required for a working majority. The 5SM are the single biggest party at around 28 per cent, while the centre-left grouping led by the governing Democratic Party (PD) has a similar share.
But there are millions of as-yet-undecided voters, with both the right and the 5SM singing from the same hymn sheet about how to bring them on board – immigration. With around 600,000 refugees and migrants having landed on Italian shores during the last four years, it is a large target to hit.
"Migrants are a social bomb," Berlusconi has said. The old television tycoon, a kind of Donald Trump ante litteram, has been one of Italy's longest-serving post-Second World War prime ministers over various stints, but is now ineligible to run for office thanks to a 2013 tax fraud conviction. However, he is likely to play kingmaker if the centre-right needs to do a deal to form a government.
Berlusconi has pledged to deport those hundreds of thousands of illegal immigrants, and he is in good company: the leader of the 5SM, Luigi Di Maio, has also called for deportations and to put "Italians First". So has right-wing populist leader Matteo Salvini of the Northern League, who seems to be the one capitalising on anti-immigrant sentiment the most.
While before there was Umberto Bossi, the Northern League's founder, and his anti-southern rhetoric, now the enemies in Mr Salvini's speeches are illegal immigrants. The party is also seemingly looking to drop the "Northern" part of its name during the election, so as not to put off southern voters. Not unlike how the League's closest European ally Marine Le Pen did, "nationalism, euroscepticism and populism" have become the keywords.
World news in pictures
Show all 50
The centre-left coalition, headed by the PD who are in turn led by former prime minister Matteo Renzi, represents the only frontier against such anti-immigrant fears. Although it is a weak and sometimes ambiguous one, with the party having steadily lost support in recent times.
On the Sicilian island of Lampedusa, a hotspot for migrant arrivals which gained fame for the community's commitment to manage the refugee crisis, Mayor Salvatore Martello has heard little from those running for power.
"When election time comes around, no one comes to Lampedusa," he said, alluding to the candidates. "We're not afraid of immigrants as such, and by now arrivals do slow down", the mayor added, talking about a drop in arrivals. "Nevertheless, the frontrunners seem to find it inconvenient to come here during the campaign".
Compared with last year, the number of migrants landing on Italian coasts is coming down, but the perception of uncertainty and fear related to immigration continues to grow among voters.
"The closer we get to an election, the more these feelings grow. I've seen this trend during last elections, and I note it now: public anxiety about immigration is rising to record-high levels," said says Ilvo Diamanti, a professor of political science at the University of Urbino. "Almost one in two Italians feel afraid," he added.
Referring to his survey research work, Mr Diamanti believes the rise of an anti-immigration sentiment is related to public discourse, including politicians' statements and representations in the media, more than to the presence of immigrants themselves, and that has become a vicious circle. "Italian voters are concerned about job and unemployment first of all", Mr Diamanti said. "But when it comes to the public sphere, immigration concerns are easier to be capitalised upon by populists," he added. "This is a short-term winning strategy".
Surveys suggest that such anti-immigration views are especially held among older, less educated and more disadvantaged people. If not the anti-immigration election, this one may be the "nostalgia" election, a kind of regret for a country that no longer exists.
The extreme things this can lead to were showcased earlier this month, with Luca Traini, 28, an unsuccessful candidate in a recent local election for the Northern League, arrested for allegedly targeting migrants in a drive-by shooting spree in Macerata in central Italy, leaving six people wounded. Police said they had seized a copy of Adolf Hitler's Mein Kampf from Mr Traini's home. In the wake of the episode, politicians started debating immigration, with Mr Salvini accusing the PD of flooding Italy with immigrants, with the Minister of the Interior, Marco Minniti, a democratic candidate, pointing out the slowdown in arrivals.
Meanwhile, tens of thousands of people filled the streets of Macerata to protest against fascism and racism, a sign of how important the issue has become.
Join our commenting forum
Join thought-provoking conversations, follow other Independent readers and see their replies