Italy earthquakes: More people rescued alive from hotel rubble after avalanche
Maremma sheepdogs Lupo and Nuvola, feared killed, found four kilometres away from hotel and reunited with puppies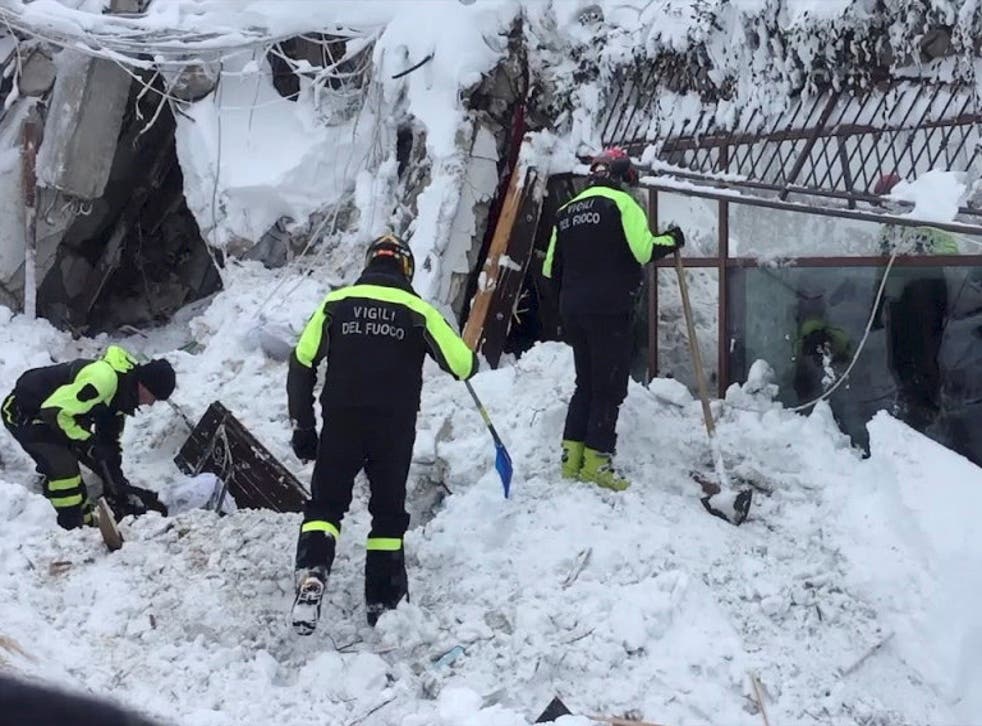 Four more survivors have been pulled from the rubble of a hotel in Italy that was crushed by an avalanche following a series of earthquakes.
Emergency services were working as families waited to hear if missing relatives had been found.
Up to 30 people were still unaccounted for following Wednesday's avalanche, which buried the four-storey Hotel Rigopiano in Abruzzo in the the Gran Sasso mountains of central Italy under five metres of snow.
The overnight rescue operation raised the number of people found alive in the ruins to at least nine, although there seemed to be confusion over the number of people rescued. One firefighter said 11 people had been found alive.
Two people escaped the avalanche just before it struck, including tourist Giampiero Parete, a chef, who sounded the alarm.
He was reunited with his wife and two children after they were among the first to be extracted from the debris.
The hotel's dogs also survived and have now been reunited with their puppies, AFP reported.
The white Maremma sheepdogs, called Lupo and Nuvola, meaning Wolf and Cloud, who were born and raised in the hotel, were initially thought to have died in the avalanche.
But they were found on Thursday four kilometres away from the hotel.
In pictures: Deadly avalanche buries Italian hotel

Show all 12
Local resident Martina Rossi, who worked at the hotel but was not there when the avalanche struck, told AFP about the moment she found the dogs.
"I saw them in the street about 9.30 pm on Thursday night, and my heart started beating very fast," she said.
"I called their names and they recognised me, I was so happy. I have no idea how they got there."
The hotel owner was still missing so another resident has taken the dogs in and adopted their newly born litter of puppies.
Prosecutors have opened a manslaughter investigation and were looking into whether the avalanche threat was taken seriously enough and whether the hotel should have been evacuated given the forecasts.
Register for free to continue reading
Registration is a free and easy way to support our truly independent journalism
By registering, you will also enjoy limited access to Premium articles, exclusive newsletters, commenting, and virtual events with our leading journalists
Already have an account? sign in
Register for free to continue reading
Registration is a free and easy way to support our truly independent journalism
By registering, you will also enjoy limited access to Premium articles, exclusive newsletters, commenting, and virtual events with our leading journalists
Already have an account? sign in
Join our new commenting forum
Join thought-provoking conversations, follow other Independent readers and see their replies