Sea-Watch 3: Refugee ship captain arrested after defying Matteo Salvini by taking rescued migrants to port
Far-right Italian interior minister says Carola Rackete is an 'outlaw'
Peter Stubley
Saturday 29 June 2019 17:01 Comments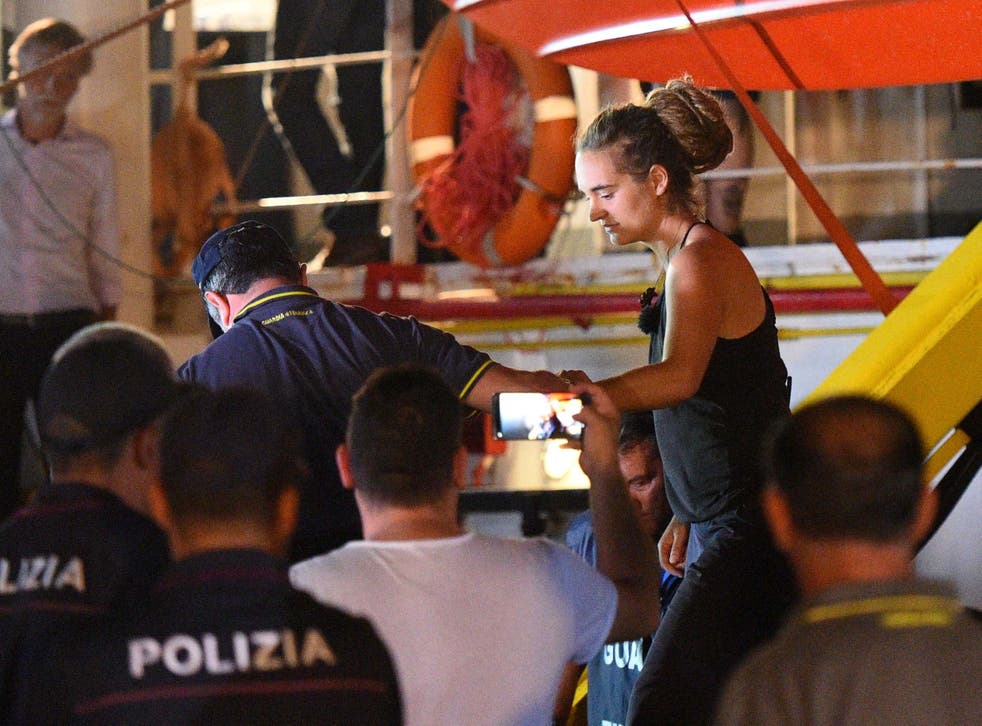 The captain of migrant rescue ship Sea-Watch 3 has been arrested after ending a two-week standoff with Italian authorities by docking at the island of Lampedusa.
Carola Rackete defied warnings from the country's interior minister, Matteo Salvini, and rammed a border police boat blocking the path to the port.
The 40 refugees on board hugged the crew and kissed the dock when they arrived on Saturday morning.
"We are not relieved, we are angry," said Ms Rackete in a statement. "This disembarkation should have taken place more than two weeks ago and it should have been coordinated instead of hindered by the authorities.
"European governments in their air conditioned offices have gambled with these people's lives for more than 16 days. Not a single European institution was willing to assume responsibility, until I was forced to do so myself."
However Mr Salvini described the captain as an "outlaw" and claimed she had put the lives of law enforcement officers at risk.
"Solidarity with women and men of the police forces and the Guardia di Finanza in particular, given that a few hours ago they risked their lives for the CRIMINAL choice of SeaWatch," he tweeted.
"For days they have been defending the legality and the Italian borders, forced to work overtime by a pirate ship."
The depth of the refugee crisis across the world

Show all 20
He said he had ordered authorities to detain the captain and seize the ship, "which goes around the Mediterranean breaking laws".
The far-right minister also accused left-wing politicians in Italy of "applauding" the actions of the German humanitarian organisation which owns the ship.
​Democratic Party politician Graziano Delrio likened her actions to an ambulance driver "which goes through a red light" to speed ailing patients to a hospital.
Sea Watch defended the actions of the captain and accused Mr Salvini of being "cowardly".
"We are proud of our captain, she did exactly the right thing," said chairman Johannes Bayer. "She followed the law of the sea and brought people to safety.
"Instead of her, Matteo Salvini should be investigated for kidnapping and violation of international law. Far too often he has cowardly avoided prosecution by counting on his immunity in parliament."
The standoff began after Sea-Watch 3 rescued 53 people from an unseaworthy boat launched by Libya-based traffickers on 12 June.
Thirteen were taken off for medical reasons and taken to Italy for treatment but Mr Salvini refused to let the ship dock until other European Union countries agreed to take in the migrants.
The Interior Ministry said on Friday that offers had been received from Finland, France, Germany, Luxembourg and Portugal.
Additional reporting by Associated Press
Register for free to continue reading
Registration is a free and easy way to support our truly independent journalism
By registering, you will also enjoy limited access to Premium articles, exclusive newsletters, commenting, and virtual events with our leading journalists
Already have an account? sign in
Join our new commenting forum
Join thought-provoking conversations, follow other Independent readers and see their replies