Italy's president facing impeachment calls after rejecting Eurosceptic finance minister
New elections loom as interim prime minister appointed following failure of populist coalition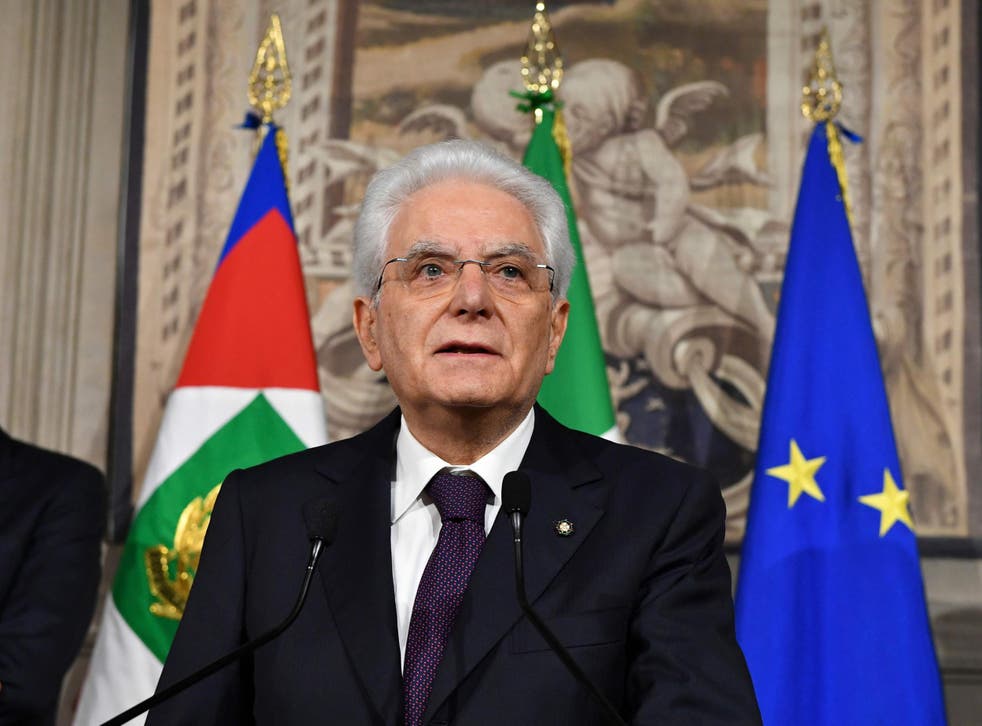 Italy has been plunged deeper into political turmoil after its president vetoed the appointment of a Eurosceptic finance minister, forcing the country's populist prime minister-in-waiting to abandon attempts to form a government.
Sergio Mattarella, who was installed as president by a previous pro-EU government, has faced calls for his impeachment after he refused to accept a minister who called Italy's entry into the eurozone a "historic mistake".
On Monday, the president appointed a former International Monetary Fund (IMF) economist as interim prime minister in a bid to restore political order and end an 11-week deadlock after inconclusive national elections.
His rejection of 81-year-old Paolo Savona as finance minister had earlier foiled a bid by the populist Five Star Movement, the country's largest party, to form a government with far-right partners the League.
The move provoked outrage from the two parties, who claimed the president had betrayed the state, and raised the likelihood of new elections in a country that has been without a government since the last vote on 4 March, when no party secured a parliamentary majority.
"We were a few steps away from forming a government, and we were stopped because in our cabinet there was a minister who criticised the EU," said Five Star leader Luigi Di Maio.
"I want this institutional crisis to be taken to parliament ... and the president tried," he told state broadcaster RAI.
Mr Di Maio said charges could be brought under article 90 of the constitution, which allows members of parliament to vote on whether the president committed "high treason".
If a majority voted in favour, the constitutional court would then be called to decide whether to impeach.
World news in pictures

Show all 50
President Mattarella, who as head of state is supposed to be politically neutral, said he had approved of all proposed cabinet ministers except Mr Savona.
In a sombre televised speech in Rome, he said the economy ministry "always constitutes an immediate message of trust or alarm" for financial markets, and as such he could not accept a minister who may "inevitably provoke Italy's exit from the euro".
"The uncertainty over our position has alarmed investors and savers both in Italy and abroad," he added. "Membership of the euro is a fundamental choice. If we want to discuss it, then we should do so in a serious fashion.
"No one can claim that I have stood in the way of the formation of the so-called government for change."
The president's decision forced Giuseppe Conte to step down as proposed premier.
Mr Conte, a law professor and political novice who supports Five Star, had been nominated to be prime minister by Mr Di Maio and League leader Matteo Salvini.
The two party heads had set aside a rivalry to open talks over forging a coalition, but each refused to back the other to lead the government.
President Mattarella summoned former IMF senior official Carlo Cottarelli for a meeting on Monday and appointed him as stopgap prime minister, tasked with trying to form a technocratic government and ending weeks of political and constitutional turmoil.
Mr Cottarelli, known as "Mr Scissors" for making cuts to public spending, is likely to prove a calming choice for the financial markets, which tumbled last week amid fears the mooted coalition would unleash a spending splurge and increase Italy's already huge debt mountain.
But his appointment is likely to be only a short-term solution ahead of probable elections in the autumn.
Polls have suggested that the League, which won 17 per cent of the vote in March, would see its support surge in a new ballot, while support for Five Star remains strong.
Mainstream centre-left and centre-right parties were seen losing further ground in the face of voter anger over the sluggish economy.
"If we're not free to decide, better to go back to vote," Mr Salvini told a rally of League supporters on Sunday.
He added: "If there's not the OK of Berlin, Paris or Brussels, in Italy a government cannot be formed. It's a folly, and I ask the Italian people to stay close to us because I want to bring democracy back to this country."
The two populist parties have proposed to lower taxes, roll back planned pensions cuts and increase welfare spending, at a cost of tens of billions of euros.
Their agreed joint programme also pledges to repatriate irregular migrants and block landlords from hosting those who have crossed the Mediterranean to safety.
Register for free to continue reading
Registration is a free and easy way to support our truly independent journalism
By registering, you will also enjoy limited access to Premium articles, exclusive newsletters, commenting, and virtual events with our leading journalists
Already have an account? sign in
Register for free to continue reading
Registration is a free and easy way to support our truly independent journalism
By registering, you will also enjoy limited access to Premium articles, exclusive newsletters, commenting, and virtual events with our leading journalists
Already have an account? sign in
Join our new commenting forum
Join thought-provoking conversations, follow other Independent readers and see their replies