Italian prime minister Giuseppe Conte to resign amid coalition crisis
Premier hopes to form new coalition after defection of former ally Matteo Renzi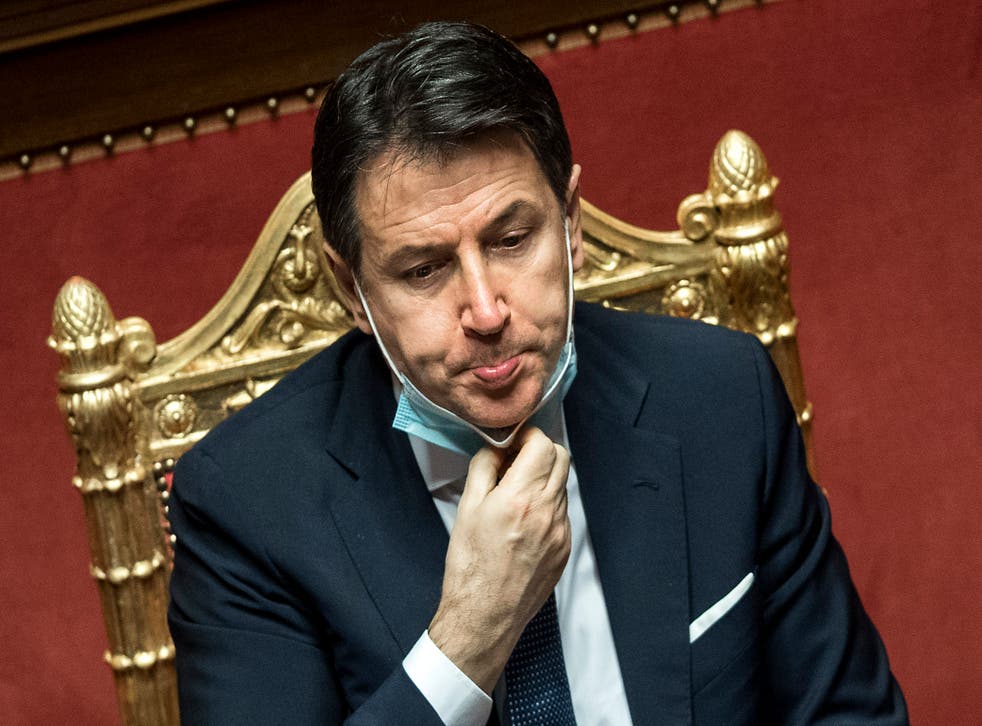 Italy's prime minister Giuseppe Conte has announced he will hand in his resignation in a bid to form a stronger government.
Mr Conte, who survived two confidence votes in parliament last week, will offer to stand down during a meeting with the president Sergio Mattarella on Tuesday.
His government lost its majority earlier this month with the defection of coalition ally Matteo Renzi, the leader of the Italia Viva party, over his handling of the coronavirus pandemic.
Mr Conte's office said on Monday night that he will inform his cabinet ministers of his intention to resign at 9am before heading to the presidential palace.
If his resignation is accepted, the president could either ask Mr Conte to try and form a new coalition or seek another leader to form the government. Alternatively Mr Mattarella could dissolve parliament, prompting a new general election.
The president has frequently stressed the need for the nation to have solid leadership as it struggles with the Covid-19 pandemic, which has had devastating effects on Italy's economy and caused more than 85,000 deaths.
Mr Conte, who has been prime minister since 2018, had previously headed a government as part of a centre-left coalition with the populist 5-Star Movement and the right-wing League party of Matteo Salvini.
That coalition collapsed in September when Mr Salvini withdrew his support and Mr Conte formed a new cabinet with the centre-left Democratic Party.
However Mr Conte, while close to 5-Star, does not head any party and so will not be part of the formal consultations between the president and party leaders.
It raises the prospect of former premier Silvio Berlusconi, head of the Forza Italia party, influencing the choice of a new leader.
Just hours before the announcement by Conte's office, Mr Berlusconi said he was trusting the "political wisdom" of Mr Mattarella to indicate the way out of the crisis.
"The high road is one only," Mr Berlusconi said in a statement, adding that the solution would either be a "new government that would represent substantial unity of the country in a moment of emergency" or a new election "to give back the (deciding) word to the Italian" voters.
Nicola Zingaretti, leader of the Democrats, called for a new Conte government that would be "clearly pro-Europe and backed by a wide parliamentary base that would guarantee credibility and stability to face the great challenges that Italy has before it."
Meanwhile Mr Salvini is hoping to gather support among the centre-right parties for elections. He said: "The Italians need hospitals, open and safe schools, and a year of tax peace to give back breath and hope to families and businesses," Salvini said. "This isn't the government that can escort Italy out of this disaster."
One of the major issues which divided the coalition government was how to spend €209bn (£186bn) of EU Covid recovery funds. Mr Conte planned to let technocrats, not MPs, decide how the money is distributed, while Mr Renzi wanted them to be used in the digital economy and on green energy and accused the prime minsiter of "squandering public money."
Mr Renzi has indicated he ould return to the coalition on the condition that Mr Conte accepts a string of demands, but the anti-establishment 5-Star Movement has made clear that it does want any reconciliation. reconciling with Renzi.
Industry minister Stefano Patuanelli, a 5-Star politician, said Mr Renzi was "a problem and cannot be part of the solution."
Additional reporting by agencies
Register for free to continue reading
Registration is a free and easy way to support our truly independent journalism
By registering, you will also enjoy limited access to Premium articles, exclusive newsletters, commenting, and virtual events with our leading journalists
Already have an account? sign in
Register for free to continue reading
Registration is a free and easy way to support our truly independent journalism
By registering, you will also enjoy limited access to Premium articles, exclusive newsletters, commenting, and virtual events with our leading journalists
Already have an account? sign in
Join our new commenting forum
Join thought-provoking conversations, follow other Independent readers and see their replies