Far-right Italian leader Salvini launches bill to fine rescuers €5,500 for each refugee they save
'It's like fining ambulances for bringing patients to hospital'
Alessio Perrone
Tuesday 14 May 2019 16:29 Comments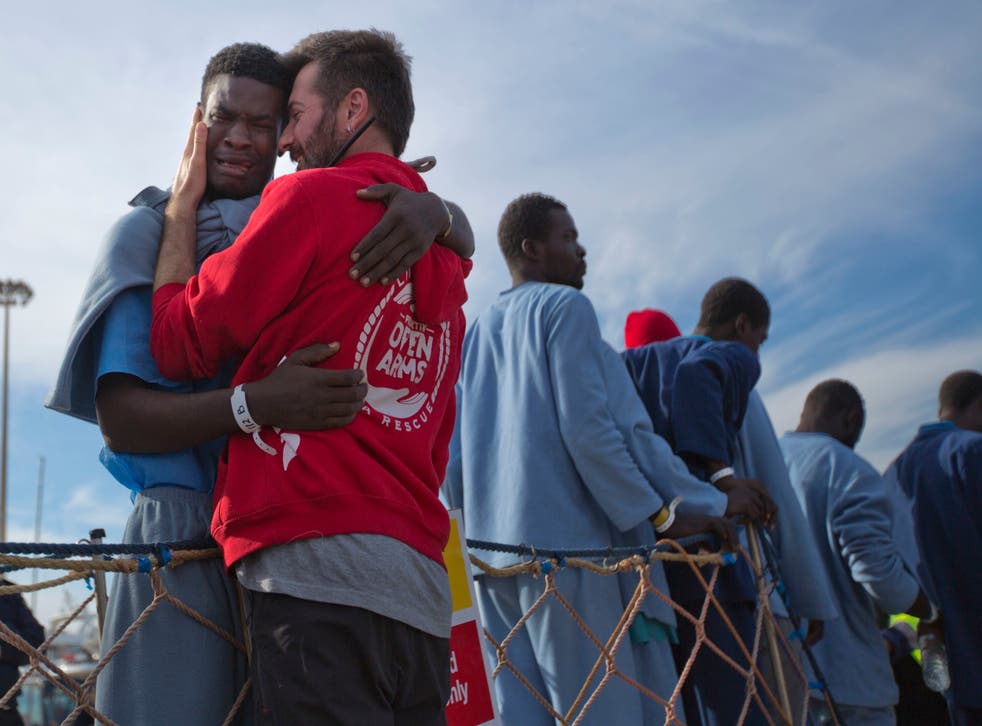 Italian interior minister Matteo Salvini has proposed a bill to fine those who rescue refugees at sea up to €5,500 (£4,800) for every saved person.
The bill, which was announced by Mr Salvini on Friday, would present vessels with fines between €3,500 and €5,500 for each "foreigner" they deposit on Italian ground.
In the most serious cases, Italian vessels caught transporting rescued refugees would see their licences revoked or suspended.
Third-sector organisations blasted the bill as Italy's "umpteenth attack on human life", "bullying" and "bending of international law".
"It's like fining ambulances for bringing patients to hospital," said Claudia Lodesani, president of Medecins Sans Frontieres (MSF) Italy, in a statement.
Breaking down cultural barriers between refugees and host nations

Show all 10
"The new decree from the Italian government is threatening legal principles and the duty of saving lives at sea."
But others doubted that part of the bill would become law precisely because it contradicts international maritime conventions.
"We don't expect it to become any kind of piece of enforceable legislation," says Frederic Penard, director of operations at SOS Mediterranee, which used to run the Aquarius boat together with MSF.
"Captains doing rescue at sea do not have a choice – it is an obligation," he said, citing the UN Convention on the Law of the Sea of 1982.
Riccardo Gatti, head of mission at Open Arms, told The Independent he was "neither alarmed nor worried" about the bill.
Rescue ship Aquarius waits for port of safety for 141 migrants saved in the Mediterranean
"It would be a defeat of search and rescue missions and EU values," he said. "But we have learned that Salvini's objective is often to make some noise with some huge declarations that turn out to be false after some time."
"Consequences would be severe but we wouldn't stop SAR operations because of this. We're acting in accordance with the law," said Ruben Neugebauer of Sea-Watch, the aid group in charge of one of the only remaining rescue boats in the Central Mediterranean, between Italy and Libya.
The bill would need to be approved by the Italian cabinet before being turned into a decree. The decree would then be voted in the Italian parliament before it becomes law.
Mr Salvini's party, the far-right League, forms a government coalition with the Five Star Movement, and the bill includes provisions to give Mr Salvini some powers currently held by a Five Star minister, which could hurt its chances of becoming law.
The bill also includes other measures to give more powers to the police and to introduce harsher penalties for resisting or offending officers.
Last year, Italy and Malta stepped up efforts to prevent third-sector rescue vessels from operating in the Mediterranean Sea. As a result, many aid groups have had to terminate search and rescue operations.
According to the International Organisation for Migration (IOM), some 17,000 refugees have reached Europe via the Mediterranean Sea since the beginning of 2019, compared with some 32,000 during the same period last year.
But the death rate has risen dramatically, especially in the Central Mediterranean.
Some 307 people have gone missing or lost their lives trying to reach Italy and Malta this year, or one every eight who attempted the crossing.
The same figure was one every 50 last year.
"It is clear that crossing the Mediterranean is now more dangerous than ever," IOM spokesperson Flavio Di Giacomo wrote on Twitter. "And saving lives at sea (and bringing migrants to a safe port, not Libya) should be the number one priority."
Support free-thinking journalism and attend Independent events
Register for free to continue reading
Registration is a free and easy way to support our truly independent journalism
By registering, you will also enjoy limited access to Premium articles, exclusive newsletters, commenting, and virtual events with our leading journalists
Already have an account? sign in
Join our new commenting forum
Join thought-provoking conversations, follow other Independent readers and see their replies