Italy's new PM Matteo Renzi appoints women to lead major state companies in a bid to consign sexism to the past
Mr Renzi declared: 'We were the bunga-bunga country – but now the women are in charge'
Michael Day
Tuesday 15 April 2014 22:38 Comments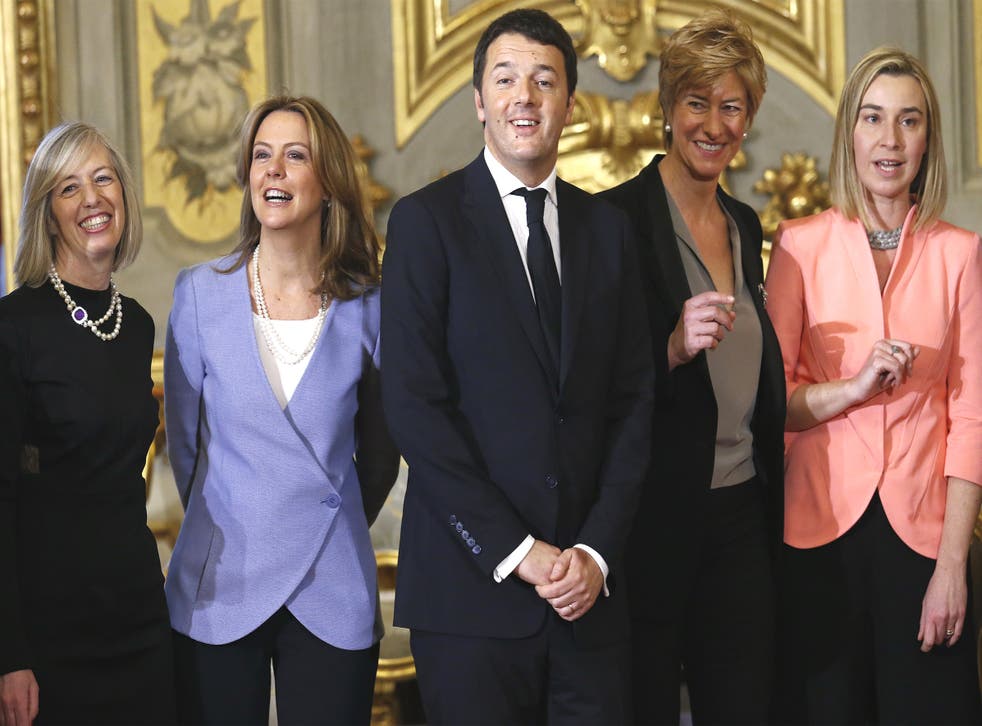 The Italian Prime Minister Matteo Renzi has appointed women to oversee the country's most important state companies in the latest sign that he wants to consign Italian sexism to the history books.
"We were the country of bunga bunga – now women are in charge of foreign affairs and defence and they lead the biggest Italian companies," Mr Renzi declared after naming women as the new presidents of four key public corporations: the post office, Eni (gas), Enel (electricity) and Terna (national grid system); women also hold prominent positions in the Renzi cabinet.
With Silvio Berlusconi, Europe's most unreconstructed ex-premier, out of power, Renzi supporters say Italian women may finally be getting the chances – and the jobs – they deserve.
The opportunity to appoint new heads of the country's big state corporations only comes around once in a decade or so, and Mr Renzi has seized the opportunity to cement his power as the leader of a fragile left-right coalition.
Two of the four appointments – Luisa Todini at the Post Office and Emma Marcegaglia at Eni – will have been appreciated by Mr Renzi's centre-right coalition allies.
The round of appointments has also enabled Mr Renzi to trumpet his crowd-pleasing decision to slash the salaries of public sector fat cats. Unlike their predecessors, the new presidents' and chief executives' salaries will not exceed the €238,000 (£200,000) earned by President Giorgio Napolitano.
Women in business: Italy's high-flyers

Show all 4
It is the gender of the nominees for presidential posts of four key state-controlled companies, however, that has grabbed the headlines, with Mr Renzi hailing the move as further evidence of his determination to raise women's status in public life.
"Four women presidents out of five nominees; this is my real revolution in front of Italian and international public opinion," Mr Renzi said. "Europe has seen us for a long time as a country lagging behind in its ability to rejuvenate management and give women important jobs."
Mr Renzi had already appointed women to eight out of his 16 cabinet jobs, while last week the centre-left premier nominated women to head his Democratic Party's electoral lists in European parliamentary elections on 25 May.
Mr Renzi's tactics are not without critics, however. The conservative Berlusconi family newspaper Il Giornale sought to downplay the significance of the appointments.
It noted that as presidents, the four women would have non-executive roles – positions it dismissed as "representation without power" – even if it's hard to imagine Ms Marcegaglia, the outspoken former employers' association leader, remaining quietly in the background in her new role at the state energy giant Eni. New male chief executive appointees, the paper said, would actually run things.
One of Il Giornale's leading columnists, Marcello Veneziani, told The Independent that Mr Renzi was guilty of sexism. "I'm not saying the women aren't well qualified," he said. "I'm saying that they were chosen for ideological reasons; Renzi wanted to appoint women. But a person should be chosen on merit and nothing else."
Silvio Berlusconi certainly handed out top jobs to women when he was Prime Minister. But these appointments were ridiculed for obvious reasons. Mara Carfagna, a topless model, was the mogul's choice as Equalities Minister. Nicole Minetti, his lover and the woman charged with organising his Arcore sex parties, was given a highly paid regional councillor's job.
In contrast Mr Renzi's high-profile female appointees in politics and industry can, for the most part, claim CVs to justify their jobs.
Daniela del Boca, an economist and a regular columnist with La Voce, the influential online think-tank, welcomed the appointment of Ms Marcegaglia, et al. "The change is a positive one given that the number of women in top positions was very low until 2011," she said.
In that year the Golfo-Mosca law introduced gender quotas in the boards of Italy's listed companies. The proportion of women in boardrooms has since increased from 7 to over 20 per cent. However, Ms Del Boca also regretted that Mr Renzi's latest female appointments were for presidential rather than chief executive jobs. She feared that many women joining boardrooms were being given token roles. "These [state industry] jobs are of course very important. But it would be nice to see women running these companies."
But the MP who introduced the Golfo-Mosca law, Alessia Maria Mosca of the centre-left Democratic Party, said the symbolic importance of giving women top jobs should not be underestimated. She said that, with women routinely portrayed on Italian television as little more that sex objects and with domestic violence still rampant, having strong female role models could help change attitudes. "This is fundamental," she said.
Doubts remain, though about the Renzi government's ability to help women with less stratospheric CVs.
In the 1990s 48 per cent of Italian women were in work, which was already a low figure compared with the rest of Europe. The figure has since fallen to 46 per cent.
"Now we want practical policies to get more ordinary women back into work," said Ms Del Boca.
With more women in positions of influence in big companies, the changes needed to create such jobs might come more easily, said Ms Mosca.
Register for free to continue reading
Registration is a free and easy way to support our truly independent journalism
By registering, you will also enjoy limited access to Premium articles, exclusive newsletters, commenting, and virtual events with our leading journalists
Already have an account? sign in
Join our new commenting forum
Join thought-provoking conversations, follow other Independent readers and see their replies