Jeremy Hunt asks Germany to lift ban on weapons sales to Saudi Arabia because of impact on arms dealers
Germany halted sales after murder of journalist and in wake of evidence of war crimes being carried out in Yemen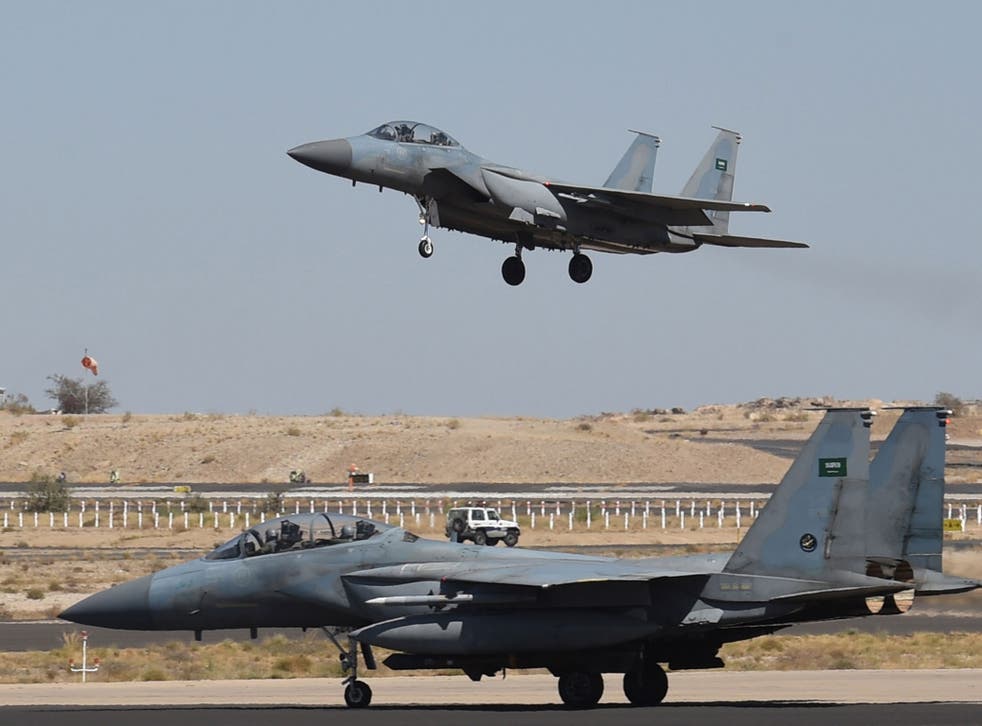 The foreign secretary has written to the German government to ask it to start selling arms to Saudi Arabia again, after the country halted exports due to concerns about human rights.
Jeremy Hunt said he was concerned about the impact the recently imposed embargo would have on arms manufacturers' balance sheets.
Germany has joined other EU countries including Denmark and Finland in ending arms sales in the wake of evidence of war crimes being committed by Saudi coalition forces in Yemen.
Human rights groups say Saudi warplanes have bombed schools, hospitals, weddings and food factories – contributing to 13 million civilians facing starvation and "the worst famine in 100 years", according to the United Nations.
The high-profile killing of Saudi journalist Jamal Khashoggi also spurred a number of countries to impose arms embargoes on the oil-rich autocracy.
In a letter obtained by German newspaper Der Spiegel, Jeremy Hunt wrote to his counterpart Heiko Maas, telling him: "I am very concerned about the impact of the German government's decision on the British and European defence industry and the consequences for Europe's ability to fulfil its Nato commitments."
A number of House of Commons committees and the European parliament have called for the UK to follow Germany's example and impose an arms embargo, while internal advice shows UK civil servants had also recommended an end to the sales as early as February 2016 – stating it would be "prudent and cautious" to do so.
Government statistics show that since the bombing of Yemen began in 2015, Britain has licensed £4.7bn worth of arms to Saudi Arabia, including £2.7bn worth of aircraft and £1.9bn worth of bombs and missiles.
Asked about his lobbying efforts at a speech in Berlin, Mr Hunt said he wanted to keep selling Saudi Arabia weapons so there was "a European voice at the table doing everything we can to press for peace".
"Britain and Germany has complete agreement on the overriding need to find a solution to the terrible war in Yemen, which is the worst humanitarian crisis in the world today," he said.
"Over 80,000 children have died of starvation, there are about a quarter of a million people starving at the moment, and around 20 million people don't have food security – they don't know whether they're going to be able to get the food they need in the days ahead. So this is a totally critical situation.
"Britain's policy with respect to arms exports is one of the strictest in the world: we follow the European guidelines, we have an independent assessment of whether our arms exports are likely to be used in breaches of international law. At the moment we don't make that judgement.
The children wounded in Yemen's war

Show all 15
"But when I talk to Heiko Maas what I say is that strategic relationship that the UK has with Saudi Arabia is what allows us to have a huge influence in bringing about peace in Yemen. In fact I would go as far as to say that without that strategic relationship it wouldn't have been possible to proceed with the Stockholm agreement, which his the first ray of hope – though others were extremely important in making that happen as well."
Andrew Smith from the campaign group Campaign Against Arms Trade said: "Jeremy Hunt is meant to be a statesman, not an arms dealer. He should not be using his position to push for arms sales or lobby other governments on behalf of BAE Systems.
"UK-made fighter jets and bombs have had a devastating impact on Yemen. They have played a central role in creating the worst humanitarian crisis in the world. It's time for Hunt to follow his German counterparts and finally end the arms sales."
Register for free to continue reading
Registration is a free and easy way to support our truly independent journalism
By registering, you will also enjoy limited access to Premium articles, exclusive newsletters, commenting, and virtual events with our leading journalists
Already have an account? sign in
Register for free to continue reading
Registration is a free and easy way to support our truly independent journalism
By registering, you will also enjoy limited access to Premium articles, exclusive newsletters, commenting, and virtual events with our leading journalists
Already have an account? sign in
Join our new commenting forum
Join thought-provoking conversations, follow other Independent readers and see their replies