France bids a fond adieu to rock icon Johnny Hallyday
Huge crowds gathered in Paris for the funeral of the 'French Elvis'
Saturday 09 December 2017 18:54
comments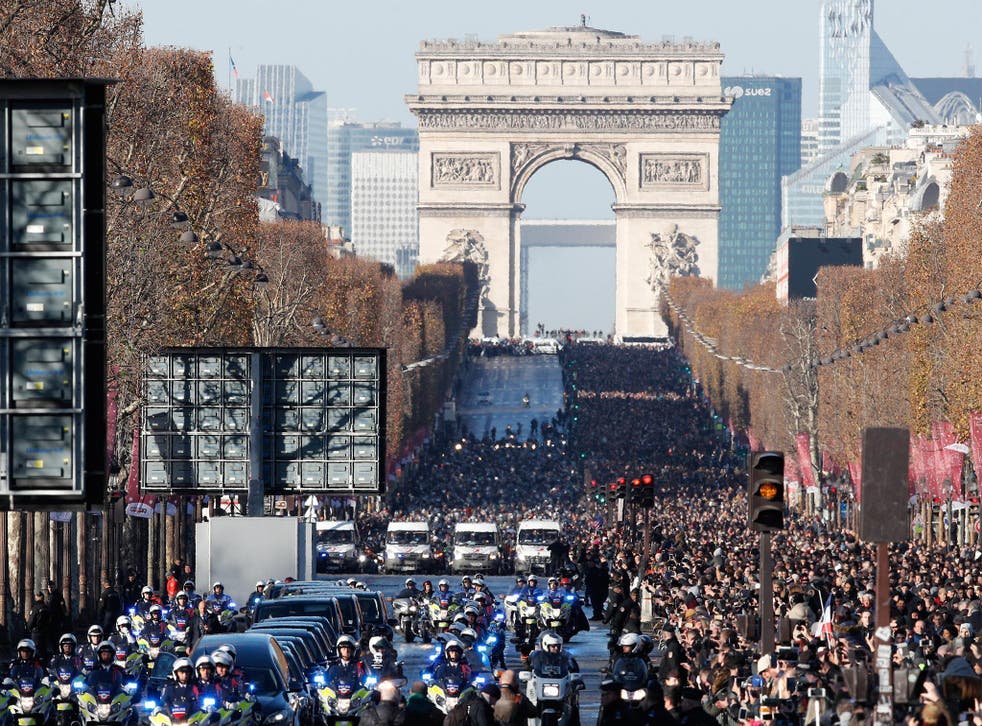 France has bid farewell to its biggest rock star, honouring Johnny Hallyday with a funeral procession down the Champs-Élysées, a presidential speech and a parade of motorcyclists – all under intense security.
Few figures in French history have earned a send-off as elaborate as the one for the man sometimes dubbed the "French Elvis".
It was ordered by President Emmanuel Macron – a Hallyday fan himself, like generations of others across the French-speaking world.
"Johnny was yours. Johnny was his public. Johnny was his country," Mr Macron told fans massed in central Paris for the funeral events.
Hallyday's death on Wednesday at the age of 74, after fighting lung cancer, unleashed emotion across the country, where the man known to the public simply as Johnny had been an icon for more than half a century.
"He should have fallen 100 times but what held him up and lifted him was your fervour, the love that you brought him," Mr Macron told Hallyday fans on the steps of Paris's Madeleine Church, referring to the musician's illnesses and extreme lifestyle.
Shouts of "Johnny! Johnny!" and thunderous applause rose up as Mr Macron finished his speech. Fans then started singing Hallyday tunes.
In an honour usually reserved for heads of state or cultural greats such as 19th-century writer Victor Hugo, Hallyday's funeral cortege rode past the Arc de Triomphe monument and down the Avenue Champs-Élysées to the Place de la Concorde plaza on the River Seine.
Adding a rock touch to the pomp-filled event, hundreds of motorcyclists accompanied the procession, in a nod to Hallyday's lifelong passion for motorcycles and biker image, with his ever-present leather jackets and numerous tattoos.
About 1,500 police officers secured the area, a helicopter surveyed the scene and emergency vehicles filled nearby streets as tens of thousands of fans lined the procession route, many dressed to emulate his flashy, rebellious style.
Some climbed on fences – and even the roof of a luxury hotel – to get a better view.
Catherine Frichot-Janin, 61, and her husband came from Geneva in Switzerland to join the throng.
"He's the companion who's always there when you have a worry. There will always be his music playing in a bistro or a concert," she said. "He's not a god, but he's always been there for me since I was a girl."
Laura Dublot, a 30-year-old Parisian, and her brother David are among many of their generation who were named after Hallyday's older children, Laura and David.
"He's a national icon. This scale of funeral is not surprising – he's united three generations of French," she said.
Laurenne Coral, a 25-year-old from Lyon, said: "For the French, he's like what Queen Elizabeth is for the English."
A star lineup of speakers paid homage inside the neo-classical church, including actors Marion Cotillard and Jean Reno, and singer Patrick Bruel.
Guests included former presidents Francois Hollande and Nicolas Sarkozy, who officiated at Hallyday's last marriage.
World news in pictures

Show all 50
The words "Thank you Johnny" are being displayed on the Eiffel Tower over the weekend, and football stadiums are playing Hallyday's songs before kick-off.
Hallyday, born Jean-Philippe Smet, is expected to be buried on the French Caribbean island of St Barts, where he owned a house.
He is survived by his wife Laeticia, his two former wives, four children and three grandchildren.
AP
Join our new commenting forum
Join thought-provoking conversations, follow other Independent readers and see their replies