Journalist who infiltrated Isis cell planning a terror attack in France 'never saw any Islam'
Group reportedly received orders to attack a night club from a militant who had travelled to Raqqa
Lizzie Dearden
Tuesday 03 May 2016 10:30 Comments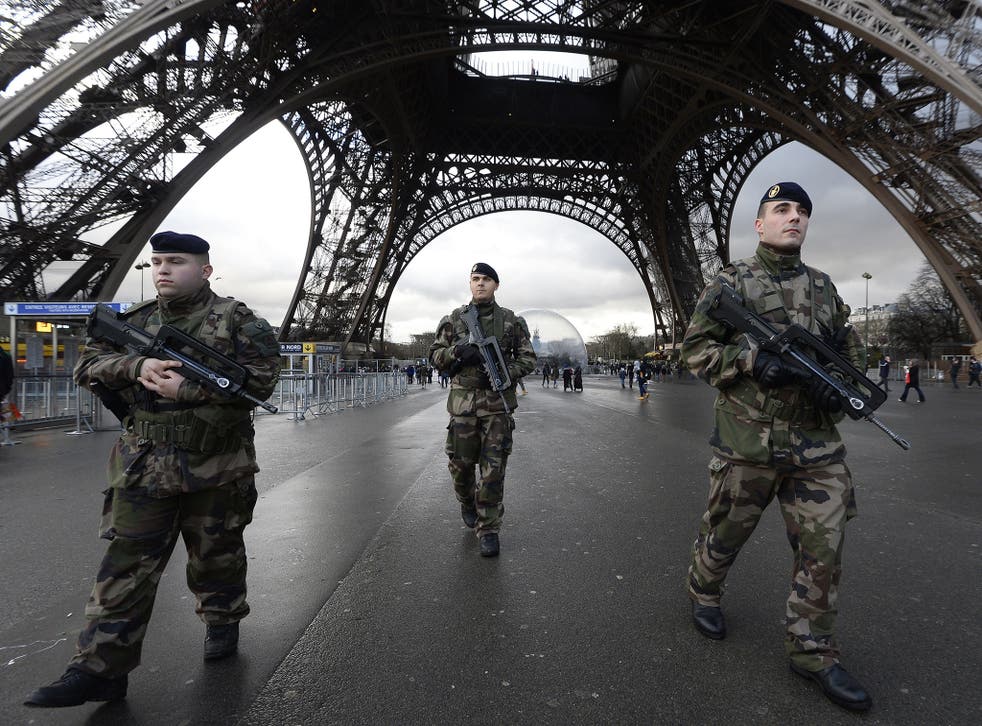 A journalist who infiltrated a cell of Isis supporters as they planned a terror attack in France said he found "lost, frustrated, suicidal, easily manipulated youths".
The man, who is using the pseudonym Said Ramzi to protect his identity, said he "easily" contacted the group who called themselves the Soldiers of Allah on Facebook.
Embedded with the extremists for six months between summer 2015 and January, he filmed their meetings with a hidden camera as they plotted an attack on a nightclub.
The footage was broadcast by French network Canal + in a documentary called Allah's Soldiers on Monday.
The network consisted of 10 members led by a 20-year-old man called Ossama, who had been refused by the French army and been a Satanist and alcoholic before discovering radical Islam online, the broadcaster said.
Having being caught attempting to join Isis, he was jailed for five months in France but set up the cell after his release and became its "emir".
While Ossama fulfilled bail conditions reporting to a local police station once a day, he used the encrypted messaging app Telegram to organise meetings with his fellow Isis supporters.
One video shows the French-Turkish national smiling as he imagines being shot dead in a police operation, saying "the martyr does not resent pain".
"We must hit a military base," Ossama says during the meeting at a park in Châteauroux. "When they are eating, they are all lined up … ta-ta-ta-ta-ta…or journalists.
"BFM, iTélé ([French broadcasters], they are at war against Islam.
"Like they did to Charlie [Hebdo]. You must strike them at the heart. Take them by surprise. They aren't well protected. The French must die by the thousands."
Mothers of IS terrorists speak
He urges Mr Ramzi to join him on the "path to paradise" in a suicide attack, adding: "Our women are waiting for us there, with angels as servants. You will have a palace, a winged horse of gold and rubies."
In another clip of a meeting in Stains, in the northern subburbs of Paris, a member of the group points to plane landing at Paris–Le Bourget Airport, saying they could "traumatise France for a century" by taking down an aircraft with a rocket launcher.
But the eventual terror plot was not confirmed until orders came from a militant known as Abu Suleiman, who had travelled to Isis' main Syrian stronghold of Raqqa.
After being told to travel to a railway station, Mr Ramzi was met by a woman wearing a full-face veil, who handed him a handwritten letter carrying his orders.
Laying out the plan for an attack targeting a nightclub, it said he should shoot "until death" and then set off a suicide vest after the arrival of security forces.
Mr Ramzi had already been sent instructions for preparing explosives and booby-trapping cars by Abu Suleiman through Telegram.
In pictures: Paris attacks

Show all 25
Ossama and other members of the cell were under surveillance by French intelligence agency the DCRI, and were arrested in December and January.
Suspicion quickly turned to Mr Ramzi, who said he pulled out after receiving a message telling him he was "done for".
The 29-year-old described himself as a Muslim "of the same generation as the killers" who killed 130 people in the Paris attacks.
As a young man of North African origin, he described feeling people watch him on the Paris Metro, calling the jihadis he met "traitors".
"My goal was to understand what was going on inside their heads," Mr Ramzi told the AFP news agency.
"One of the main lessons was that I never saw any Islam in this affair. No will to improve the world. Only lost, frustrated, suicidal, easily manipulated youths.
"They had the misfortune of being born in the era that Isis exists. It is very sad. They are youngsters who are looking for something and that is what they found."
Register for free to continue reading
Registration is a free and easy way to support our truly independent journalism
By registering, you will also enjoy limited access to Premium articles, exclusive newsletters, commenting, and virtual events with our leading journalists
Already have an account? sign in
Join our new commenting forum
Join thought-provoking conversations, follow other Independent readers and see their replies