Judge who targeted Russia's neo-Nazis is found shot dead
Eduard Chuvashov refused state bodyguard despite death threats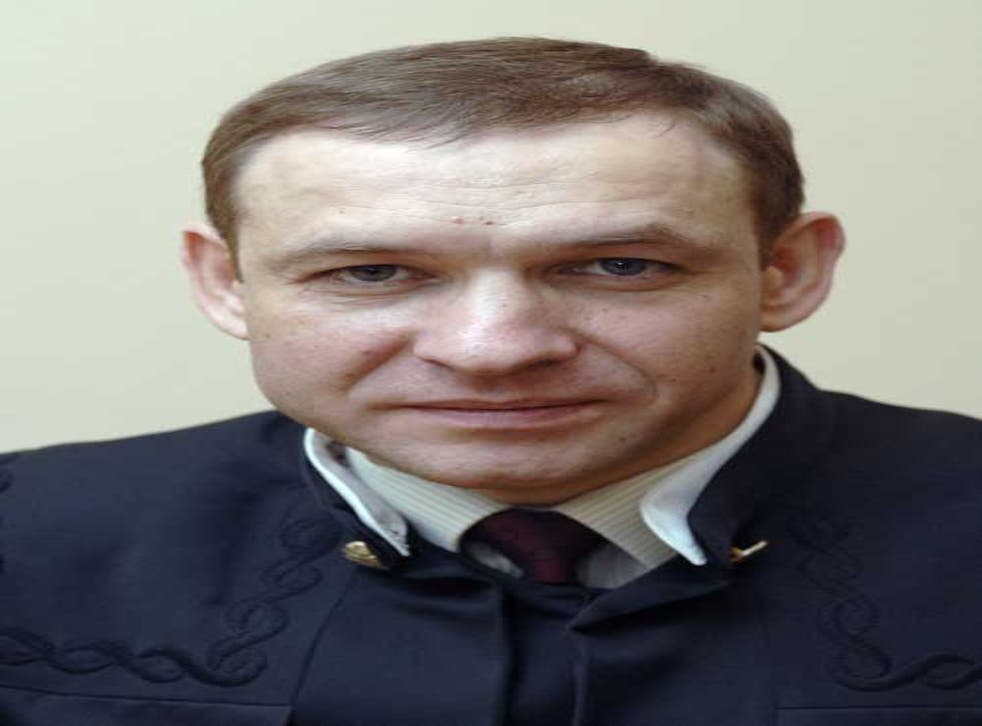 A leading Russian judge who received death threats after handing out long prison sentences to nationalist and neo-Nazi groups was shot dead yesterday in Moscow.
Eduard Chuvashov was shot three times in the stairwell outside his second-floor apartment, just before 9am as he was leaving for work. Sources in Russian law-enforcement said that nationalist groups could have been behind the attack. Mr Chuvashov, 47, had handled several high-profile cases involving racist killings, and death threats were posted along with his photograph on extremist online forums.
In February, Mr Chuvashov presided over the trial of 12 members of an ultra-nationalist group called the "White Wolves" who were accused of a series of gruesome murders of migrant workers, mostly from Central Asia.
The victims had been bludgeoned to death or stabbed many times. The killings were recorded on mobile phones and posted online.
Mr Chuvashov found all of the gang members guilty and sentenced them to up to 23 years in prison. Last week, he jailed another three members of a skinhead group for racist murders.
"Revenge by nationalist groups is certainly one of the most likely reasons for his killing," said Alexander Brod, director of the Moscow Bureau for Human Rights and a leading anti-racism campaigner. "In the past couple of years, judges and prosecutors have begun to crack down on nationalist crimes and take them seriously. It is possible that one of these groups hired a killer to scare others lawyers and judges who work on similar cases."
Russian news agencies reported that Mr Chuvashov had been offered protection by Russian security services after receiving death threats, but he declined the offer of a bodyguard.
Mr Brod said that two judges working on cases involving nationalists were attacked in Russia in 2004. One was shot dead, and another survived after a car bomb was placed under her car.
The murder also recalls last January's slaying of Stanislav Markelov, a lawyer who had worked on cases involving neo-Nazis and was shot dead in daylight on a central Moscow street. Two members of an ultra-nationalist group have been charged with the murder.
Russian President Dmitry Medvedev, a lawyer by training, sent a message to the head of the Moscow City Court promising a thorough investigation into the murder of Mr Chuvashov. "Everything necessary will be done to ensure that the organisers and executors of this cynical killing are found and punished," said the Russian president.
According to data from SOVA, an organisation which monitors hate crime in Russia, at least 60 people were killed in hate crimes last year and more than 300 were injured. Most of the attacks are on migrant workers from Central Asian countries and also from the North Caucasus region of Russia.
Mr Chuvashov was involved in a number of other high-profile cases, including the arrest and detention of Alexander Bulbov, a high-ranking official in Russia's Drugs Control Agency. Mr Bulbov's arrest was widely seen as part of a ruthless battle for influence within Russia's security services.
Mr Chuvashov had yesterday been due to hear the case of a former policeman who had joined a radical leftist organisation and was accused of terrorism, according to an official at the Moscow City Court. A television camera at the entrance to the apartment block caught the alleged killer entering the building. Police said they were looking for a tall Slavic man aged between 25 and 30.
Register for free to continue reading
Registration is a free and easy way to support our truly independent journalism
By registering, you will also enjoy limited access to Premium articles, exclusive newsletters, commenting, and virtual events with our leading journalists
Already have an account? sign in
Register for free to continue reading
Registration is a free and easy way to support our truly independent journalism
By registering, you will also enjoy limited access to Premium articles, exclusive newsletters, commenting, and virtual events with our leading journalists
Already have an account? sign in
Join our new commenting forum
Join thought-provoking conversations, follow other Independent readers and see their replies