Julian Assange: Swedish prosecutors ask to detain WikiLeaks founder over rape investigation
Move is first step in process to have Assange extradited to Sweden and could force UK to choose weigh up competing US request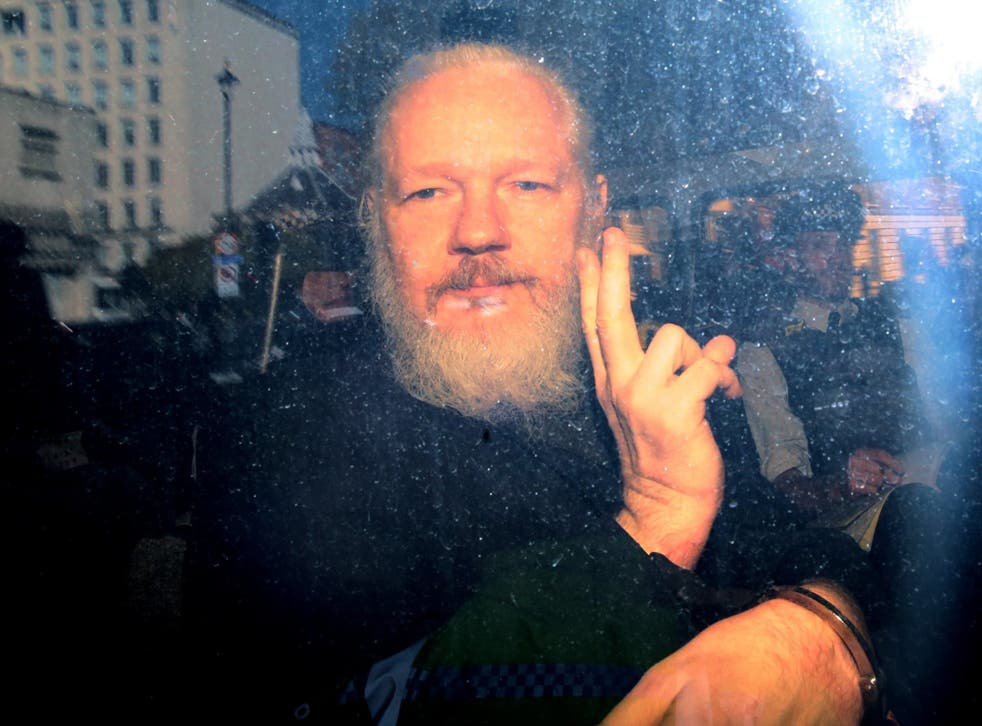 Swedish prosecutors have filed a request for the detention of Julian Assange over an allegation of rape.
Deputy director of public prosecution Eva-Marie Persson said on Monday she would issue a European Arrest Warrant for Assange if Uppsala District Court grants her request for his detention.
If approved, it would be the first step in a process to have the Wikileaks founder extradited from the UK, where he is serving a 50-week sentence for breach of bail conditions.
Sweden reopened an investigation into the rape claim, first made in 2010, earlier this month.
The probe was shelved in 2017 because Assange was holed up in the Ecuadorian embassy in London, where he took refuge five years earlier to avoid extradition.
Key moments for Julian Assange

Show all 9
The 47-year-old was arrested after police stormed the embassy in April following Ecuador's withdrawal of asylum.
The US subsequently requested his extradition to face charges in relation to the leak of government secrets.
The move by Swedish prosecutors means British home secretary, Sajid Javid, could have to choose between two competing extradition requests.
Ms Persson said: "I request the district court to detain Assange in his absence, on probable cause suspected for rape.
"If the court decides to detain him, I will issue a European Arrest Warrant concerning surrender to Sweden.
"In the event of a conflict between a European Arrest Warrant and a request for extradition from the US, UK authorities will decide on the order of priority.
"The outcome of this process is impossible to predict. However, in my view the Swedish case can proceed concurrently with the proceedings in the UK."
Julian Assange: Swedish prosecutors reopen investigation into rape allegation made against Wikileaks co-founder
A lawyer representing Assange in Sweden said he would tell the district court it could not investigate the prosecutor's request until he had conferred with his client and learned whether or not he wished to oppose a detention order.
"Since he is in prison in England, it has so far not been possible even to speak to him by telephone," Per Samuelson said.
The investigation was launched in 2010 after two women separately accused Assange of rape and sexual assault. He denied the allegations and insisted he had consensual sex with both accusers.
The sexual assault inquiry was dropped in 2015 when the statute of limitations passed, and prosecutors also abandoned the rape probe two years later as they were unable to make progress on the probe while the Wikileaks founder was in the embassy.
A lawyer for the alleged rape victim requested Swedish authorities reopen the case after Ecuador revoked Assange's asylum.
Support free-thinking journalism and attend Independent events
On Sunday, Wikileaks said Assange's property from his time living in the embassy, including electronic equipment and legal documents, was to be "handed over" to the US on Monday.
The organisation claimed United Nations officials and Assange's lawyers would be barred from being present as his belongings were removed from the embassy .
His lawyers described the move as an illegal seizure of property, which is said to include two Assange's manuscripts.
A British judge has given the US government a deadline of 12 June to outline its case for Assange's extradition.
Join our new commenting forum
Join thought-provoking conversations, follow other Independent readers and see their replies