Kiev protests: Violent protests erupt outside parliament building over controversial bill
If the bill is passed Ukraine will openly refer to conflict as 'Russian armed aggression'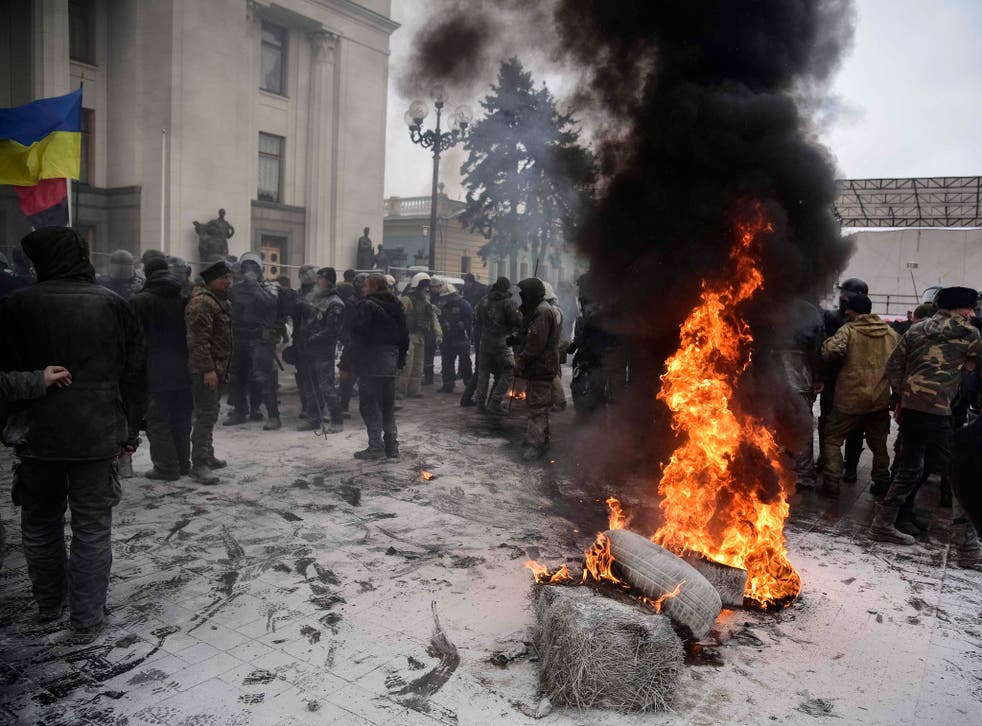 Violent protests erupted outside Kiev's parliament building on Tuesday as the government debated a controversial bill to reintegrate the Russian-occupied Donbas region with the rest of the country.
As the first parliamentary session of the year got underway, at least one policeman was injured and several protesters detained when the scuffles broke out in the Ukrainian capital.
Activists demanding that the reintegration bill be approved burnt the Russian flag and set tyres on fire as they called on the Ukrainian government to officially recognise Russia as an aggressor state.
Riot police attempted to control crowds which had gathered at a camp of supporters of pro-European Ukrainian opposition figure Mikheil Saakashvili, who is also the former president of Georgia.
But officers said the protesters used pepper spray and pelted the police with stones and tyres.
"The situation near the Rada is now under control," Kiev Police said later, adding that local fire fighters had extinguished the burning tyres.
The protesters were led by Semyon Semyonchenko, the former commander of a volunteer battalion in eastern Ukraine suspected of human rights violations, Reuters reported.
Mr Semyonchenko and his supporters have criticised the new law as being too lenient on separatist leaders.
Russian News agency Tass reported that despite the heavy police presence Mr Semyonchenko is not planning to put an end to the protest encampment outside the Rada.
The Kremlin earlier denounced the reintegration bill as "unacceptable" saying the document goes against the Minsk Protocol – an agreement to halt the fighting in the Donbass region.
"From a purely legal point of view, such a formula cannot be acceptable for us, neither de-jure nor de-facto," Kremlin spokesman Dmitry Peskov said last week.
"It is unacceptable. From the legal point of view it contradicts the letter and the spirit of the Minsk agreements."
A final vote on the bill still appears to be some way off due to the large number of amendments parliament must debate.
As the session closed at 6pm on Tuesday politicians had considered 482 of 675 total amendments, the English language paper the Kyiv Post reported.
The bill also seeks to create a legal framework for Ukraine's armed forces in the contested region. If passed, all military operations in Donbas will be ultimately controlled by Kiev rather than the Security Service of Ukraine.
This is significant as it will redefine the key terms of the conflict. Until now, the conflict in Ukraine has been officially referred to as "The Anti-Terrorist Operation". If the bill is passed, then Ukraine will openly refer to the regional conflict as "Russian armed aggression", according to lawyers quoted by the Kyiv Post.
World news in pictures

Show all 50
The conflict between the Russian-backed separatists and Ukrainian government troops has been raging since 2014, killing more than 10,000 people.
Join our new commenting forum
Join thought-provoking conversations, follow other Independent readers and see their replies