King Felipe VI: Who is the King of Spain and why is he visiting the White House?
Monarch and Queen Letizia celebrate four years on throne with trip to meet Donald Trump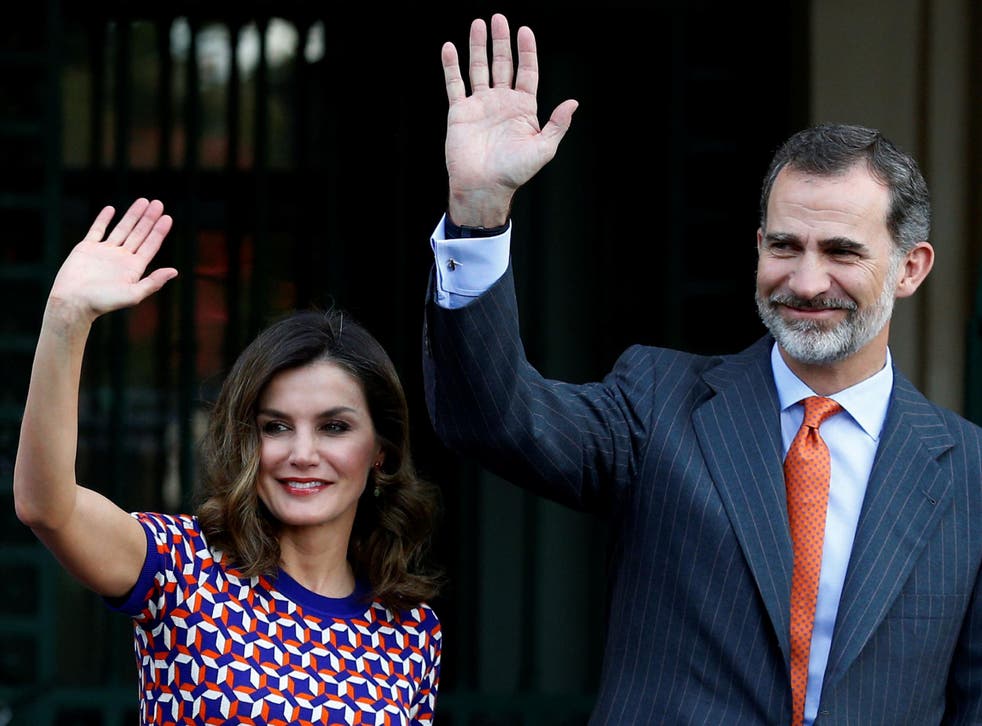 King Felipe VI and Queen Letizia of Spain are visiting the US this week and will take tea with Donald and Melania Trump at the White House on Tuesday.
The royals crossed the Atlantic last week to honour the tricentennials of New Orleans, Louisiana, and San Antonio, Texas, part of the Spanish Empire in the 18th century.
They last visited the US in 2014 and struck up a friendship with Barack and Michelle Obama.
Their visit this time will draw the tour to a close and see them discuss issues pertaining to US-Spanish relations with the president and first lady.
But who is King Felipe and what issues have defined his rule?
King Felipe, 50, ascended to the throne four years ago on Tuesday, succeeding his father, King Juan Carlos I, after he abdicated.
In accordance with his country's constitution, King Felipe is head of state and commander-in-chief of the Spanish Armed Forces and plays a role in promoting positive relations with Hispanic America and Spain's former colonies, regarded collectively as "nations of its historical community".
Queen Letizia, 45, is a former TV news journalist with CNN who married the monarch in 2004. The pair have two daughters: Leonor, 13, and Infanta Sofia, 11, the former being the heir presumptive.
The king was born in Madrid on 30 January, 1968, to King Juan Carlos and Princess Sofia of Greece and Denmark, watching his father ascend to the throne when he was aged seven following the death of dictator Francisco Franco.
At nine, he was made Prince of Asturias and an honorary soldier of the 1st King's Immemorial Infantry Regiment.
Attending school at Santa Maria de los Rosales in Madrid – where his daughters are now enrolled - he was then sent to study at Lakefield College School in Ontario, Canada, before returning to Spain to study law at the Autonomous University of Madrid. His studies were completed when he obtained a Master of Science in Foreign Service degree from Georgetown University in Washington, DC.
In between, he was named as an officer of Zaragoza's General Military Academy by royal decree in 1985, where he completed training before joining the Escuela Naval Militar in Pontevedra and the Academia General del Aire in Murcia, where he learned to fly. After a steady rise through the ranks, he is now Capitan General of the Spanish Army, Air Force and Navy.
King Felipe speaks five languages and spent much of his career prior to taking the throne building diplomatic ties with Latin America and beyond.
He is also a keen sportsman and Athletico Madrid fan and was part of the Spanish sailing team at the 1992 Olympic Games in Barcelona.
Prior to his marriage to Letizia Ortez Rocasolano, King Felipe's bachelor days were a subject of much interest to Spain's busy tabloid newspapers. His two previous relationships were with Spanish noblewoman Isabel Sartorius, frowned upon due to her mother's struggle with cocaine addiction, and with Norwegian underwear model Eva Sannum.
King Felipe and Queen Letizia have made history in being the first reigning Spanish monarchs to host LGBT+ organisations at the royal palace, while he announced in 2015 he would be cutting his salary by 20 per cent as part of an ongoing modernising agenda which also saw him remove his elder sisters, Princesses Elena and Cristina, from royal duties.
World news in pictures

Show all 50
With Spanish politics in turmoil since 2015 after a series of inconclusive general election results and the Catalan independence referendum dividing the nation in 2017, the swearing in of Pedro Sanchez as prime minister last month promises a fresh start.
For his part, King Felipe has criticised the referendum's organisers for "unacceptable disloyalty" and sowing the seeds of disharmony.
His trip to America comes at a time when the king has been embarrassed by the imprisonment of his brother-in-law, Inaki Urdangarin, a former international handball player married to Princess Cristina, who has been charged with tax fraud and embezzlement and accused of exploiting his royal connections for monetary gain.
Join our new commenting forum
Join thought-provoking conversations, follow other Independent readers and see their replies