King Juan Carlos of Spain abdicates: Spanish government clears way for Prince Felipe to be crowned before the end of the month
There is media speculation that 18 June – Juan Carlos Saint's Day and a holiday across much of Spain – could be an appropriate date for the coronation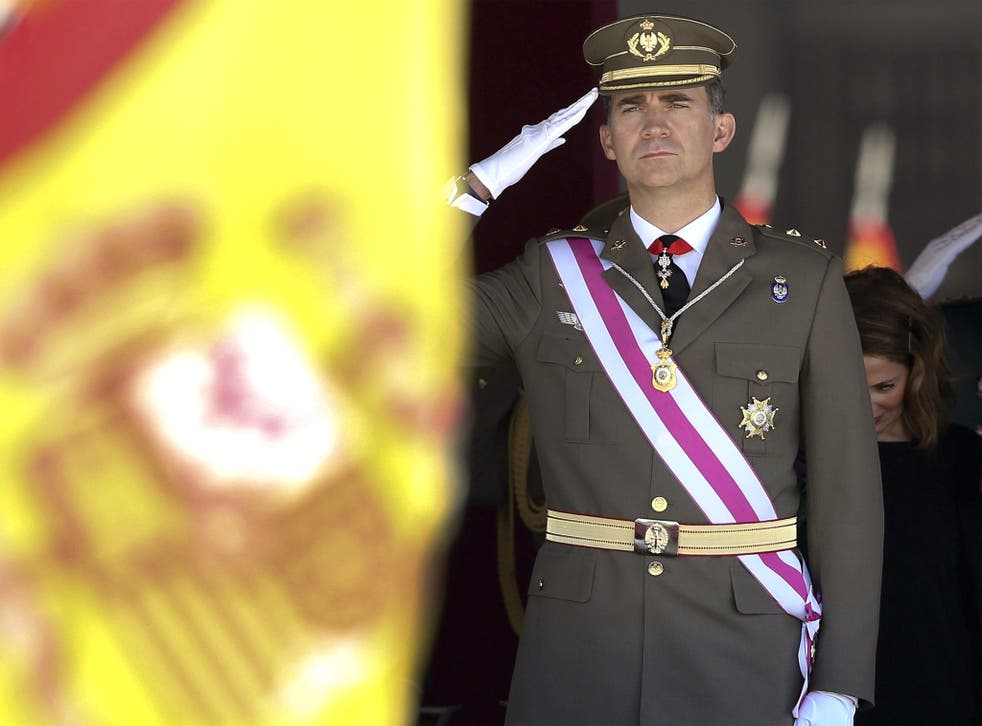 Prince Felipe's coronation could take place in the second half of June, after Spain's government discussed a provisional calendar for a rapid introduction of legislation covering King Juan Carlos's imminent abdication and the Prince's succession.
After a series of cabinet meetings, parliamentary speaker Jesus Posada Moreno told media that the legislation would probably be passed by 18 June at the latest.
Although a final confirmation of precise dates for the law's path through the parliament's two chambers has yet to be made, the Prince could be sworn in as King Felipe VI shortly afterwards. There is speculation in the media that 24 June – Juan Carlos Saint's Day and a holiday across much of Spain – could be an appropriate date for the coronation.
Apart from Felipe's formal access to the throne, his coronation will usher in other important changes for Spain's royal family.
King Juan Carlos himself is widely expected, after abdication, to lose his current automatic immunity from prosecution. Sources within the royal household have indicated that the King's two daughters, Princess Cristina and Princess Elena, will then have the same status as that currently held by the King's sisters – technically still part of the royal family, but no longer with official duties.
In pictures: Reign of King Juan Carlos of Spain

Show all 20
For Princess Cristina, at least, this will be not be entirely new, given she has not been actively representing the crown since her husband, Iñaki Urdangarin, was formally declared to be under investigation in an ongoing corruption case in 2011.
Prince Felipe and King Juan Carlos's first joint public appearance since the news of the King's abdication took place this morning.
Applauded by a small group of pro-monarchists on their arrival, the two presided over a military ceremony in the town of San Lorenzo de el Escorial, some 60km west of Madrid. Today at a ceremony in Navarre in north-west Spain, the Prince is expected to make his first speech since news of the abdication broke.
Although it has been estimated that more than 90 per cent of Spain's parliamentary deputies will vote in favour of the law governing the succession, since Monday Spain's flourishing pro-republican movement has used the King's abdication to highlight their demands.
Dozens of demonstrations were held across Spain demanding either an end to the monarchy or a referendum on its continuing existence, with the biggest, in Madrid's emblematic Puerta del Sol, drawing around 20,000 protesters. Meanwhile in Barcelona, anti-monarchists and pro-independence campaigners joined forces in Plaza de Catalunya and in Valencia a massive wooden guillotine was draped in the republican flag.
Outside Spain, too, smaller pro-republican protests were held in some cities in Europe and in Central America.
Join our new commenting forum
Join thought-provoking conversations, follow other Independent readers and see their replies