Knox in the witness box: 'I did not kill Meredith'
Confronted by jurors who hold her fate in their hands, American accused of murdering British student presents case for defence
Andrea Vogt
Saturday 13 June 2009 00:00 Comments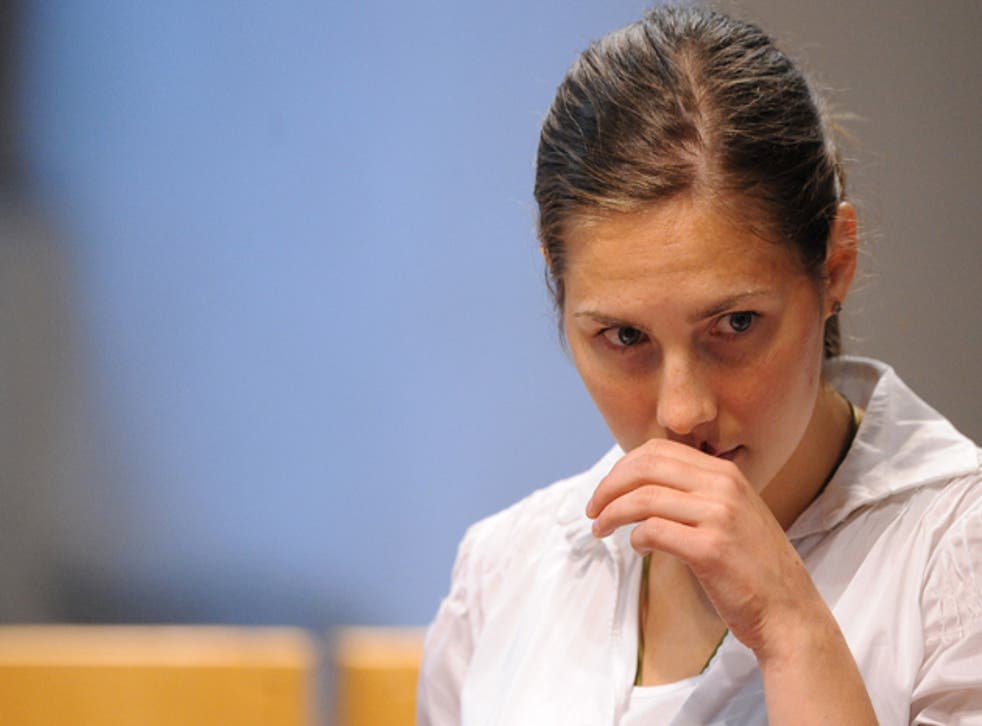 A confident and convinced Amanda Knox told jurors and the world a very different side to the story of Meredith Kercher's murder yesterday.
In front of six laypeople and two judges, the young American recounted the most intimate details of her life: from childhood to college, from the happy onset of her Italian adventure to her discovery of the "strange" scene at the Perugia house where her roommate Meredith Kercher was murdered, and the following events that led to her being sent to prison, where she has been for the past 18 months.
Ms Knox, 21, and her Italian ex-boyfriend Raffaele Sollecito, 25, deny the murder and sexual assault of Meredith Kercher on November 1, 2007. Prosecutors argue that Ms Knox, Mr Sollecito and a third person, Rudy Guede, strangled, suffocated and stabbed Ms Kercher in a struggle that ensued after she resisted a sex game. Guede was tried, sentenced and convicted for his role last October.
Ms Knox was clearly well prepared for her big day on the stand, considered risky, yet crucial to her defence. She began in slightly nervous English but soon switched and gave most of the day's testimony in rapid-fire Italian.
Ms Knox described how she arrived back at the flat after spending the night with her boyfriend and saw drops of blood on the floor, but although she thought it strange, assumed one of her roommates was having menstrual issues. Ms Knox said she then took a shower and slid on the stained bathmat because she didn't have a towel. She said she heard her other roommate cry out "A foot, a foot!" when police were called because no one had seen Meredith for a day and the locked door to her room was broken down. She described how Mr Sollecito kissed and consoled her as she cried.
Ms Knox took pains to explain her odd behaviour, minute details critical to the case, and a series of misunderstandings she felt were lost in translation – like her silly attempt to "lighten up" in a stressful situation by doing yoga and gymnastics in the police headquarters. Finally she told of intense police pressure during a long interrogation that ended with a few cuffs on the head and a coerced confession that she'd been there and seen the killer.
"The declarations were taken against my will. Everything was said under confusion and pressure of the police and prosecutor," Ms Knox told the court. "They were suggesting the path of thought and I was confused.
"I kept saying I had nothing to do with this and remembered being at Raffaele's apartment. They yelled at me, and I was in this confused state because for hours they called me a stupid liar. I was confused."
She accused the Italian police of pressuring her until she named a name: Patrick Lumumba, the Congolese pub owner for whom she worked and to whom she had sent an SMS saying, "See you later. Good night". Mr Lumumba was arrested after the accusation and spent two weeks in prison before being cleared of any connection with the crime. He is now suing Ms Knox for slander in a civil suit running parallel to the criminal trial. His attorney, Carlo Pacelli, was the first to question Ms Knox for naming him even though she knew it wasn't true.
"My memories got mixed up from other days when I remember meeting Patrick," she responded. Ms Knox said that the translator present during her interrogation had suggested that perhaps she was traumatised but would eventually remember.
"They told me I would go to prison to protect someone that I wasn't protecting. They told me to try to remember what I apparently, according to them, had forgotten. In my confusion I started to imagine that maybe I was traumatised, and under pressure I imagined lots of different things because during the days prior the police had suggested many things." Ms Knox said that later that morning, she asked for pen and paper and wrote out a five-page statement that named Mr Lumumba. "Did the police hit you, threaten you or suggest this to you?" asked Mr Pacelli. "No," she said.
In the written statement, she repeated the accusation against Mr Lumumba, but noted she was confused and did not believe her memories were reliable. Later that morning Ms Knox asked if she should have a lawyer. "Someone said it would just make things worse for me because it would appear like I wasn't collaborating with police."
Mr Pacelli asked why she told her mother in a bugged prison conversation that she felt bad about sending Mr Lumumba to prison, but didn't tell police she had accused an innocent man. By that time, Ms Knox said, she didn't feel comfortable talking to police so only told things to her mother or lawyers. The first weeks in prison were terrifying, confusing and cold, she said, recounting one particularly chilling episode of being tested in prison for HIV and being told she had Aids. She went two weeks believing she had Aids before a second test was negative.
"Mama Mia I was crying, I was panicked," she said. "I thought no, I am dying." Ms Knox seemed relaxed, even cavalier at times. When asked why she deleted an SMS she had received but not one she had written, she self-effacingly said she was not a "technical genius" and wasn't sure how to delete sent messages. She described the embarrassing detail of how she wasn't accustomed to using the toilet brush commonly found in European bathrooms to clean the toilet after use, and grinned sheepishly when describing a mark on her neck as "a hickey, from Raffaele" and how she got her nickname "Foxy Knoxy" from crouching on defence on the soccer fields.
She later grew serious when describing her confusion during police interrogations and the shock and emotional outburst she felt when police showed her knives in her apartment.
Ms Knox's dramatic testimony was in sharp contrast to the often dry testimony of the dozens of other witnesses – police, interpreters, friends, roommates and others – who have appeared in court so far.
Register for free to continue reading
Registration is a free and easy way to support our truly independent journalism
By registering, you will also enjoy limited access to Premium articles, exclusive newsletters, commenting, and virtual events with our leading journalists
Already have an account? sign in
Join our new commenting forum
Join thought-provoking conversations, follow other Independent readers and see their replies