Kosovo holds its first ever official LGBT Pride parade
Hundreds march with country's President in support of gay and transphobic rights
Tom Embury-Dennis
Wednesday 11 October 2017 01:15 Comments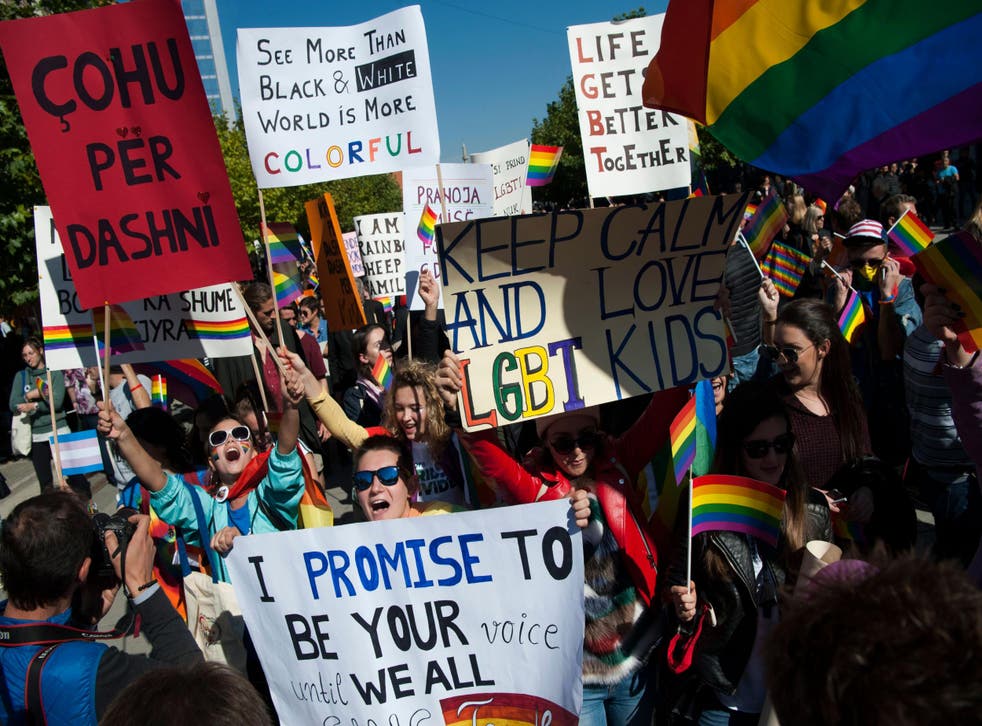 Hundreds of people have attended Kosovo's first ever official LGBT Pride parade.
The event was held in the capital Pristina on Tuesday and follows unofficial marches in recent years to protest against homophobia and transphobia in the country.
Hashim Thaçi, Kosovo's President and the man who led the country to independence in 2008, joined the parade.
Called "In the Name of Love", it was organised by nine different non-governmental organisations, with the "historic occasion" set to become an annual October event.
Dua Lipa, an English pop star who was born in Kosovo, expressed her support for the event. "Kosovo had its first pride parade today in Prishtina. Love is love," she said on Twitter.
Walking between two main squares in the city, participants chanted "There is no gender in love" as rainbow banners were waved and music was played.
The parade will help raise awareness of LGBT issues in the Balkan nation.
A 2015 report the National Democratic Institution, a US organisation that promotes democratic institutions, found that gay and transgender people face significant levels of homophobia in the region.
Register for free to continue reading
Registration is a free and easy way to support our truly independent journalism
By registering, you will also enjoy limited access to Premium articles, exclusive newsletters, commenting, and virtual events with our leading journalists
Already have an account? sign in
Join our new commenting forum
Join thought-provoking conversations, follow other Independent readers and see their replies