Kosovo stops Serbian train crossing border in move declared 'act of war'
Kosovo defends 'appropriate action' in response to 'act of provocation' but Serbia vows to defend 'every inch of its territory'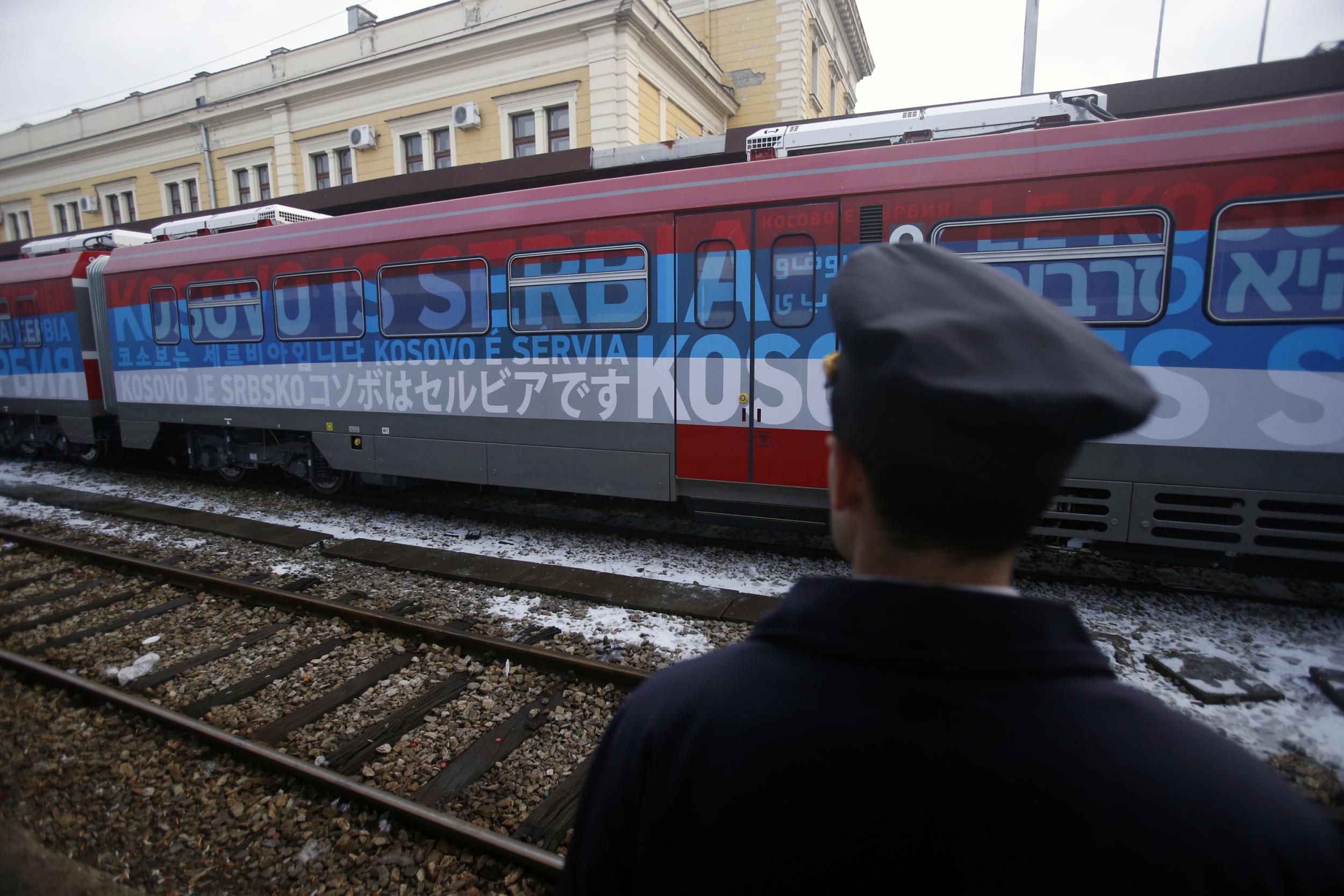 Deep-lying tensions between Kosovo and Serbia have erupted in a furious row after a Serbian train, emblazoned with patriotic graffiti, was blocked from crossing the border.
Serbia accused its neighbour, which gained independence after a bloody war in 2008, of plotting to blow up the train track in a bid to stop the route and of wanting to "provoke a full-scale conflict".
The train was the first of a new service from the Serbian capital Belgrade to the town of Mitrovica in Kosovo, where many ethnic Serbians live. Kosovo has said the route is a breach of its sovereignty and claimed turning back the train was an "appropriate action".
In a move that was itself condemned by Kosovo as an act of "provocation", the train was decorated in Serbian flags and messages reading "Kosovo is Serbia" in 20 world languages. Images painted on the carriages depicted Serbian Orthodox religious icons from monasteries in Kosovo, and staff were dressed in Serbia's national colours.
Serbia said it was merely "a mobile exhibition presenting our cultural heritage".
The two states have been embroiled in ongoing tensions since Kosovo declared independence from Serbia in 2008 after a violent struggle. Neither Serbia nor Russia recognises Kosovan independence. Nato troops control Kosovo's border.
Kosovo Prime Minister Isa Mustafa said he had contacted the US and the EU to express his country's concerns about the train.
"I believe that turning back the train was the appropriate action and its entry into the independent and sovereign Republic of Kosovo would not be allowed," he said.
The deal between Serbia and Kosovo that changed history... or did it?
Show all 3
Edita Tahiri, the Kosovan government minister responsible for dialogue with Serbia, called on the international community to act to stop the "illegal Serbian train".
She said: "Serbia has a dangerous plan that should worry us all – both Kosovo and international partners. This is a provocation towards Kosovo, which shows that Serbia has openly shown its aggressive policy, which endangers the sovereignty and territorial integrity and national security" of Kosovo.
However, Aleksandar Vucic, the Serbian Prime Minister, condemned the decision to block the train. He said he had ordered it to stop in the Serbian town of Raska, near the border, after allegedly hearing of Kovovan plans to arrest the driver and passengers.
Mr Vucic also claimed ethnic Albanians in Kosovo were planning to blow up the track. Kosovan police said they had checked the railway and found no explosives.
"This was an ambition to provoke a conflict, to start a wider conflict in this territory that we consider as ours," Mr Vucic said.
"It was my decision to stop the train in Raska to preserve the freedom and lives of our people, to prevent a wider conflict and show that we want peace."
"We sent a train, not a tank", he added.
Serbian president Tomislav Nikolic said his country would defend "every inch of its territory" and accused Kosovan Albanians of provoking "war".
"Yesterday we were on the verge of clashes", he added.
Join our commenting forum
Join thought-provoking conversations, follow other Independent readers and see their replies