Kothen: Far-right crowds march through German city demanding 'National Socialism now'
Arrest of Afghan men over death sparks fresh wave of anti-migrant protests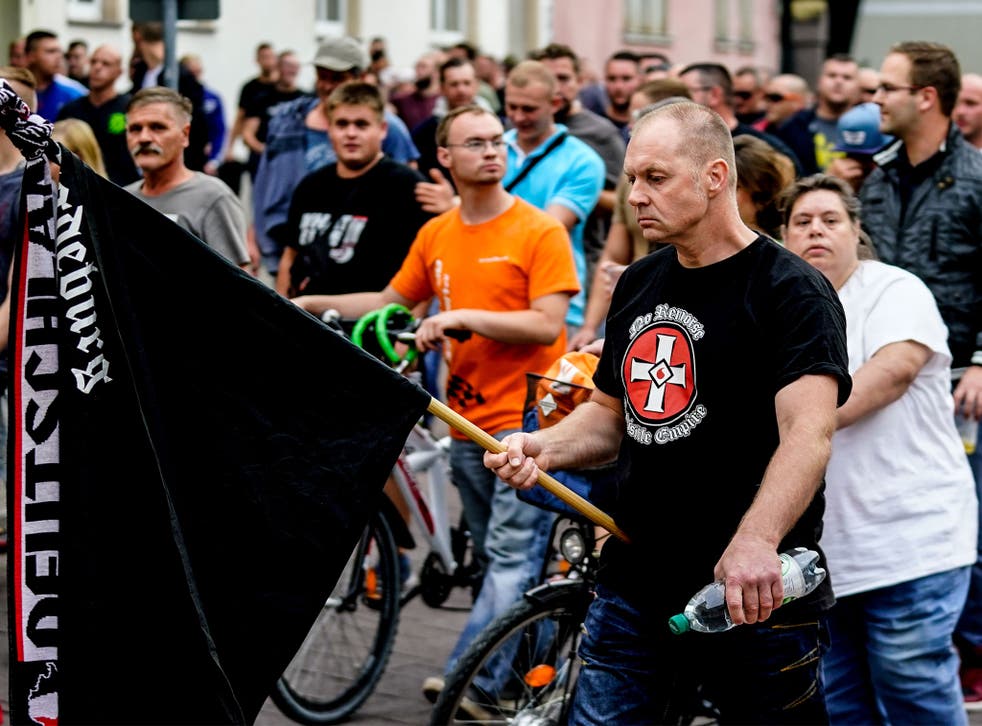 Far-right protesters chanted "national socialism now" as they marched through the streets of a small German city.
The shout could be heard in footage of a procession through Köthen on Sunday after a 22-year-old German man died following an altercation with two Afghan nationals the previous evening.
Hundreds of protesters from right-wing groups had descended on the east German city, holding a vigil for the victim before parading through neighbourhoods.
The gathering had been organised on short notice through social media and was attended by several high-profile figures on the German far-right.
David Köckert, a leader of anti-Islam group Thügida, spoke at the rally, calling for resistance and describing events surrounding the victim's death as a "race war against the German people".
Tensions over the situation appear to have been exacerbated after police concluded the man had not died directly from injuries sustained in the attack, but from a pre-existing heart problem.
Two Afghan men, aged 18 and 22, have been arrested in connection with the incident and remain in custody.
"A preliminary autopsy result showed the 22-year-old Köthener succumbed to acute heart failure, which is not directly related to the injuries suffered," the force said in a statement.
Chants of "Lügenpresse", or "lying press", could be heard among the crowds at the demonstration, seemingly unhappy with the conclusions of authorities published by the media.
Protests in Köthen came less than a fortnight after violent scenes erupted 100 miles away in Chemnitz, following the fatal stabbing of a 35-year-old German-Cuban man in the city.
Two days of protests by thousands of supporters from right-wing groups were triggered by the death, after it emerged the two men suspected of carrying out the attack were Iraqi and Syrian migrants.
At least nine people were injured in the chaos, while outnumbered police officers were unable to intervene as mobs reportedly chased down and attacked people perceived to be foreigners.
Register for free to continue reading
Registration is a free and easy way to support our truly independent journalism
By registering, you will also enjoy limited access to Premium articles, exclusive newsletters, commenting, and virtual events with our leading journalists
Already have an account? sign in
Register for free to continue reading
Registration is a free and easy way to support our truly independent journalism
By registering, you will also enjoy limited access to Premium articles, exclusive newsletters, commenting, and virtual events with our leading journalists
Already have an account? sign in
Join our new commenting forum
Join thought-provoking conversations, follow other Independent readers and see their replies