Krampus: Rampaging horned demons causing 'chaos' in European towns complain they are misunderstood
'We are always portrayed as the bad ones who beat children and women,' says Krampus
Conrad Duncan
Sunday 08 December 2019 19:04 Comments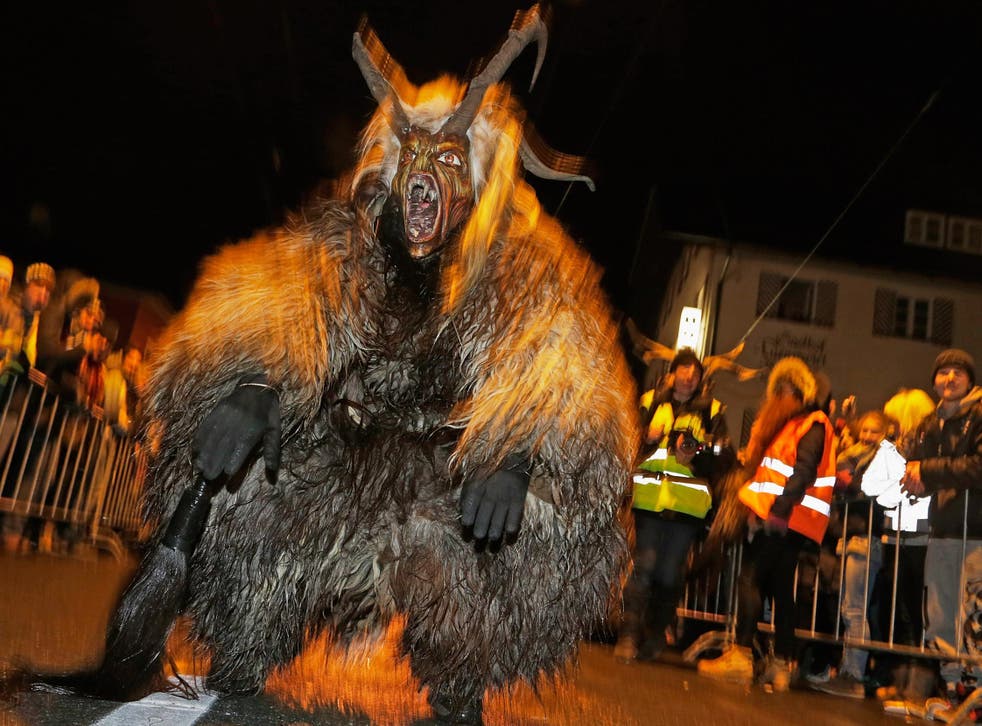 Horned demons who rampage through towns and hit bystanders as part of a Christmas tradition have complained they are being unfairly maligned.
In the weeks before Christmas, people dressed as Krampus - a malevolent goat-like character who has long been part of festive folklore in parts of Europe - can be seen marauding through towns terrorising the public with bundles of birch branches.
Some take take it too far: a recent video of a "Krampus run" in northern Italy sparked a backlash on social media this weekend over what appeared to be a brutal attack on unsuspecting bystanders.
But following a number of recent incidents, those donning the demon disguise are themselves concerned about retaliation from members of the public.
In one case, a 17-year-old Krampus was attacked with a knife in Switzerland, while in Austria a 16-year-old as reportedly left with a broken nose from an assault.
Europe's best Christmas markets

Show all 9
Marcel Holy, the 16-year-old victim, told Austria's Kronen Zeitung that he was attacked by a spectator at a Krampus run in Vienna.
"I had a severe whiplash, a bruised, cracked nose… and a concussion," he told the newspaper.
The teenager insisted Krampus demons were not a menace and said people could easily avoid being hit as part of the tradition.
"We are always portrayed as the bad ones who beat children and women ... There are places further back [from the run], if you stand there, nothing happens," he said.
Another Krampus enthusiast told Kronen Zeitung he was injured by a security guard who pulled him by the horns.
Other demons told the newspaper they were increasingly being confronted with verbal and physical attacks, with one person telling the newspaper they were spat at and "showered with beer".
Supporters of the tradition have argued Krampus runs are not dangerous and participants are willingly chased and beaten by those dressed as the character.
Footage filmed in Sterzing, northern Italy, fuelled debate this weekend after it showed a group of demons aggressively beating people.
An article by Italy's Corriere della Sera reported claims that a confrontation with an immigrant, who tried to remove one of the men's masks, may have led to an aggressive reaction.
However, the newspaper could not confirm the reports and the group in question, Tuifl Sterzing, have denied the allegation.
"The veracity of the video is not questioned, but the racist charges related to it are rejected, which do not correspond to truth," the group wrote on Facebook.
"The whipped guys of the video are friends/acquaintances of the devils of Sterzing."
Corriere della Sera said local police had opened an investigation.
Krampus is traditionally one of the companions of Saint Nicholas, the Father Christmas-like figure who gifts presents, in parts of central Europe.
The figure's role is to scare and punish children who have misbehaved, acting as a counterpart to the friendlier Saint Nicholas.
Those who dress up as the demon are often told to only lightly brush spectators with their birch branches.
"The aim of the Krampus is not to hurt people," Aleksander Andonov, the head of the Anif Krampus Association, told The Guardian.
"On the contrary: we want to take away their fear. In the end, good always wins over evil."
Register for free to continue reading
Registration is a free and easy way to support our truly independent journalism
By registering, you will also enjoy limited access to Premium articles, exclusive newsletters, commenting, and virtual events with our leading journalists
Already have an account? sign in
Join our new commenting forum
Join thought-provoking conversations, follow other Independent readers and see their replies