Gunfire and chaos in Kyrgyzstan as president announces 12-day state of emergency
Shots fired as rival opposition demonstrations confronted each other in capital Bishkek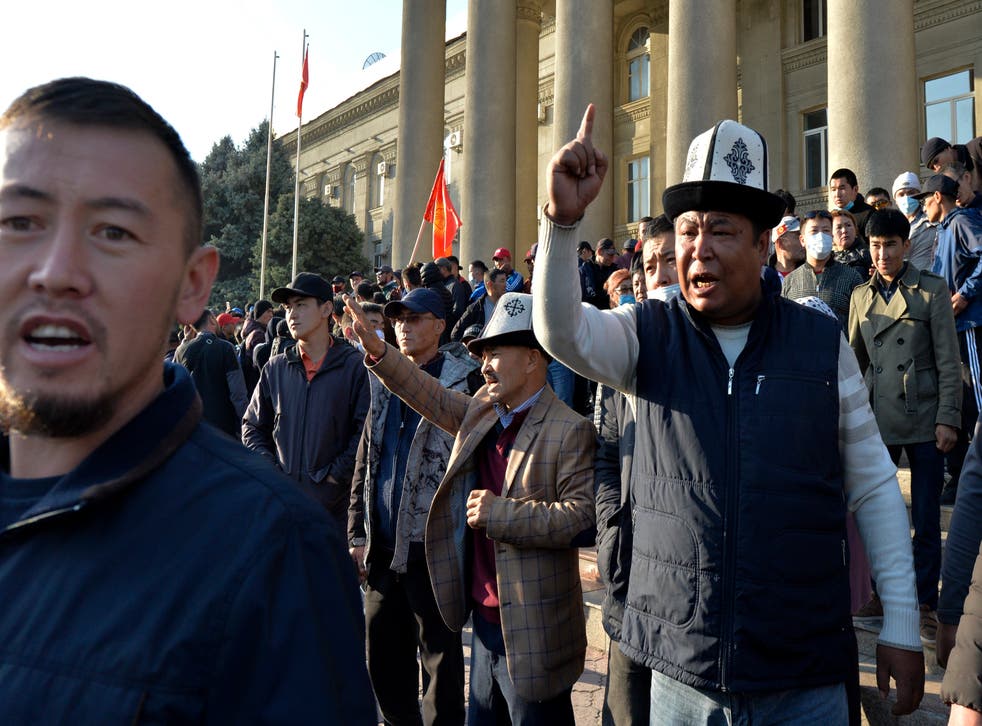 Kyrgyzstan's week of political turmoil continued on Friday with gunfire, violent clashes, and the declaration of a state of emergency and martial law by the country's beleaguered president Sooronbay Jeenbekov.
At least four shots were fired and stones thrown as rival opposition demonstrations confronted each other on Ala-Too square in the capital Bishkek. The clashes pitted supporters of Sadyr Zhaparov, on Tuesday declared prime minister by some elements of the opposition, against dissenting factions led by the former president Almazbek Atambayev and his ally Omurbek Baranov.
Footage from the square shows crowds scamperning and a man firing shots in the direction of Mt Atambayev's limousine as it flees the scene. The former president, who was freed from jail by supporters on Monday night, was uninjured in the attack. But unconfirmed reports suggested other politicians had been kidnapped or injured.
Videos published on social media appeared to show one politician unconscious on the ground after being struck by a stone. Tilek Toktogaziyev, 29, had earlier been proposed as a deputy prime minister by the Atambayev-Baranov led opposition bloc. According to local media, Mr Toktogaziyev later regained consciousness in hospital.
The country's sitting president Sooronbay Jeenbekov has yet to be seen in public since protests against electoral fraud broke out on 6 October. But in a statement released on the presidential website on Friday, he announced he was deploying troops to the capital in order to enforce a new 12-day state of emergency.
The move was driven by concerns over "violence and threat to human life and health," the statement read.
Earlier in the day, Mr Jeenbekov dismissed his prime minister and government, and said he was also ready to go in the "interests of peace." He would do so only once a new government had been formed and the country had "taken the route of legality."
That prospect seemed distant on Friday — with criminal gangs and looters the main beneficiaries of the vacuum resulting from Monday's as-yet-undecided uprising.
Join our new commenting forum
Join thought-provoking conversations, follow other Independent readers and see their replies