Lampedusa migrant boat disaster: Tunisian suspected of causing shipwreck is arrested by Italian police
35-year-old detained after witnesses in refugee centre claim he was captain who started fatal fire on vessel
Michael Day
Wednesday 09 October 2013 07:00 Comments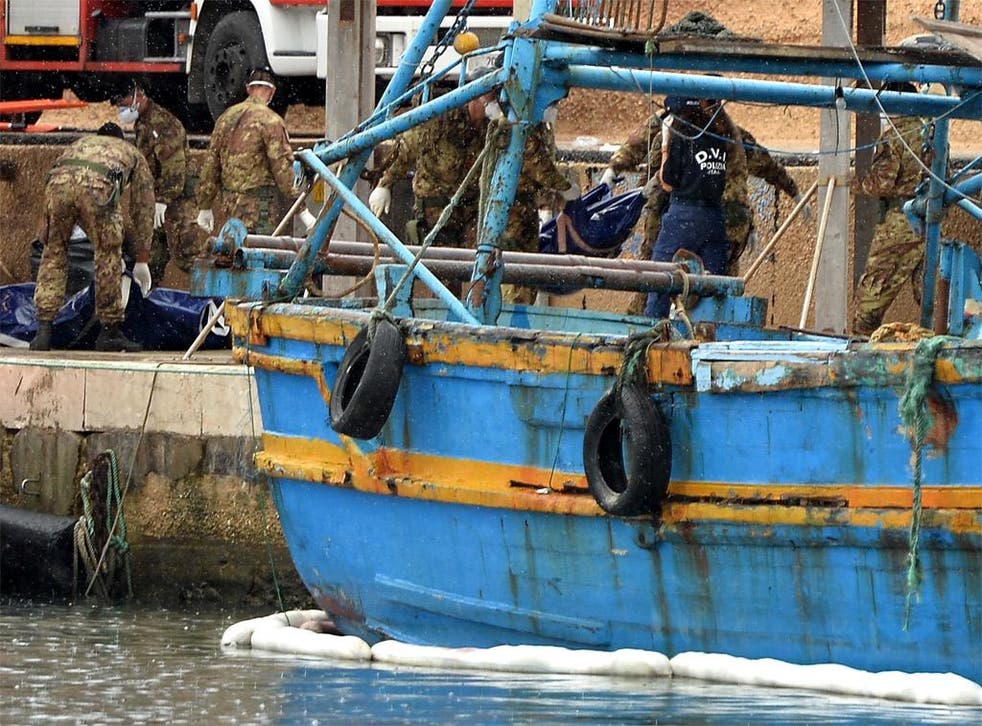 Italian police have arrested a Tunisian man they believe is responsible for last week's migrant disaster in Lampedusa in which more than 300 refugees are now known to have perished. The suspected people trafficker may face charges of multiple manslaughter, illegal immigration and of causing a shipwreck.
Police officers entered the island's refugee centre and took away 35-year-old Bensalem Khaled after several days of surveillance and interviews with witnesses who said he captained the vessel. He is currently being detained in Agrigento in Sicily.
Six Eritrean survivors of the disaster alleged that the Tunisian was one of the traffickers and many others said he was the commander of a two-person crew, which also may have included a younger Tunisian man who did not survive.
Other reports have suggested Khaled's assistant is also in the centre, but has yet to be identified.
Some witnesses have said it was Khaled who set fire to a piece of rag, causing the disastrous fire on the vessel that was packed with over 500 migrants from the Horn of Africa, many of whom are thought to have paid thousands of dollars to traffickers for the deadly voyage.
By mid-afternoon the number of bodies recovered rose to 274 after divers found more migrants in the hold of the wreck which lies 50 metres under the surface. The diving is continuing and emergency teams fear that over 130 people have yet to be accounted for.
Meanwhile, migrants in Lampedusa, including some of the 155 survivors of last Thursday's disaster, have protested at the conditions in the island's overwhelmed detention centre.
Migrants threw mattresses outside and tried to block departing buses after cramped conditions were exacerbated by several days of rain.
"We are tired of living this way, like animals," Ansa reported one protesting migrant as saying. Security forces present inside the centre were able to contain the disorder, though tensions remained high. During her visit to the island on Sunday, Cecil Kyenge, the minister for integration, described conditions in the holding centre as "shameful".
The UNHCR's representative in Italy, Lauren Jolles, joined in the criticism. "The extreme situation at the centre has deteriorated, with entire families forced into the open for three days in the rain in a row, it is absolutely unacceptable," she said.
Ms Jolles called for migrants to be transferred to other centres within 48 hours of arrival and for the island's centre to be upgraded to its original 850-person capacity, which was dramatically reduced when protesting refugees set fire to it in 2011. Currently there are thought to be around 800 migrants there – more than three times its current capacity.
Today, around 90 migrants were transferred to larger centres in Sicily, most of them near Agrigento.
European Commission President José Manuel Barroso is due in Lampedusa to witness the aftermath of the tragedy and evaluate what "we can do together" to resolve the situation.
The EU's Home Affairs commissioner, Cecilia Malmstroem, called on member states to help to radically upgrade the capacity of Frontex, the EU's boarder protection agency, so that it is able to find and intercept boats carrying illegal migrants.
She is due to fly into Lampedusa to meet with Italian interior minister Angelino Alfano and Mr Barroso.
In Luxembourg, Mr Alfano told EC officials: "We are in the middle of the Mediterranean. We have saved thousands and thousands of people, now we are asking the EU to help us with strengthening border controls."
Register for free to continue reading
Registration is a free and easy way to support our truly independent journalism
By registering, you will also enjoy limited access to Premium articles, exclusive newsletters, commenting, and virtual events with our leading journalists
Already have an account? sign in
Register for free to continue reading
Registration is a free and easy way to support our truly independent journalism
By registering, you will also enjoy limited access to Premium articles, exclusive newsletters, commenting, and virtual events with our leading journalists
Already have an account? sign in
Join our new commenting forum
Join thought-provoking conversations, follow other Independent readers and see their replies