Largest protest since collapse of Soviet Union rocks Russia
Simon Shuster
Monday 26 December 2011 01:00 Comments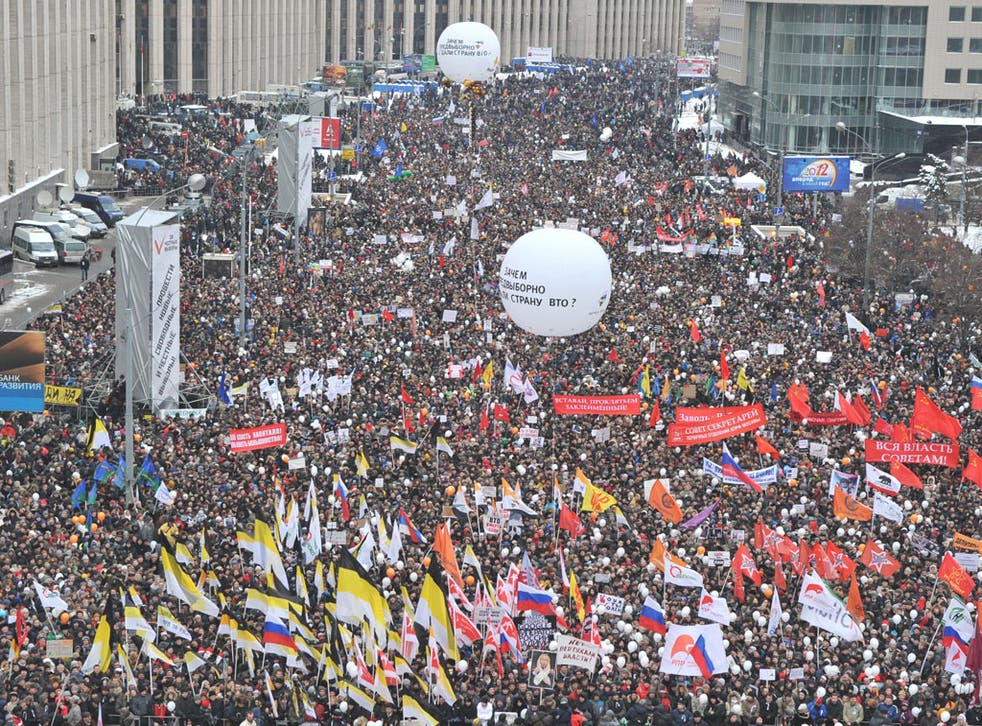 Russia's leadership was forced to defend its legitimacy yesterday after about 100,000 demonstrators rallied in central Moscow to demand democratic reform and fair elections in the largest wave of popular dissent since the fall of the Soviet Union.
The rally on Moscow's Sakharov Avenue on Saturday was the fourth and by far the biggest of the mass demonstrations provoked by the parliamentary vote held on 4 December. The ruling United Russia party, led by the Prime Minister, Vladimir Putin, held on to a slim majority in parliament in those elections, but the results have been tainted by claims of wholesale fraud.
The demonstrators stood for hours in sub-zero weather on Saturday listening to a line-up of speakers as diverse as the crowd itself, including TV celebrities, writers, musicians, politicians, scientists and a jailed dissident whose video message was broadcast on a giant screen beside the stage.
"The people are waking up," said Sergei Udaltsov, the leader of the Left Front opposition group who was arrested on the day of the elections as he heading to a rally. "The people have stopped putting up with this humiliating regime."
The name given to the demonstration – "For Fair Elections" – was also its main demand, suggesting a growing desire for the return of true democracy, not the "managed democracy" crafted under Mr Putin's 12-year rule.
The government has only three months before the 4 March presidential elections, when Mr Putin will seek to return for a third term as president. That mantle had been handed to Dmitry Medvedev, with Mr Putin taking the number two role, but few questioned where the real power lay.
With no viable competitors, Mr Putin is likely to win, but the legitimacy of his mandate could be eroded by the ongoing tide of discontent. His approval ratings have fallen to historic lows, with one survey this month by the independent Levada Centre showing that only 36 per cent of voters are behind Mr Putin.
In response to the crisis of legitimacy, the government has scrambled to offer reforms in the hope of placating the opposition. On Friday, the Kremlin introduced laws into parliament that would make it easier for new opposition parties to take part in elections.
A source in the United Russia party, who spoke to The Independent after the rally on Saturday, said the government planned to engineer opposition parties to fill in the political spectrum and soak up opposition votes.
"We have to take drastic action," he said. "We've missed our chance to learn how to work with the people and calm them down. We urgently have to open up the system."
Register for free to continue reading
Registration is a free and easy way to support our truly independent journalism
By registering, you will also enjoy limited access to Premium articles, exclusive newsletters, commenting, and virtual events with our leading journalists
Already have an account? sign in
Join our new commenting forum
Join thought-provoking conversations, follow other Independent readers and see their replies