Laurence Chirac, 'lost' daughter of the former French president, dies
Ms Chirac struggled for years with mental health issues, making 15 suicide attempts, but died after a heart attack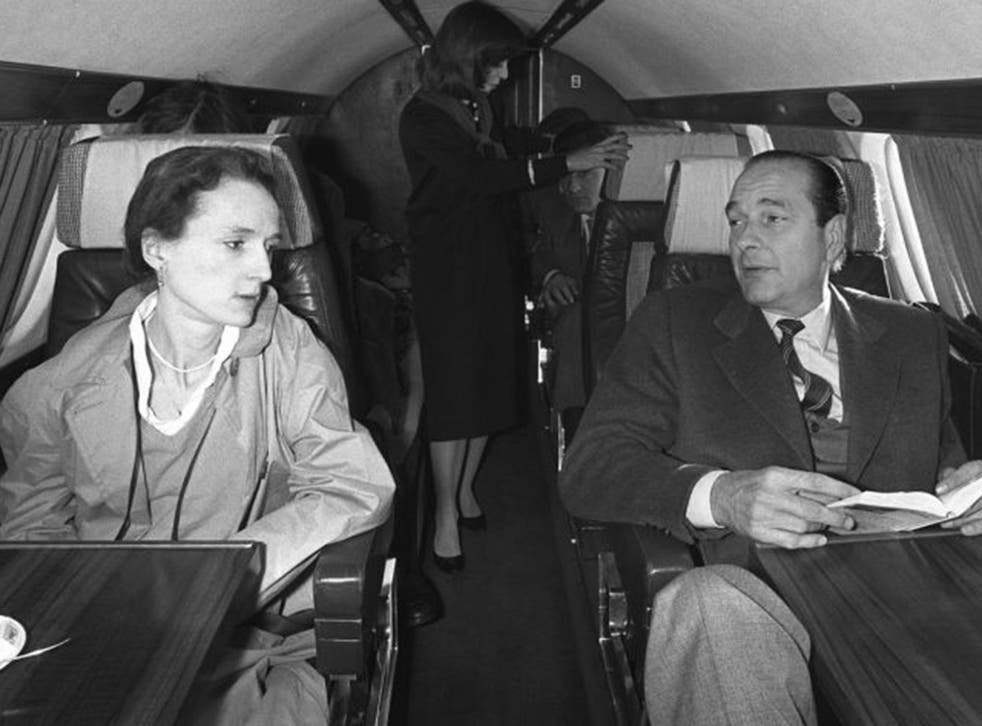 She was called, rather cruelly, by one French journalist, "the girl in the iron mask".
Laurence Chirac, 58, the "hidden" elder daughter of the former French president, Jacques Chirac, has died after suffering from acute depression and anorexia for more than four decades.
Ms Chirac, a brilliant student as a girl, lived most of her life in seclusion in a cottage in the grounds of the Chirac's chateau in Corrèze in south west France. Her father once described her illness as "the greatest tragedy of my life".
Her mother, Bernadette Chirac, blamed her daughter's anorexia and suicidal impulses on a bout of meningitis contracted during a family holiday in Corsica in 1973.
In a frank book of interviews published just before her husband's second successful presidential election in 2002, Bernadette Chirac also implied that Laurence had been badly affected by Jacques' frequent absences from the family in his early political career.
In 2007, after he left the Elysée Palace, Jacques Chirac made a similar confession. He told the journalist and author
Pierre Péan: "Maybe I should have done more for Laurence, psychologically speaking".
World news in pictures

Show all 50
The comparison with the "man in the iron mask" – the imprisoned twin or illegitimate brother of King Louis XIV in the late 17th century – is, however, unfair.
Laurence Chirac was rarely seen in public during her father's 12 years in the French presidency. In 1995, when Jacques Chirac was sworn in as President for the first time, his elder daughter was seen at the Elysée Palace hiding behind a pillar. She seldom appeared in family photographs, although she was included in a portrait for Paris Match for her father's 80th birthday in 2012.
Nonetheless, both Jacques and Bernadette Chirac visited her regularly in hospital or in her "sheltered" home in the ground of the Chateau de Bity. As Prime Minister in the mid-1970s, soon after she fell ill, Jacques Chirac would often eat two lunches – an official one and then one alone with his ailing daughter.
Laurence Chirac died after a heart attack in Paris on Thursday. She is survived by her mother and her father, 83, who is suffering from a form of Alzheiner's disease and is now rarely seen in public. She is also survived by her sister, Claude, 54, who runs her father's political and charitable foundation.
According to French media reports today, Laurence Chirac made 15 suicide attempts. In 1990, when her parents and sister were on holiday in Thailand, Laurence threw herself from the fourth floor window of the family's Paris apartment. She suffered serious injuries to her pelvis, legs and skull.
She recovered but, according to the website of the news magazine Le Point, made 14 further attempts to take her own life.
Despite her illness, Laurence Chirac began medical studies in the late 1970s. She had been a brilliant student as a girl and succeeded for a while in passing medical exams despite her acute anorexia. She was, however, forced eventually to give up her studies and spend long periods in a clinic.
From the late 1980s, her mother Bernadette campaigned to raise money for research into anorexia – then a little understood affliction in France. As French First Lady in 2004, she used her influence to help create a specialised clinic for anorexics – the Maison de Solenn, named after that daughter of the former news anchor Patrick Poivre d'Arvor, who committed suicide in 1995 at the age of 19.
Join our new commenting forum
Join thought-provoking conversations, follow other Independent readers and see their replies