Intact petrified tree, up to 20 million years old, unearthed in Greece
Extraordinary find will 'will contribute significantly' to understanding of region's ancient ecosystem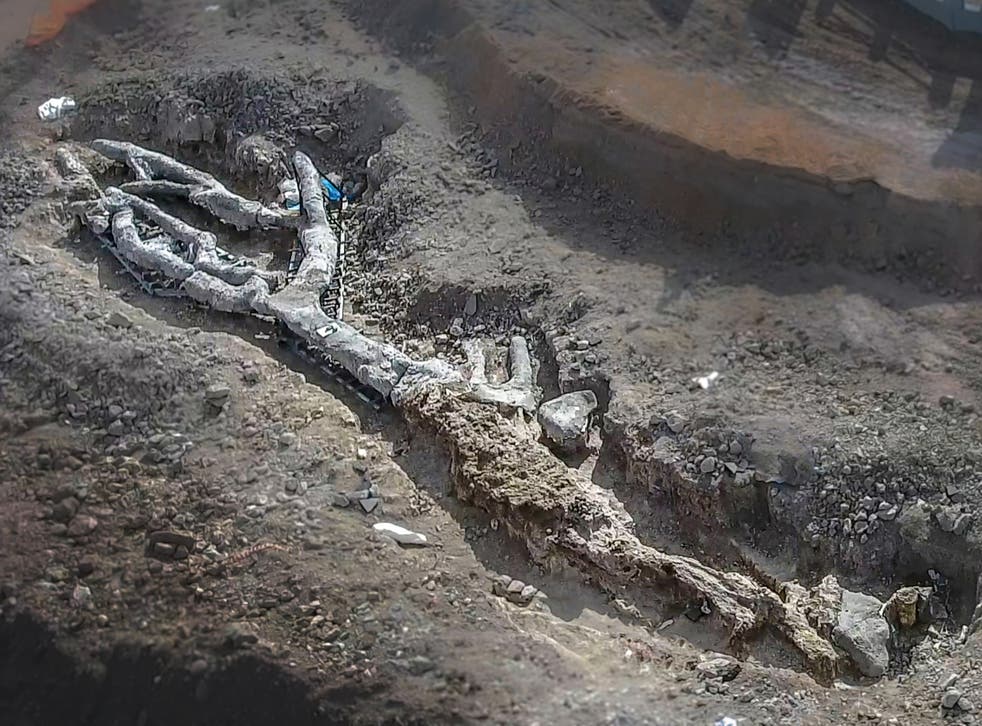 Scientists on the Greek island of Lesbos have hailed the "unique" discovery of a fossilised tree with its roots and branches still intact.
The near-20-metre tree will help develop experts' understanding the region's ancient subtropical ecosystem of some 20 million years ago, researchers told The Independent.
It is the first discovery of such a well-preserved a specimen in 25 years of excavations at the Lesbos petrified forest, which is a Unesco global geopark.
The petrified forest holds hundreds of fossil trees of various kinds, and in recent weeks about 150 more logs were found.
Professor Nickolas Zouros, of the University of the Aegean, told The Independent the intact specimen was found by chance, when someone spotted a branch in the ground just before a new road was due to be laid over it.
He said: "We have a case of extraordinary fossilisation, in which the tree was preserved with almost all of its structures together.
"This is a unique situation worldwide in the history of paleobotany. In addition, this tree was buried by volcanic ash and other materials expelled during a volcanic eruption, which makes this case even more extraordinary.
"When we find plant fossil remains normally it is not easy to be able to attribute the remains of roots, trunks, branches, leaves, or even fruits to the tree to which they belonged.
"This unique fossil tree will contribute significantly to the understanding of the biodiversity of the forests of the Aegean 20 million years ago. After the end of the excavation, which is still ongoing, we will proceed to study in detail the fossil wood in order to identify the tree's species."
The fossil was discovered last November and digging continued into January, including through the Christmas holidays. "It was real surprise for all the team when we discovered the branches connected with the main tree trunk," Prof Zouros added.
It has been moved about 30 metres away to a specially prepared area where it will remain on view to the public under a protective shelter.
World news in pictures

Show all 50
The dig is part of a long-term project by the Natural History Museum of the Petrified Forest of Lesbos taking place along the 20km Kalloni-Sigri highway. Fifteen significant sites have been identified so far and the fossils will remain in place, Prof Zouros said.
It is thought the subtropical forest on Lesbos was destroyed by a huge volcanic eruption, similar to that which buried Pompeii in AD 79. Fossilisation took place after its remains were buried in mud following heavy rain that mixed with volcanic ash and debris.
Register for free to continue reading
Registration is a free and easy way to support our truly independent journalism
By registering, you will also enjoy limited access to Premium articles, exclusive newsletters, commenting, and virtual events with our leading journalists
Already have an account? sign in
Register for free to continue reading
Registration is a free and easy way to support our truly independent journalism
By registering, you will also enjoy limited access to Premium articles, exclusive newsletters, commenting, and virtual events with our leading journalists
Already have an account? sign in
Join our new commenting forum
Join thought-provoking conversations, follow other Independent readers and see their replies