Russian activist Lev Ponomarev: 'The Kremlin is digging its own grave by letting spooks take over domestic policy'
Exclusive: Veteran campaigner sees alignment of intelligence and domestic priorities as a danger to the country, writes Oliver Carroll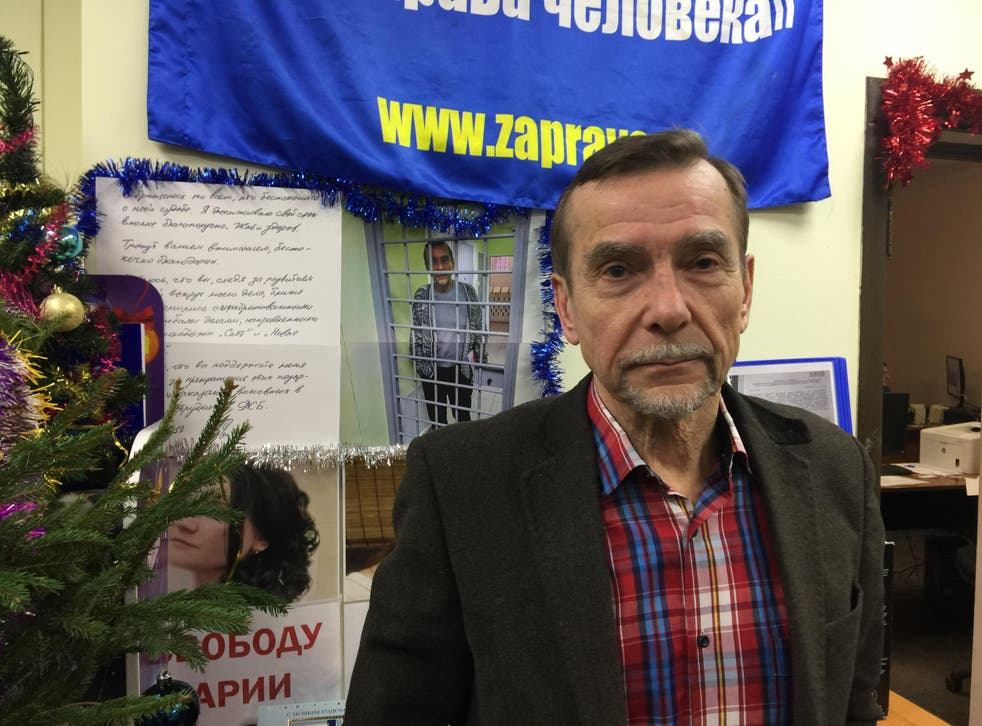 Prior to sentencing, 77-year-old activist Lev Ponomarev asked the judge not to take his age into account. The gasps and shrieks that followed the 5 December verdict suggested few expected him to be taken so seriously.
For the assembled room of activists, journalists and onlookers, the 25-day custodial sentence (later reduced to 16) was the definition of heavy-handedness. It represented the full weight of the state thrown against a veteran rights activist whose only crime was to share a blog on Facebook.
But for the judge Dmitry Gordeyev, a former police officer, it was water off a duck's back. He'd been here before. Only a few months earlier, he sentenced Alexei Navalny, another star of the opposition, to custodial terms – not once but twice.
He barely blinked as he administered near-maximum sentences. And he remained steadfast a week later, refusing an appeal to allow the activist to attend the funeral of his longtime co-collaborator Ludmila Alexeyeva, who died during his time in jail.
Today, Ponomarev is back in the land of the free, having rested for a couple of weeks by a lake near Moscow.
He says his time in jail was a positive experience.
Yes, at the start everyone inside smoked, and that didn't help his lungs – but by the end his fellow prisoners were smoking through the windows out of respect. Yes, the food wasn't anything to write home about, but after a few complaints to the right people, things improved (almost certainly temporarily). Yes, the bunk beds were not comfortable; at 4 sq m a person, the cells were barely half the European average. But it "wasn't right" to make a fuss.
"I didn't have it bad, and I met some very interesting people," he says. "We found a common language."
Inside prison, Ponomarev remained true to the activist within. Before the first week was out, he had taken up the case of two fellow inmates from Chechnya, who were awaiting trial for theft. Prosecutors had argued they acted together as a criminal network, he found out – in truth, they had only shoplifted, and only out of desperation and hunger.
Ponomarev connected them to a friendly Chechen lawyer, and soon enough they were out of prison and on their way back home.
As we speak in the busy Moscow office of his For Human Rights NGO, Ponomarev is coordinating a defence for another prisoner he met. The man, a "naive 20-year-old", was, he says, abducted by Russian security services at Moscow Vnukovo airport as he returned from Turkey.
The security officers tried to recruit the man as an informer, says Ponomarev, threatening him with a stack of falsified terrorism offences.
"I'm not new to this game but I was genuinely surprised," he says. "We're used to this kind of thing happening in southern regions like Krasnodar, and Chechnya, but not Moscow."
World news in pictures

Show all 50
A sense of mission came early to Ponomarev, with anger at Soviet injustices "nagging" him even as a boy. In many ways, family history had cast the die. His grandfather, a farmer, suffered during Stalinist repressions – it was "not the worst story in the country, as he survived, but bad enough to leave a mark".
By the age of 16, Ponomarev had become a staunch anti-Stalinist and anti-communist.
The activist began his professional career as a brilliant mathematician and physicist, later settling on the field of particle physics. He chose science, he says, because it was the one area where free thinking was still tolerated by the authorities: "Even [infamous head of national security] Lavrentiy Beria understood you needed free people to create the hydrogen bomb."
But when notions of Perestroika and freedom took hold over the country in the late 1980s, Ponomarev understood it was time to forget science and move on, into activism.
In 1988 he became one of the founders of Memorial, a human rights group honouring the memory of the Soviet repressed.
It was the first truly democratic organisation Russia had seen – and it still exists, though not without difficulties, to this day. Ponomarev, who was in charge of registration, made it happen by "applying scientific logic" to unlock Soviet bureaucracy.
Later, Ponomarev became an MP, and the motor behind the Democratic Russia movement, which played a major role in the fall of the Soviet Union. Ponomarev's political platform not only helped Boris Yeltsin achieve a majority in parliament, kickstarting the latter's career, but also organised several of the most influential mass rallies of the time.
The two men appeared side by side throughout the historic events of 1990-91, before going their separate ways in 1993, divided over the war in Chechnya.
Moscow protests: Russian opposition leader Navalny detained
Memories of Ponomarev's effectiveness may have played a role in the decision to single him out for punishment. But the activist insists the sanction, usually dished out for serious crimes, came as a surprise.
"It shocked me because I do try to stay on good terms with the FSB generals, they know me, and oftentimes we come to an agreement," he says. "The last time I was arrested was 10 years ago, for two days."
What likely tipped the balance was Ponomarev's support of two groups of young Russians charged with extremism offences (the Network and New Greatness affairs). Like many liberal Russians, the activists believes the youngsters were set up by intelligence officers.
It was his sharing of a blog post, urging people to protest outside the security agency's headquarters in central Moscow, that served as the pretext for his arrest and prosecution.
"Of course, the security services were annoyed that 1,500 people turned up," he says. "It was a real kick in the nuts and they seemed to hold me responsible."
Ponomarev says it is unclear if Putin knew about his arrest at the time. But the president had "clearly" abdicated on his constitutional responsibility of protecting human rights, and had also "outsourced key policy decisions to the security agencies".
Support free-thinking journalism and attend Independent events
The Kremlin was unlikely to benefit from either in the long run, he says.
"The authorities are digging their own grave by letting the spooks take over domestic policy," he says. "We already know these guys can't run a country. All they see are invented dangers. They need to speak to the people."
Register for free to continue reading
Registration is a free and easy way to support our truly independent journalism
By registering, you will also enjoy limited access to Premium articles, exclusive newsletters, commenting, and virtual events with our leading journalists
Already have an account? sign in
Register for free to continue reading
Registration is a free and easy way to support our truly independent journalism
By registering, you will also enjoy limited access to Premium articles, exclusive newsletters, commenting, and virtual events with our leading journalists
Already have an account? sign in
Join our new commenting forum
Join thought-provoking conversations, follow other Independent readers and see their replies