Is life easy in the land of the 35-hour week, generous holidays and long lunches? 'Non', say burnt-out French
3.2 million people are working so hard that they risked mental or physical breakdown, study finds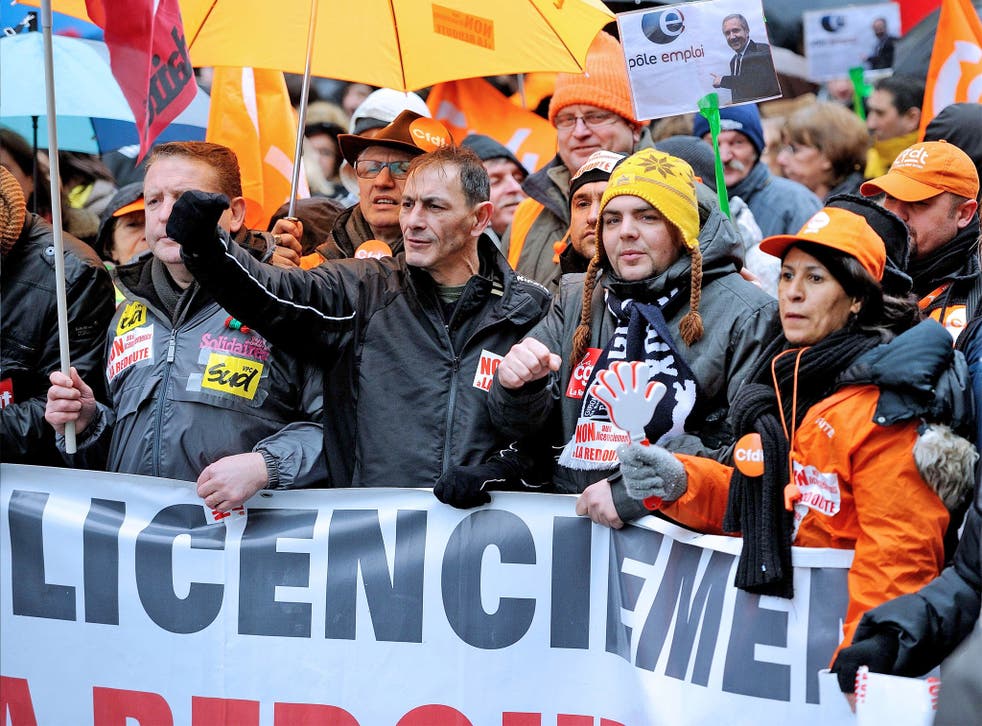 French workers may have a reputation for having things a little easy, but according to a new study millions work so hard that they are close to burn-out.
In the land of the 35-hour week, generous holidays and long lunches, a study found that 3.2 million people – about one in eight of the workforce – were working so hard that they risked mental or physical breakdown.
According to Technologia, a company which studies work-related illness or stress, almost one in four French farmers and one in five French company bosses are overworking and could face burn-out. One in five executives and one in seven blue-collar employees are also working too hard.
The counter-intuitive statistics come as official figures have revealed that almost the same number – and rising – have no work at all.
One story is familiar. The other less so.
Despite President François Hollande's often-repeated promise to reverse the trend of by the end of 2013, unemployment in France rose sharply in December for the second month in succession. There are now 3.3 million people out of work in France, or around 11 per cent.
The two phenomena – overwork and lack of work – may be related. Technologia says that the economic crisis is placing pressure on employees at all levels to work excessively hard and take on more overtime. New technologies mean that many white-collar employees are taking their work, or work worries, home with them, making a mockery of the 35-hour week.
Official statistics suggest the French (41.2 hours a week) work slightly less on average than the Germans (41.9 hours) or British (42.8 hours). However, high unemployment, early retirement and long studies mean those French who do work are a smaller percentage of the willing and able-bodied population than in most European countries. They have an even higher productivity per worker than Germany's but also greater stress.
None of this is helpful to Mr Hollande as he seeks to deliver his campaign promise. Soon after his election, he set September 2013 as the watershed when his policies would stop the rise in unemployment and start to roll it back. He later pushed back the deadline to the end of last year.
Despite government intervention to create jobs for young people, the sluggish growth of the French economy and a steady erosion of manufacturing jobs have given the lie to Mr Hollande's promise. He has now signalled a change of policy to reduce the tax burden on industry but it will be many months before that new pledge can be delivered.
France ended 2013 with 177,800 more people unemployed than at the start. This was an improvement on 2012 when a net 283,800 jobs were lost but Mr Hollande's new claim to have at least "stabilised" job losses rings hollow.
France was slower into recession than Britain and its economy never collapsed as sharply but envious eyes are being cast across the Channel at the 2.4 per cent growth forecast in the UK this year. France is expected to grow by no more than 0.2 per cent this quarter and a maximum of one per cent this year.
There were reports in Germany that Mr Hollande had hired as an economic adviser the former Volkswagen executive Peter Hartz, who is credited with devising the reforms of the German labour market a decade ago which restored the strength of the country's economy. The Élysée Palace denied that Mr Hartz had been hired but said that he had been invited to a one-hour discussion with Mr Hollande at the end of last year.
Register for free to continue reading
Registration is a free and easy way to support our truly independent journalism
By registering, you will also enjoy limited access to Premium articles, exclusive newsletters, commenting, and virtual events with our leading journalists
Already have an account? sign in
Register for free to continue reading
Registration is a free and easy way to support our truly independent journalism
By registering, you will also enjoy limited access to Premium articles, exclusive newsletters, commenting, and virtual events with our leading journalists
Already have an account? sign in
Join our new commenting forum
Join thought-provoking conversations, follow other Independent readers and see their replies