Lion kept in glass case in café as customers sit just feet away in Istanbul
Big cat forced to prowl in walkway barely wider than itself, while people all around eat and drink 
Jane Dalton
Saturday 07 July 2018 23:57 Comments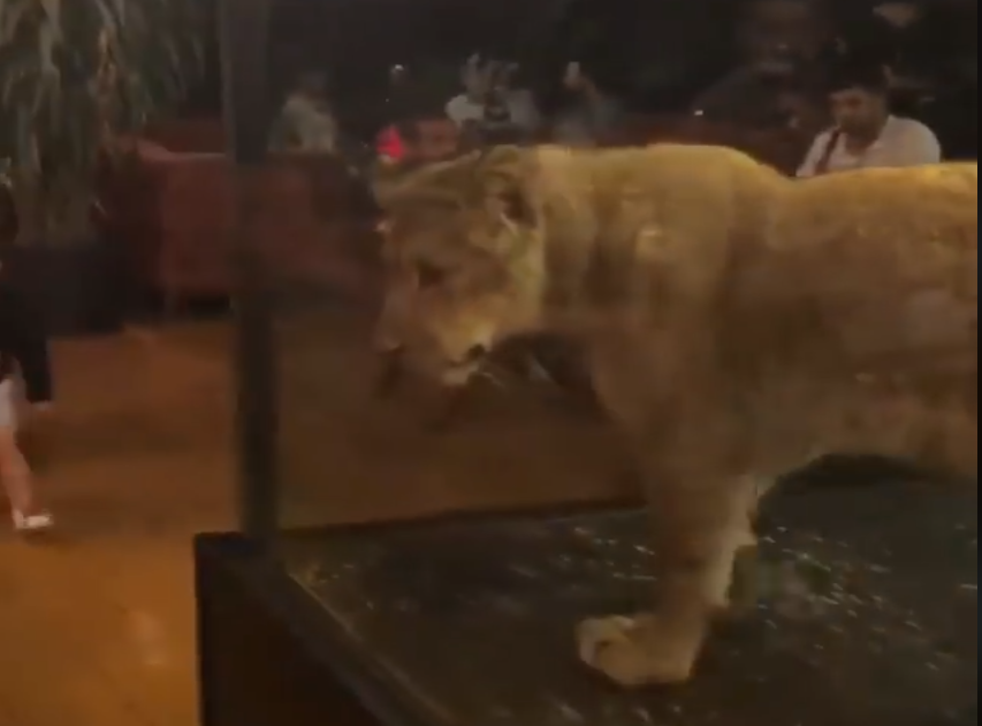 A café that kept a lion in a narrow glass corridor for customers to watch while they drank has sparked anger on social media.
Video footage showed the big cat constantly pacing to and fro, as if in frustration at being confined to a space less than a metre wide - barely broader than the animal itself.
The lion – which looked thin and appeared to be a youngster – was filmed prowling up and down inches away from a little girl who walks the length of the glass cage.
Other customers sat on sofas and drank or sat at tables to eat, watched by the lion.
The café, Mevzoo, in Istanbul, Turkey. also has other animals including a crocodile, horses and birds, operating as an "animal rehabilitation centre".
Other footage on its Instagram site showed the lion still pacing along the glass corridor after dark, apparently when the café – a hookah, or water pipe café - is closed, with only staff present.
More than 2,700 people signed a petition against the café's keeping the animals confined.
Oytun Okan Senel, president of the Turkish Chamber of Veterinary Surgeons, condemned it, tweeting: "In the middle of Istanbul, the humiliation! Animal abuse in the 'rehabilitation centre' decorated hookah café."
Turkish media says the café, which has a licence as a "tourism-related zoo and animal-rehabilitation centre", has 35 rabbits, several flamingos, four snakes, four horses, two parrots, two crocodiles and an iguana, as well as the lion.
One Facebook user said customers were able to feed the lion through small holes in the window.
Harika Timur wrote: "Is this a joke? What is called humanity is maybe not a good word as we think."
Zoe Youngster on Twitter condemned it as "disgusting exploitation".
The Turkish Ministry of Forest and Water Management investigated the café, in Beykoz district, after images of the animals circulated on social media.
Mevzoo keeps most of its animals in cages underneath the cafe, in a "zoo" that is registered with the Ministry of Forestry.
"The owner mentioned the place as a 'rehabilitation centre'. What kind of rehabilitation is that?" Mr Okan Senel told The Independent.
Officials who visited yesterday allowed the owner to keep the animals as he had the necessary paperwork, but Mr Okan Senel said the officials ordered him to dismantle the glass corridor within three months.
The Independent has tried to contact Mevzoo to ask for a comment, without success.
Register for free to continue reading
Registration is a free and easy way to support our truly independent journalism
By registering, you will also enjoy limited access to Premium articles, exclusive newsletters, commenting, and virtual events with our leading journalists
Already have an account? sign in
Join our new commenting forum
Join thought-provoking conversations, follow other Independent readers and see their replies