Lone gunman pulls off £34m jewellery heist at Cannes hotel
Authorities have said the robbery took place in broad daylight at the Carlton Hotel on the promenade in Cannes
John Lichfield
Monday 29 July 2013 17:52 Comments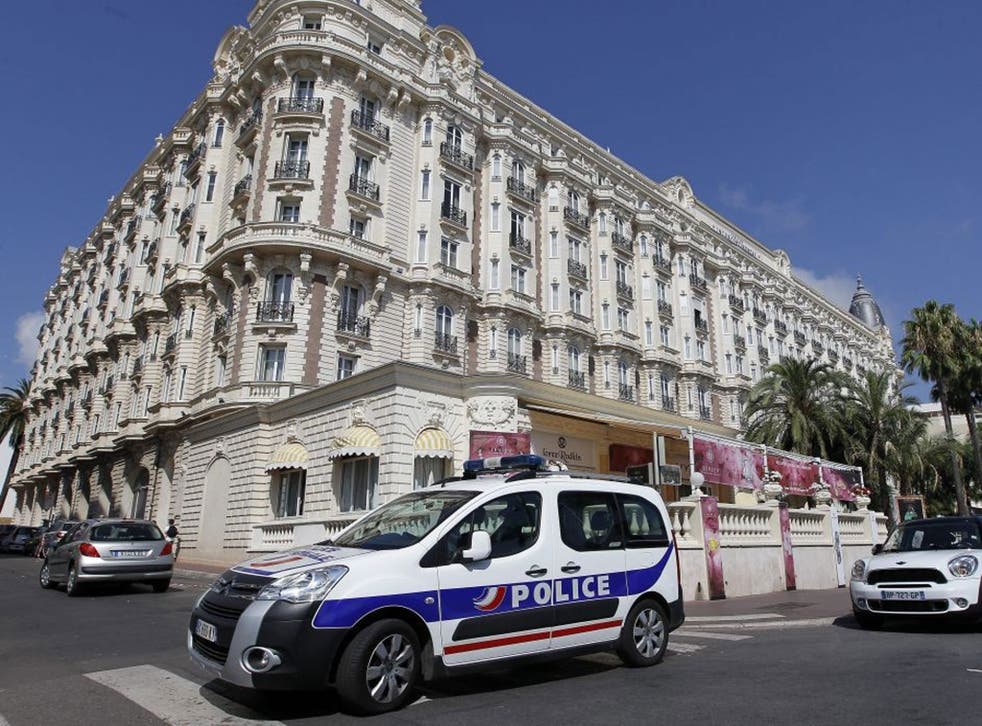 A lone gunman pulled off one of the biggest jewellery thefts in French history today, walking out of the Carlton Hotel in Cannes with a suitcase full of diamonds worth an estimated €40m (£34.5m).
According to initial reports, the armed raider strolled into an exhibition of "exceptional jewellery" around midday.
The brazen thief, who appeared to be acting alone, stuffed a small suitcase with jewels, and made his getaway. No violence was used and it was unclear how many pieces were stolen.
The exhibition was organised by the Moscow-based Leviev diamond house, owned by the Israeli billionaire Lev Leviev.
The luxury Carlton hotel is situated on the exclusive Promenade de la Croisette that stretches a mile and a half along the French Riviera, and is thronged by the rich and famous throughout the year. The hotel's position provides not only a beautiful view of the sea, but an easy get away for potential jewel thieves along the long stretch of road.
It is the second big jewel theft in the French Riviera resort in two months. A safe containing jewels valued at €1m was stolen from another hotel during the Cannes film festival in May. The stolen items were due to be lent to stars attending the festival.
If the value of today's theft from the five-star hotel is confirmed, it will be the second biggest jewel raid in French history. In 2008, an attack on the Harry Winston jewellery shop in Paris yielded diamonds, watches and other items worth €80m.
Neither the hotel management nor the Cannes police would comment on today's raid. Police blocked access to the exhibition room at the Carlton to prevent journalists from entering.
The Carlton Hotel is one of the most exclusive hotels in the world. It is the hotel of choice for Hollywood stars during the annual film festival in May and for Arab princes and Russian millionaires during the summer.
The exhibition of "exceptional jewellery" organised by the Leviev company was due to run until the end of August.
Lev Leviev, 56, the owner of the Leviev jeweller house, is a Moscow-based Israeli who has close ties with the Russian President Vladimir Putin.
There has been a rash of diamond raids in Europe this year, perhaps generated by the rising price of diamonds worldwide. In Belgium in February, armed thieves dressed as police broke through the perimeter fence at Brussels airport and stole €40m worth of diamonds which were being loaded on to an aircraft.
Today's robbery comes just days after a member of the notorious "Pink Panther" jewel thief gang escaped from a Swiss prison after accomplices rammed a gate and overpowered guards with bursts from their AK-47s, police said.
Milan Poparic fled with fellow inmate Adrian Albrecht from the Orbe prison in the western state of Vaud on Thursday.
Police say the Pink Panthers network's members are prime suspects in a series of daring thefts.
Register for free to continue reading
Registration is a free and easy way to support our truly independent journalism
By registering, you will also enjoy limited access to Premium articles, exclusive newsletters, commenting, and virtual events with our leading journalists
Already have an account? sign in
Join our new commenting forum
Join thought-provoking conversations, follow other Independent readers and see their replies