'Crossing is dangerous, but so was staying'
May Bulman speaks to the migrants still willing to risk everything on lorries to reach a new life in Britain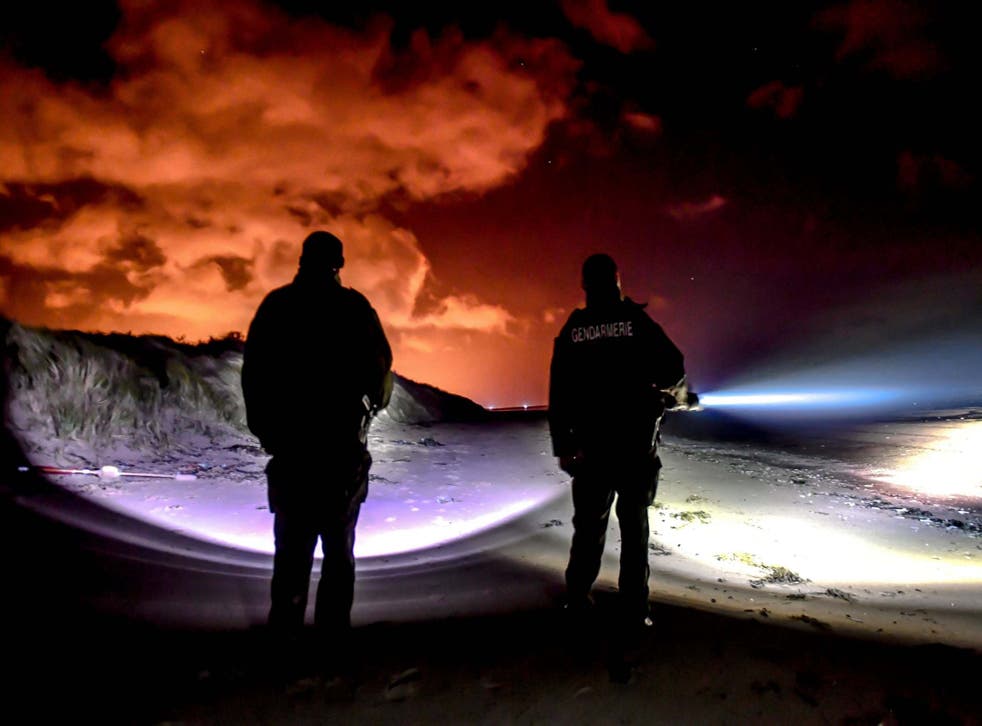 Salman and his family have set off across the Channel three times in the hope that this time they might make it to British shores. Each time the Iraqi national, with his wife and three children – the youngest just four – have been forced to return.
Now, as the weather worsens and makes conditions at sea more difficult, the family has turned to lorries, spending every night trying to board trucks in the hope that they can finally reach the UK.
The 42-year-old knows the risks of being stowed away in the trailer of a lorry are potentially fatal, as they were for 39 people found dead in Essex this week. But like others living in makeshift camps in northern France after fleeing persecution, he sees little choice.
"It is dangerous, but it was too dangerous to stay in Iraq," he says, standing by their tent on a patch of grass beneath a motorway in Dunkirk, northern France, as his children kick a football nearby. "We just want to cross."
Hundreds of others – many families with young children – are in the same camp 30 miles from Calais, where aid workers say conditions are the worst they have seen as the authorities ramp up security measures.
Charities say these people, desperate to reach the UK, can be charged up to £10,000 by smuggling gangs for "guaranteed crossing" to Britain, by lorry or by boat across the Channel. The criminal networks are often installed within the makeshift encampments, and are said to have significant influence over the choices of desperate refugees.
A deterioration in conditions for displaced people in the region is said to have increased demand, pushing people into taking bigger risks to cross to Britain. Four people have died while making desperate attempts to cross the English Channel over the past three months, while the 39 deaths in Grays this week has placed a sharp focus on the dangers of people smuggling.
The overall numbers of people attempting unauthorised Channel crossings to the UK is more than 3,000 each month, with Home Office figures showing more than 35,000 attempts to cross were prevented by border force officials in northern France and Belgium alone last year.
Salman and his family are currently sleeping in a nature reserve in Grande-Synthe, Dunkirk, where the conditions have been described by charities as the worst ever seen for refugees in the region. Until recently, there was no access to drinking water, forcing many to drink from a nearby lake.
Medical professionals say levels of poor health and disease has surged among the displaced population since last month, when they were forced to move to the nature reserve following the unprecedented mass eviction of a nearby gym, which had been providing them with shelter and sanitation.
Campaigners believe the increased hostility has been driven by the election of a new mayor, Martial Beyaert, who replaced the former mayor Damien Careme in July, and who is said to be taking a less "humanitarian" approach to the displaced population.
Ten councillors in Grande-Synthe have resigned in response to the eviction, including councillor Dany Wallyn, who said he "completely opposed" the decision to remove the provisions.
"We've never seen it this bad. The authority has never taken such radical measures. The police coming, taking the tents, leaving children in the rain, preventing charities from distributing food and clothes," says Mr Wallyn. "These people need help. We can't leave them like this, with nothing. It's absolutely outrageous."
Chloe Lorieux, programme coordinator of Doctors of the World, says the situation in Dunkirk is "worse than ever", with the charity treating 40 to 60 people in the settlement each day for medical problems – double that of six weeks ago.
"The conditions are so bad and when you don't have access and you don't have access to water, you can't be clean, and then wounds get dirty, and you become much more susceptible and it is harder to recover," she said.
"Last week there wasn't even drinkable water. They were drinking from the lake. They need at least toilets and showers. And when your tents are removed every day, you have nothing to protect you from the weather, it's cold and wet, and that creates more infections."
Ms Lorieux says the constant evictions are also leading to a steep decline in mental health: "People are exhausted and very stressed. They can never rest. They are always having to move. We see children are reacting badly, hyperactivity. They are tense. Some self-harming. They are disturbed."
Claire Millot, general secretary of refugee charity Salam, echoes the claims that things were worse than they have ever been. She says: "We're going backwards because we had a situation like this 10 years ago, but there were between 30 and 70 people. Now there are 500 people.
"They were making tea with lake water. It's frightening because there's also a huge police presence. They come several times per week. It's getting cold. We've had awful rain. People are sick. It's completely inhuman."
Thirty miles away in Calais, where there are fewer families and more young men and unaccompanied minors, conditions are also at breaking point, with police carrying out constant evictions of any form of encampment.
"I need to go the illegal way because there is no chance," says 15-year-old Ahmed, from Afghanistan, who explains that he travelled to France alone after fleeing persecution from extremists in his country, and hopes to join his uncle in Britain.
To pursue his desperate bid to reach the country to reunite with his relative, the teenager is living a squalid existence alongside dozens of other unaccompanied minors. "There's no food, no water," he says. "The police come and take everything. They take our jackets. They spray us."
Maddy Allen, field manager at Help Refugees, says tightening security measures in a bid to stop people making unauthorised Channel crossings was only pushing people to make more dangerous journeys.
"The security measures in Calais and Dunkirk are getting tougher so people are taking alternative routes. It's going to continue if they keep making the safer and 'irregular' routes more dangerous and more difficult," she adds.
The Home Office said people forced to flee their countries should claim protection in the first safe country they enter, and said it offered legal routes for those who had been granted asylum elsewhere in Europe and had a relative in the UK
Join our new commenting forum
Join thought-provoking conversations, follow other Independent readers and see their replies