Ukraine: Luhansk coup attempt continues as rival militias square off against each other
Interior Minister Igor Kornet thought to be behind attempt to oust breakaway republic's leader Igor Plotnitsky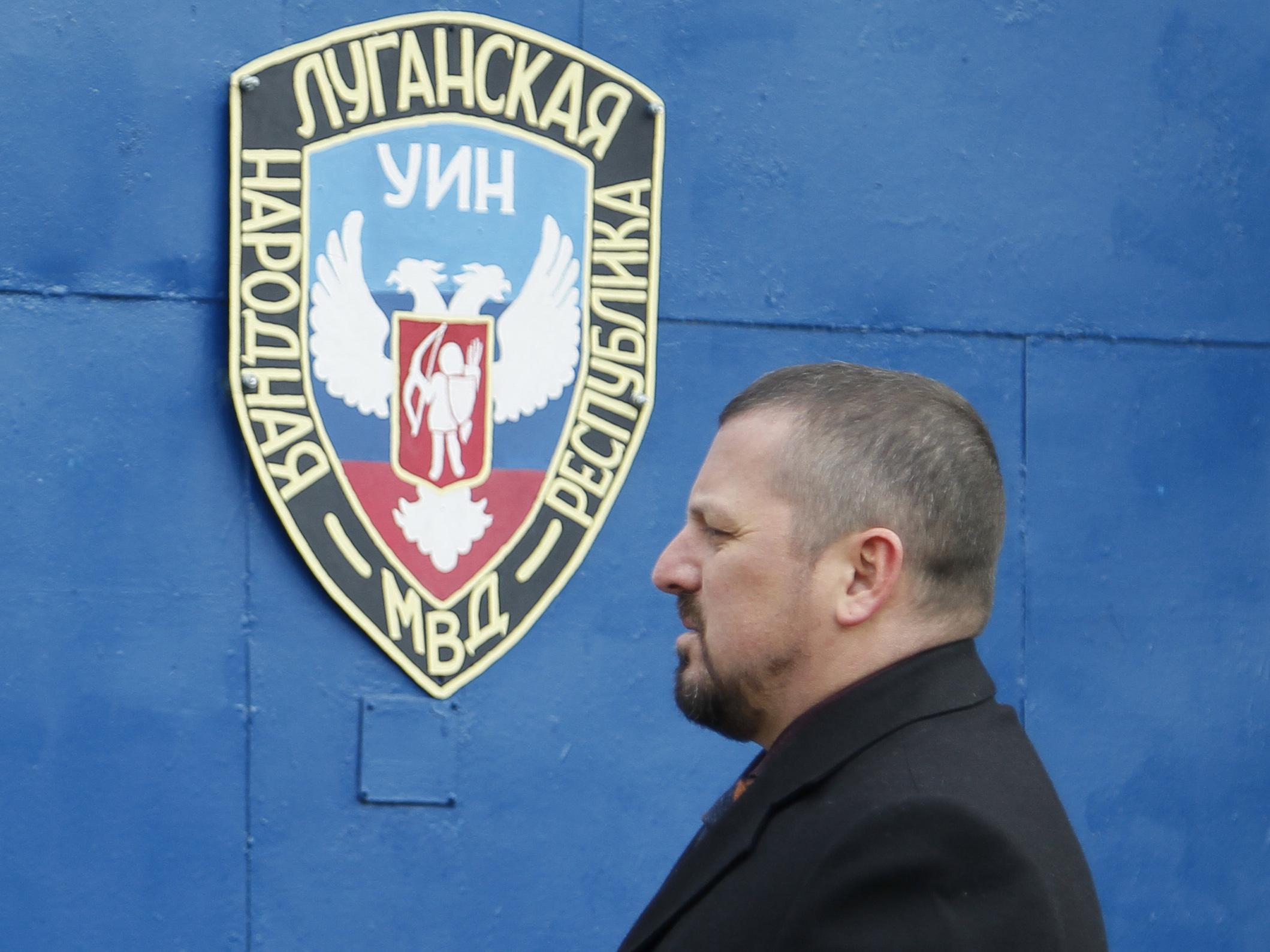 On Tuesday morning, citizens of Luhansk, eastern Ukraine, were presented with a familiar scene. First, the armoured vehicles rolled in. Later came soldiers in unidentified uniforms, complete with automatic rifles and radio headpieces. Then, the central streets and squares were closed off. TV and radio broadcasts were pulled.
Initially, the green men would not say who they were working for. By lunchtime, the local interior ministry had an answer. It was a training exercise for interior troops, they said. Spokesmen for the official leadership of the Luhansk People's Republic – the Russian-backed breakaway statelet – were less sure. They could only say "everything" was "under control."
To all but the slowest of wits, it soon became clear an attempted coup was underway – led by the head of the republic's Interior Ministry, Igor Kornet.
On Monday morning, Luhansk's leader Igor Plotnitsky had tried to fire his minister, but the move backfired. Most of the troops under Mr Kornet's command pledged allegiance to their immediate boss and joined his coup attempt. Mr Plotnitsky could only muster the support of the military police, the prosecutor's office and his personal protection forces.
Luhansk front-line military formations, which are reportedly integrated into Russian high command, largely kept out of the argument.
By Tuesday evening, pro-Plotnitsky forces had hunkered down in government buildings and on patrols. Mr Kornet's opposing forces were camped outside. By night-time, new convoys of military equipment had entered the city – reportedly from the neighbouring Donetsk People's Republic. It is unclear whose side they are on.
Ukrainian officials suggested that Mr Plotnitsky had fled to Russia overnight, but on Wednesday morning, the under-pressure leader published a defiant photograph of him working at his desk in Luhansk. He declared that the dismissal of Mr Kornet remained in force.
In a post on his website, Mr Plotnitsky called the presence of armed men on the streets an attempted coup. "What else can you call a situation where the person fired by court from his job is attempting to conduct some operations by force? This an attempt to seize power," he said during a meeting with reporters.
Many saw Mr Plotnitsky's posts as a sign the coup had failed. But later on Wednesday, forces believed to be loyal to Mr Kornet surrounded the Prosecutor's office, detaining all its employees.
Luhansk is well known for its inter-faction rivalries, made murkier by corruption rackets and competition for favour with Russia. In his three years in power, the separatist leader Mr Plotnitsky has been openly challenged on several occasions. He has hung on; challengers to his Russian-backed leadership have generally fallen, often ingloriously.
In January 2015, Alexander Bednov, commander of the "Batman" battalion, was killed in Luhansk under suspicious circumstances. In May 2015, the "poet commander" Alexey Mozgovoi was assassinated near Alchevsk. Cossack leader Pavel Dryomov was killed in Stakhanov in December the same year.
World news in pictures
Show all 50
The Luhansk leadership blamed Ukrainian subversive groups for all three murders. Few of the men's fighting colleagues believed it was anything but an internal job.
In September 2016, Mr Plotnitsky declared that there had been an attempted coup. This led to the arrest of leadership rivals, including the Prime Minister, Gennady Typkalkov, who later died in detention. The republic's leadership ascribed his death to suicide.
In a video address on Tuesday, Mr Kornet said that Mr Plotnitsky had staged the coup, and blamed him for the "murder" of "his comrade" Mr Typkalkov.
The conflict between Mr Plotnitsky and Mr Kornet has been brewing for several months, says Andrei Dikhtyarenko, editor of the local Realnaya Gazeta newspaper. Over this time, Mr Kornet made his Interior Ministry more independent, apparently answering directly to Moscow. This concerned the republic's leader.
"About a month ago, Plotnitsky stepped up his efforts to remove Kornet," Mr Dikhtyarenko told The Independent. "He began a propaganda campaign, alleging the Interior minister to be corrupt, and prone to using torture – though that didn't cause much of a scandal in Luhansk."
Eventually, a criminal case was opened against Mr Kornet for alleged corruption, and this led to yesterday's attempted dismissal. That chain of events led to today's showdown.
Supported by rival Russian backers, the opposing groups have been waiting for a signal from Moscow. So far, they have failed to offer categorical support to Mr Plotnitsky.
It remains a volatile situation, said Mr Dikhtyarenko, and one that could end tragically.
"Most of the military bases are in the city centre, nestled in among cafes, schools and residential sectors," he said. "If someone were to start shooting, all bets are off – and many civilians would be caught up in the crossfire."
Join our commenting forum
Join thought-provoking conversations, follow other Independent readers and see their replies