Luxury, treachery and a break for Belgium's border
Bernard Arnault of LVMH denies that bid for dual citizenship is spurred by Hollande's 75 per cent tax
John Lichfield
Monday 10 September 2012 00:06 Comments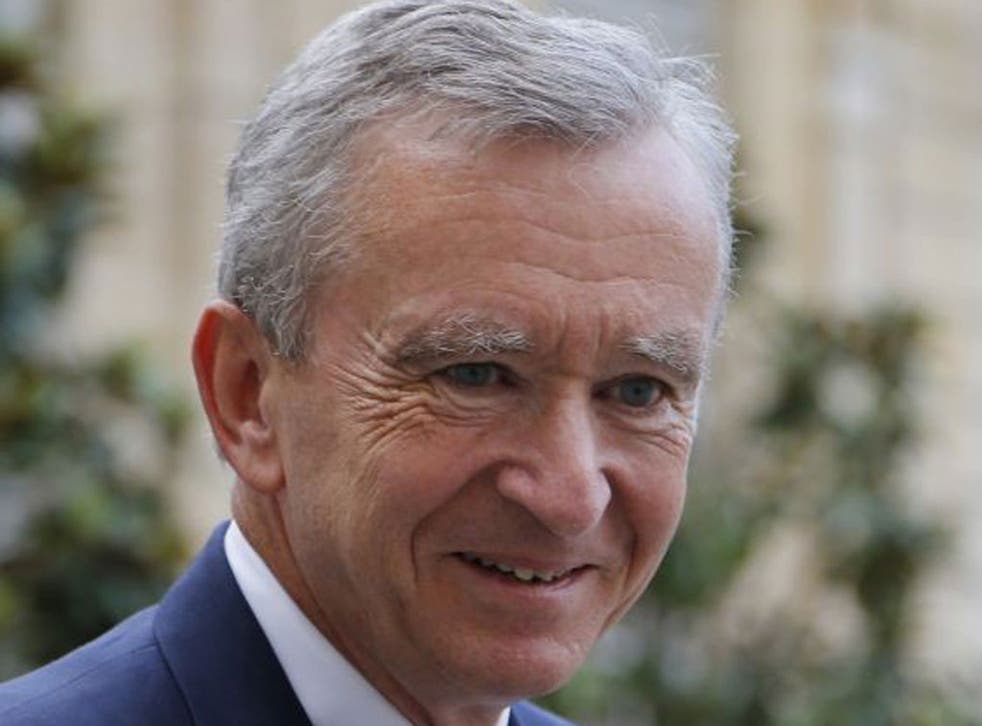 Bernard Arnault, the fourth-richest man in the world and founder of the LVMH luxury goods empire, provoked a political firestorm in France at the weekend when he confirmed he is seeking dual French-Belgian citizenship.
Although Mr Arnault, 63, said he had no plans to move to tax exile in Belgium, his decision was immediately linked by politicians on left and right to President François Hollande's promise to impose a 75 per cent tax on marginal income over €1m (£800,000). There have been rumours that this will be diluted when formally proposed later this month, but President Hollande insisted at the weekend that his promise – or threat – would be kept.
Mr Arnault said that he wanted to be Belgian – or half-Belgian – so that he could "develop" his financial interests in France's northern neighbour. Although he comes originally from Roubaix on the Belgian border, he has no Belgian blood or family ties.
His explanation was dismissed as absurdly unconvincing in both Belgium and France yesterday. As France's richest man, with interests estimated by Forbes magazine to be worth €32bn, he can already invest in Belgium as much as he likes.
As a Belgian, Mr Arnault could benefit from tax-free status in Monaco – but only if he renounced his French citizenship. French people who live in the tiny principality are taxed in France. Belgians citizens live there tax free.
The former centre-right prime minister, François Fillon, said Mr Arnault's decision was clearly provoked by the 75 per cent income tax plan. "When a government takes decisions as stupid as that, you can expect terrifying consequences such as this," he said.
Left-wing politicians accused Mr Arnault, who has built Louis Vuitton-Moet Hennessy (LVMH) into the biggest luxury goods empire in the world, of being unpatriotic. One accused him of "treachery".
Harlem Désir, deputy head of the Socialist party, said: "If you love France, you don't leave when the going gets tough."
Mr Hollande's income-tax plan was one of the key proposals of his successful election campaign in the spring. It anchored his support on the Left when it seemed to be slipping and helped to paint President Nicolas Sarkozy as a "president of the rich".
According to press reports last week, the 75 per tax will appear in weakened form in draft legislation to be published later this month. Sportsmen and actors will be spared. Married couples will be taxed at 75 per cent on marginal income exceeding €2m.
President Hollande, whose approval ratings have been sliding rapidly, insists that his campaign promise will be kept. In a live television interview last night, he was expected to warn that €15bn in new taxes would be needed to meet the eurozone deficit-cutting target next year and that France faced its toughest economic challenges for 30 years.
Register for free to continue reading
Registration is a free and easy way to support our truly independent journalism
By registering, you will also enjoy limited access to Premium articles, exclusive newsletters, commenting, and virtual events with our leading journalists
Already have an account? sign in
Join our new commenting forum
Join thought-provoking conversations, follow other Independent readers and see their replies